As a young girl growing up in Ghana, Virtue Shine was surrounded by bold, colourful prints and strong, immaculate women.
Raised in the city of Accra, she spent much of her childhood observing her grandmother at work, distributing fabric to the market women and shop owners across the bustling city, while her mother imported European goods to trade.
"My grandmother was an impeccable dresser," Virtue says, smiling. "Everything was never out of place - her hair, the type of fabrics she had made, the style, everything. She never repeated the same style twice either."
"It trickled down to my mum, she was also impeccable. She was in a circle of women traders in Accra, and they were quite known for their style. They had a fusion of Afro-European so I suppose I grew up around it."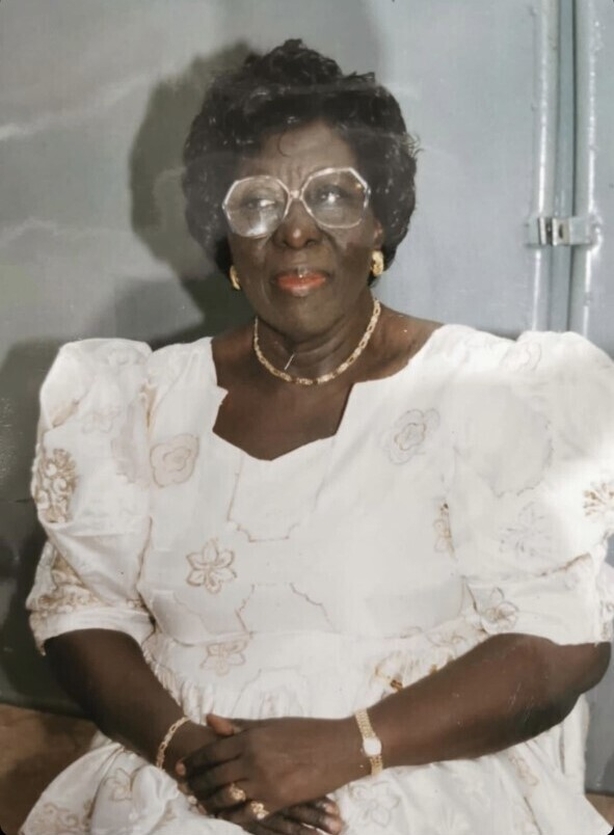 At the pivotal age of 16, a truly distressing age where teenage angst is expressed vividly through bold fashion choices, Virtue was whisked away to New York City where she was immediately impacted by the style and character of the frenetic city.
"I moved to New York when I was turning 16 in December 1998, so that's where I grew up and spent my formative teen years," she explains. "When I moved to New York, it all just came together, it all fell into place because I knew nothing about the Western world other than what I had seen on TV."
"I was really drawn to the colours," she adds, "I was always around colours and the edginess of the fashion. Something sparked in me, something became alive, and I was just completely hooked on fashion."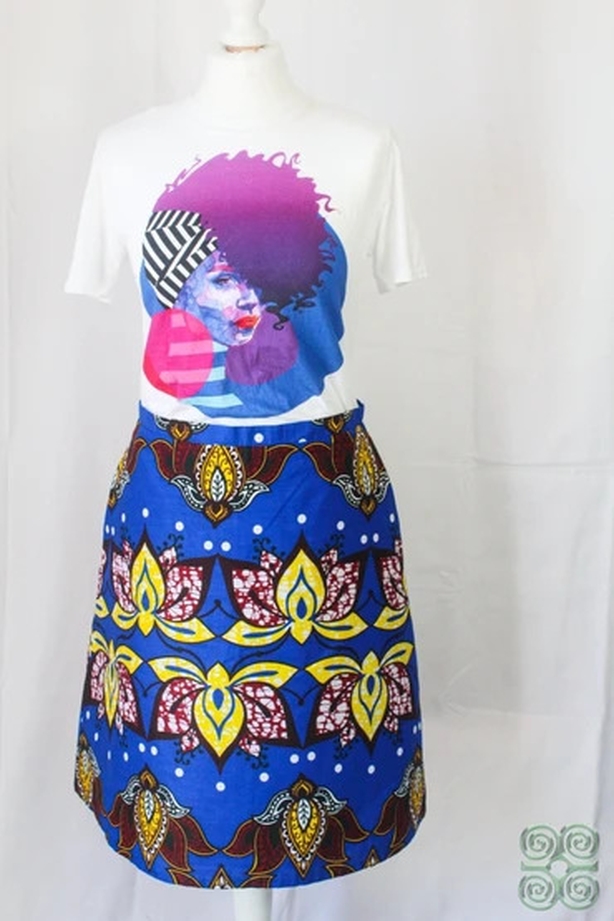 Eventually, as so many stories go, Virtue met an Irish man in an Irish bar. And the rest, as they say, is history. Moving to the wilds of Galway, the young mother devoted her time to raising her four young boys alongside her husband, putting her career ambitions temporarily on hold.
"I met a wonderful Irish man," she laughs. "I had never been to an Irish pub but I went into an Irish bar one Thanksgiving - this was twenty-something years ago - and it turned out he had been to Ghana and so we talked, and then we went on a date, and that was it!"
"We always said we would move [to Ireland] when we started having children so when I was pregnant with my third we decided it was time to go."
As fate would have it, it was pregnancy that drew Virtue back to her creative passions. Struggling to find maternity clothes that felt fun, flattering and comfortable, the young mum decided to take things into her own hands, creating a line of wrap skirts for herself made from beautiful African fabrics.
"I had a FIT [Fashion Institute of Technology] student draft a wrap skirt pattern for me, and I had loads and loads of African fabrics. I put one on my kitchen table, put the pattern on it and I cut it. That's how it started."
"My kids were very young then so I couldn't do too much, but once I moved here and had our fourth boy, I started making cushion covers, scarves, and skirts."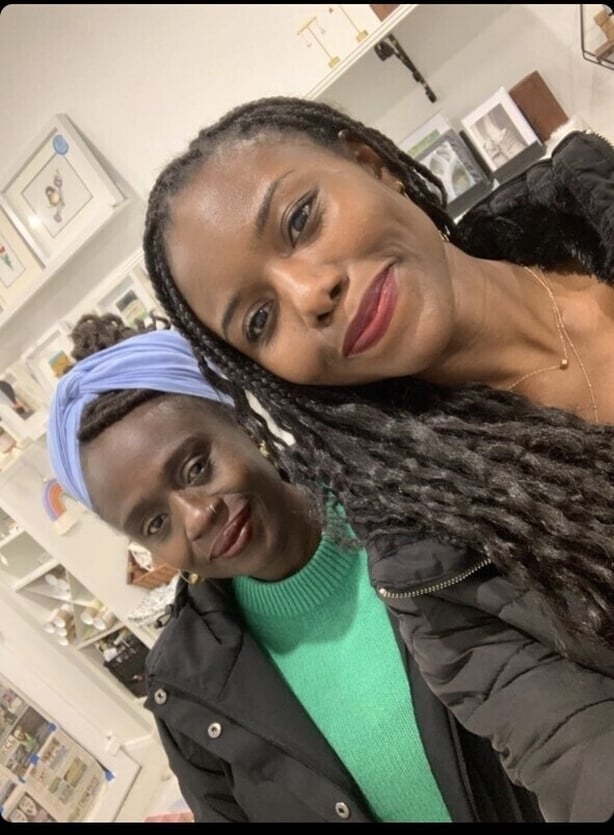 Encouraged by the compliments her designs would evoke from strangers, Virtue created Emerald & Wax, an online shop and pop-up market stall filled with creations inspired by her Ghanaian childhood, American upbringing, Irish surroundings, and Japanese sensibilities.
"I feel like I'm a walking fusion of cultures, style and influences," she admits, "but I would say Japanese culture and fashion has a huge influence. I don't know where it stems from but I love the way they simplify things. Maybe it goes back to my grandmother because everything is just done to perfection, and my grandmother was like that when it came to her appearance."
If Emerald & Wax was the result of a fated Thanksgiving spent in an Irish bar then Virtue's next venture, a bricks and mortar shop on the Wild Atlantic Way, can be chalked up to another chance encounter - this time with a mysterious woman at a market.
"I was doing a market one afternoon and this older lady leaned into me, whispered in my ear, and told me she had a shop in Barna for rent," she explains, still sounding a little mystified by the turn of events.
Despite Virtue's protests that she wasn't ready for a full-time shop, the lady took her name and contact details, and left her with a lasting impression.
"Her voice wouldn't leave me," says Virtue. "There was something about the way she leaned in and said it to me, it was almost like she was telling me that it was my shop. I left it for a few months but one day I was driving and I saw a small shop and I had my husband pull over - it turned out to be hers."
By now, the enigmatic shop had been passed onto a local auctioneers and had lots of vying buyers. However, as luck would have it, it was still available. Just a few weeks later, the papers were signed, and Virtue was the proud owner of a bricks and mortar space in the village of Barna, Co. Galway.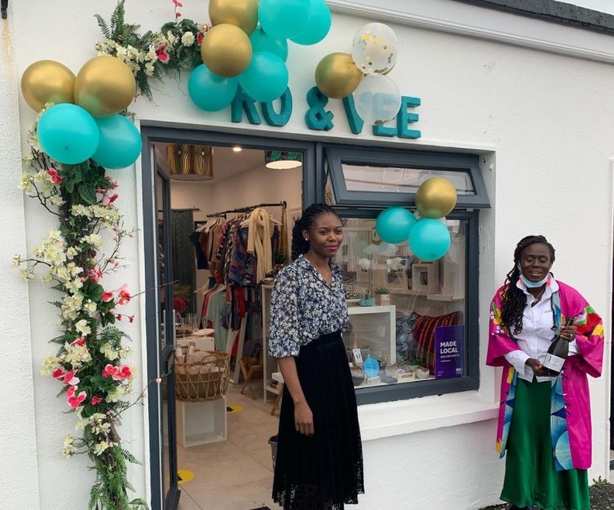 Teaming up with her good friend, Ro Chigozie, a doctor and jewellery maker from Nigeria based nearby, Ro & Vee was born.
"Ro was looking for a place to stock her jewellery, so I called her and asked her to come in with me and she said yes immediately. She is busy, she is a doctor, but she went for it. It felt meant to be."
While Virtue delivers colourful kimonos designed with African prints, Ro is serving up elegant, hand-crafted pieces made with carefully curated semi-precious gemstones, pearls and crystals to bring a splash of colour and sparkle.
Speaking on her creations, Ro said: "For as long as I can remember, I've loved jewellery - its meaning and the emotions and memories it evokes within us. Jewellery is a form of self-expression. It tells a story of who we are."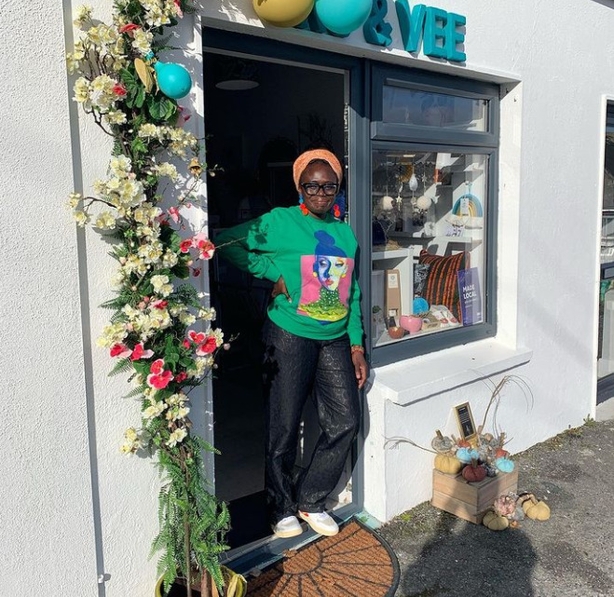 Carrying on from her grandmother and mother's tradition of working alongside local market women, Virtue says she is determined to work with as many local creators as she can, especially those who have emigrated to Ireland.
"We are giving back to small businesses," she explains, "mainly women and I think one man so far but, you know, we're always looking for more. That was the intention with the shop, to give a platform to other businesses because it is tough out here."
"I hope that Ro and I, as two black women from West Africa now in a shop in the West of Ireland, will inspire other people - especially non-Irish women - to go for it and not to be afraid. We're always here to give support."
Although a long way from the densely populated city of Accra, it seems that Virtue Shine has managed to continue her family's tradition of strong and immaculate women working with bold and colourful prints in her small and unlikely home of Barna.
For more information on Ro & Vee, you can follow Virtue on Instagram.