Long-procrastinated tasks such as deep cleaning the oven and organising the bathroom cabinet have started to look more and more appealing as lockdown stretches on.
In fact, the combined feelings of restlessness and listlessness might even lead you to consider clearing out your closet – and maybe make some money at the same time.
Thanks to the boom in online second hand selling platforms, it's easier than ever to make some extra cash from your old clothes. With charity shops closed, there are limited opportunities to offload those perfectly good but unwanted wardrobe gems right now, so selling on a platform like Depop, Etsy or eBay is worth looking into.
While these platforms may essentially have the same use, each one has a distinct reputation. Depop is known for its affordable bargains, high street stock and youthful user base, eBay is the Aladdin's cave of one-off vintage finds for a range of prices, and Etsy deals mostly in homemade goods and vintage offerings.
However, despite their different characteristics, these practical tips on how to sell your unwanted garments work across the board.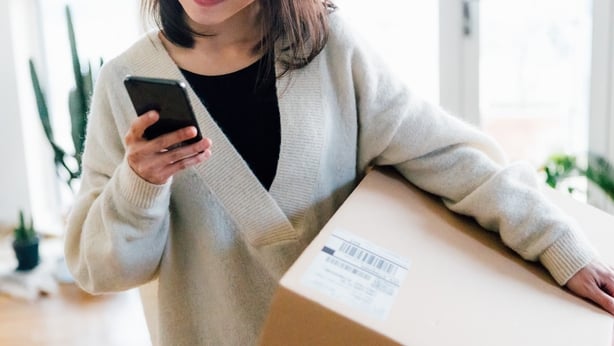 1. Photography
The most basic thing to remember is that online selling is a visual medium. While you have the option to write descriptions of the item you're trying to sell, ultimately the photos cinch the deal.
There are a few main ways to shoot clothing – on yourself, on someone else or on a hanger. If opting for the hanger, they need to be positioned in front of a clear background, like a blank wall. If you're really serious about making sales, styling the clothing and photographing yourself wearing them, head cropped out, is ideal as it allows the buyer a chance to see how a garment really looks in action.
It's worthwhile investing in a handheld wireless clicker for taking these, rather than roping someone in to photograph you or relying on self timer. These nifty devices sync up with your smartphone and capture images at the press of a handheld button.
If clothing no longer fits you, ask a friend or sibling to wear them for the photos, or simply opt for the hanger alternative. The best angle to shoot from is about stomach level and straight on. For items like shoes and accessories, flat lay shots are more successful.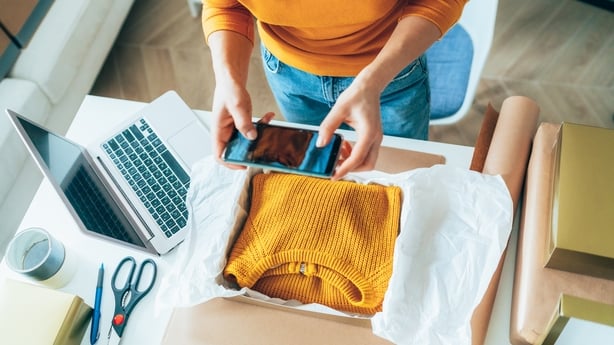 2. Lighting
During the summer and early autumn months, our natural light is ideal for taking photos – be sure to stand in front of a window or even snap your shots outdoors. However, we are not blessed all year round, and in winter and spring the mixture of harsh light and overcast skies can dull your images.
Flash photography on smartphones can often misrepresent clothing colours, so it's advisable to opt for a ring light with a natural light setting if you plan to photograph and sell a number of items year-round. Ring lights can be found affordably from local camera shops and online.
3. Preparation
After being crumpled in the back of your drawers for months, the clothes you're looking to sell may need a touch of TLC before they can hit the virtual market. If the clothing has not been worn for a while, make sure to run it through a quick wash.
While it's among the most tedious of chores, ironing any creased clothing is essential. Wrinkled clothing will not sell as well due to their misshapen appearance. Lastly, run over the pieces with a lint roller and note any flaws or imperfections in the garment – you'll need to add imperfections to your online descriptions later.
We need your consent to load this Instagram contentWe use Instagram to manage extra content that can set cookies on your device and collect data about your activity. Please review their details and accept them to load the content.Manage Preferences
4. Hashtags and micro marketing
When adding an item to a reselling platform, you need to make a mini sales pitch for your formerly beloved clothing. In the description, share where you got the item, describe how often it was worn and its condition. If there are any flaws or imperfections, from missing buttons to small holes or stains, note this in the description – plenty of people are open to buying imperfect second hand goods.
Platforms such as Depop also give you the option to add hashtags to your description - much like Instagram, these tags will help people find your item. Use relevant keywords with a mixture of broad terms and niche words to attract a variety of virtual eyes.
Depop also allows you to share your shop directly on social media platforms like Instagram and Twitter, so if you're connected online make sure you share your second hand wares to bring more awareness to your closet clear out.
5. Pricing
Pricing can vary from site to site, but make sure you know your garment's worth. Brands from the 90s and early 2000s such as Cop Copine, Miss Sixty and Jigsaw are considered valuable on apps like Depop, while eBay bidding wars for vintage pieces can nab you a major windfall.
Try to offer your buyers a good deal while keeping in mind the value of your item and the cost of postage. Don't over-inflate your prices or mark items as vintage or deadstock if they are not – you can expect to receive a very poor review if there is deception in your description.
Try to keep your prices fair and affordable on highstreet pieces - second hand apps keep people away from cheap fast fashion sites, a positive for the environment. However, unnecessarily expensive second hand prices drive them right back to the easy fix of new, unethically sourced fashion.