"Fashion isn't my thing," says Academy Award-winning Costume Designer, Jenny Beavan.
The English woman was speaking at an online press event to promote her work on Disney's Cruella, a live-action fashion extravaganza featuring jaw-dropping gowns and punk-inspired ensembles.
Starring Emma Stone and Emma Thompson, the film is a fashion lover's dream, taking place in 1970s London and following the rebellious early days of one of cinema's most notorious – and notoriously fashionable – villains, Cruella de Vil.
Funnily enough, Beavan has no interest in trends:
"I'm a storyteller with clothes, fashion is incidental," she explained. "I always thought I was going to be a set designer in theatre. The costumes were always the second part of what I thought my career would be."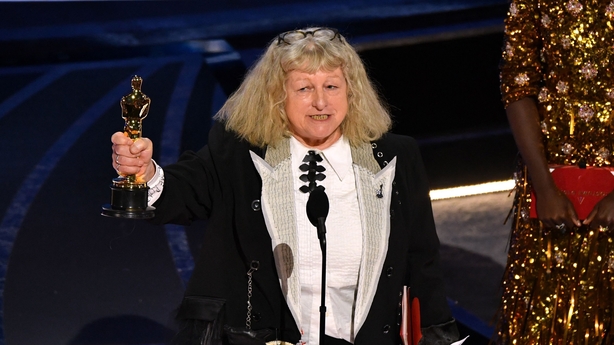 The film follows Estella (Emma Stone), a clever and mischievous girl who befriends a pair of young thieves to help her fund her creative fashion habit. One day, Estella's flair for fashion catches the eye of Baroness von Hellman (Emma Thompson), a fashion legend who is devastatingly chic and icy cold. Soon, the two spark an intensely stylish rivalry that plays out at glamorous events throughout London.
Each scene is a feast for the eyes with every thread sewn with purpose and precision, unlocking details of each character's personality while driving the plot forward.
According to Beavan, it was the opportunity for visual character development, as well as a love for the 70s, that appealed to her most about the job.
"The whole fashion element wasn't me, but I could take it on as a story," she said. "I was around in the 70s so I remember it firsthand, and there were some wonderful things that came back to me in that process. There was a lot of references, wonderful photographs online and fashion magazines you can explore."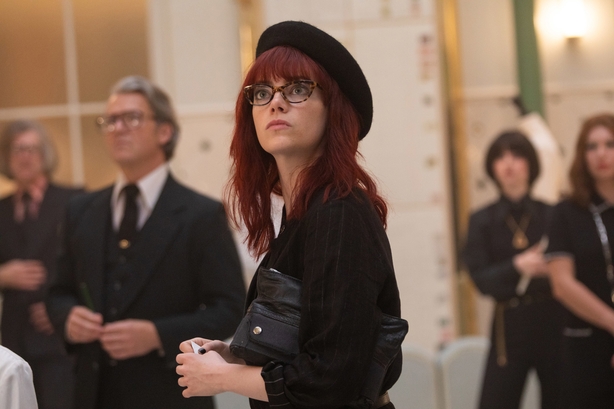 Having worked on projects like Mad Max: Fury Road and A Room with a View (she won Oscars for both), Beavan has an eye for next-level costume design. However, she insists that no matter the genre of the movie or the scale of the project, her focus will always be on the story and its characters.
As well as tracking Estella's journey from second-hand pieces to sharply tailored gowns, the designer said that it was her team's job to create show-stopping moments with Emma Stone's 47-piece wardrobe.
Praising her creative team, Beavan says that each and every ensemble had purpose. In the film, Estella finds an old Baroness von Hellman design in a vintage shop and decides to put her own spin on it for one of her iconic party-crashing moments.
Beavan created the original Baroness dress while designer Ian Wallis created Estella's version. The two decided on a bold red colour so Estella could stand out at the black and white ball, and Wallis created a Charles James tree dress - a feminine design from the 1950s - for the reveal.
The team twisted the fabric of the dress but kept the material around the neck the same so that, in the movie, the Baroness would recognise it as one of her own:
"Unlike fashion, which is all about clothes, we're all about the story and how the clothing gets there," Beavan explains.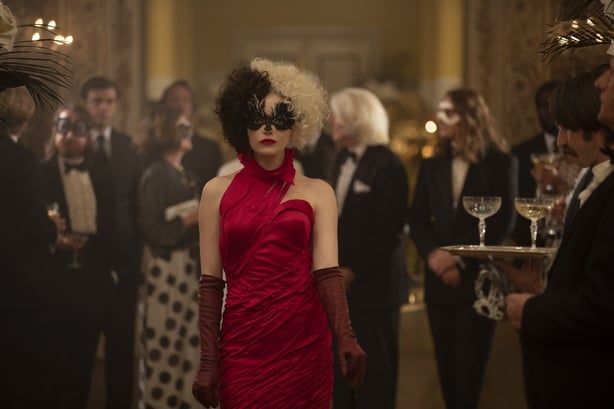 Another show-stopping piece is the all-consuming petal skirt. In the movie, Estella must climb on top of the Baroness' car and cover the vehicle with this incredible piece of fabric.
Australian maker Kirsten Fletcher was the mind behind the impressive design, and Beavan insists it was no mean feat:
"We had a couple of goes at it because getting a skirt big enough and light enough, you could have just done it with plan silk and ombréd it, but it wouldn't have been as dramatic," she explained.
"It was dyed by our wonderful textile department, and each petal was hand cut and each petal was stitched on by hand. It gave a lot of students and a lot of trainees a lot of work, it also took up a ridiculous amount of space in the workroom," she laughed.
"I felt half sick and rather proud whenever I looked at it."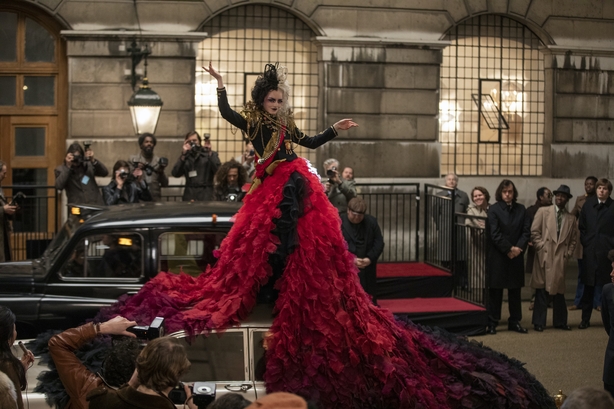 When it came to designing the Baroness, Beavan was delighted to work with her good friend, award-winning actress Emma Thompson, to style the 33 looks.
"I did a fitting with her in Scotland and, from that, found the shapes that would really work, and then decided to stick with a theme," she explains. "She's got a lovely figure, so why not make the most of it? The Baroness would have!"
"It was about the story and finding her colours then," she added. "Gold and brown seemed right because Cruella was obviously going to be black and white."
"On the whole, we just had enormous fun and she got frightfully excited at each fitting, and rightly so because she was going to look spectacular."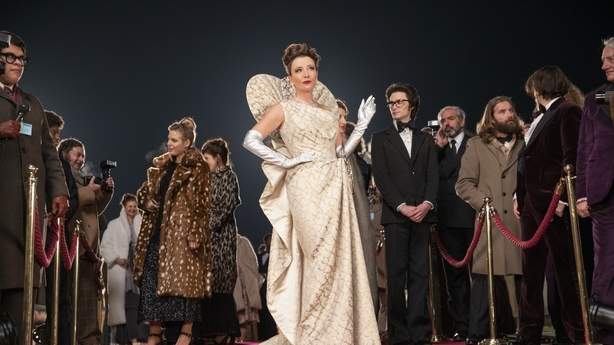 Crediting Emma Stone as a "great sport", Beavan said the Oscar-winning actress was quick to embrace the looks and was happy to go along with Jenny's vision.
"A little bit like Emma Thompson, she got really into it when she put stuff on," said the designer. "She really started to own it and pose in it and look fabulous, but she didn't ask me for anything specific."
"They were involved in them as much as you can see, Emma T is certainly enjoying it," she added, laughing, "but they didn't try and influence me. I didn't get any 'I don't like that' or 'that doesn't suit me'.
"They were wonderful at wearing them and just going for it."
Cruella will hit screens on May 28th and will be available to order on Disney+