If you're on TikTok, you'll have undoubtedly come across posts from Gen Z users claiming that certain fashion trends are destined to die with millennials. The video sharing app seems to have become a breeding ground for generational warfare when it comes to policing fashion trends, beauty trends, and even emoji use.
According to those born after 1997, skinny jeans are out, middle partings are in, and the 'laughing crying' emoji is over. For some reason, these claims have caused outrage, uproar and hurt among millennials – much to the delight of Gen Z.
The whole thing is a bit bizarre, and the fact that middle partings, baggy jeans and other 'newly' approved styles originated in the 90s seems to be lost on many.
Think twice before caving to peer pressure. Gen Z also wants to rid us of skinny jeans. That's only because they can't remember the 90s. I was there. It was bad. pic.twitter.com/ayEBwaxs3i

— Brian Henry (@brianhenryy) February 16, 2021
As we elder millennials know, fashion is cyclical and while skinny jeans may be comedy fodder for the teens of today, it won't be long before they're back in style... we think.
Just to be sure, we checked in with Brown Thomas Fashion Director Shelly Corkery to find out if it's really time to retire our skinny denim friends.
"The skinny jean will never truly die," she assured. "We're all be wearing leggings and skinny jeans because we love to wear them with our big biker boots, and they're so prominent at the moment. A tractor sole and clunky boot with skinny jeans or leggings is fab."
We need your consent to load this Instagram contentWe use Instagram to manage extra content that can set cookies on your device and collect data about your activity. Please review their details and accept them to load the content.Manage Preferences
However, before you go racing to dig those skinny jeans out of your wardrobe - if you're anything like me, you haven't touched anything as restrictive as denim since before COVID - you should know that looser fits are currently ruling the socially distant catwalks.
"What's really important this season is loose leg in denim, that wide sort of oversized style," says Shelly. "Whether it's a peg leg like a carrot shape or wide at the end in a flare like Dior, Gucci, Victoria Beckham."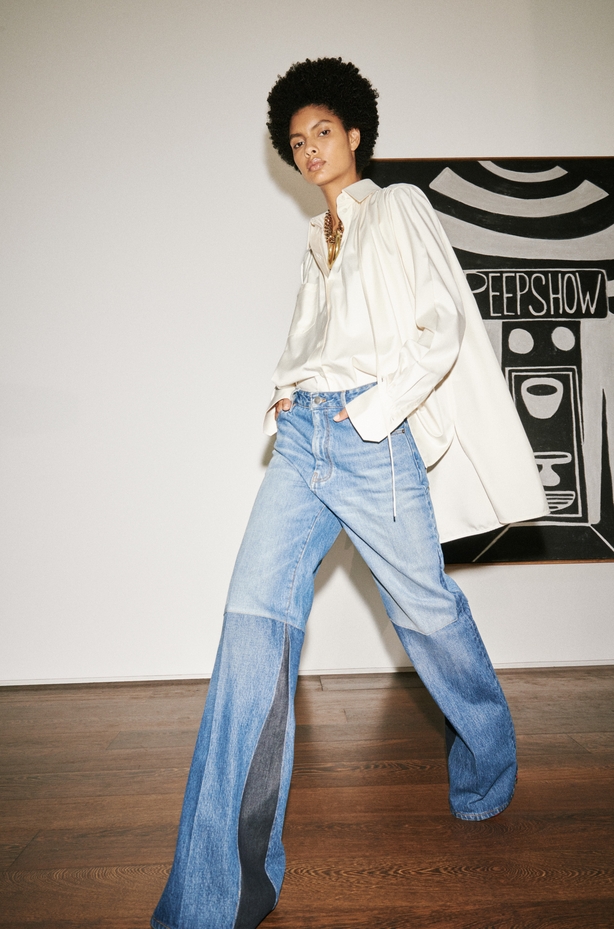 "They're fitted and high waisted and then flare out down the leg," she explained. "It's very elegant, it's feminine and the common denominator of the season - the over riding trend - is that it's very feminine."