We've heard the term "new normal" bandied about in recent months, as the world adjusts to life with Covid-19. But one area that has changed quickly – and for many, not quite seamlessly – is how we dress now.
From working from home and at-home exercises, to no nights out and prioritising homeschooling, the months in lockdown radically changed how we think about our clothes and why we dress the way we do. Many of us found ourselves clearing out wardrobes, finally tossing the dresses, tops and shoes we never wear or maybe never really liked.
We need your consent to load this Instagram contentWe use Instagram to manage extra content that can set cookies on your device and collect data about your activity. Please review their details and accept them to load the content.Manage Preferences
Clare Halpin, the Head of Personal Shopping for Arnotts, spoke to us about the new way of dressing at the Arnott's AW 2020 fashion exhibition, and shared her tips for dressing in "the new normal".
"What lockdown did for people, it made them stop and take stock", she says. "I think people did clear out clutter, they realised they bought too often and not well. I'm famous for saying 'Personal shopping is intelligent shopping' – it's not about buying lots, it's about buying really well."
Polished and pulled together
The months gravitating to stretchy leggings, oversized jumpers and loose dresses made people think, 'what have I actually in the wardrobe, and what don't I have?'
For years, work has dictated the pieces we buy, given such swathes of our time was spent in the office or in work, Halpin says. "In the past, people would have really - and rightly so - thought about what they were wearing to work." Smart casual has become a "big chunk of what people are coming for", she says.
What's "smart casual"? Halpin has you covered.
"Smart casual is not a tracksuit, and it's not just a top", she says. "It's the more classic pieces with a twist. A nice piece of knitwear with a jewel embellishment, a nice sleeve, a good blazer, a good jacket, a good coat. You can still have the basis of your t-shirts and your jeans, but it's getting that look that people constantly ask me for: looking pulled together, but yet effortless.
"Women constantly want to look like they haven't tried too hard. [even with WFH] they still want to look smart, they don't want to slip. It takes a little more skill sometimes. A suit is easier or maybe a tailored dress."
A great coat, great boots and a stellar bag are all central to nailing smart casual, and are the key pieces when building up your wardrobe. "It's all about buying those classic pieces that are going to work for them."
Shop Irish
It seems shoppers have taken "stay local" to heart when it comes to clothes, too, as Halpin says more and more women are seeking out Irish designers. "I definitely see this passion for the Irish even more than before. Particularly with young professionals, they're all after natural fabrics, sustainability, which is forcing me to educate myself and study these new brands."
Designers like Fee G, offering luxe embroidered pieces oozing with romance, and Caroline Kilkenny, who creates timelessly tailored separated in rich colours, are just two of the top lines in store at the moment.
"They're really proud wearing Irish", Halpin says.
Meanwhile, sustainability remains a huge factor for shoppers. Copenhagen brands like Custommade and Ghost, two of the department store's newest lines, with Custommade offering a range of numbered pieces, so buyers know there was a limited run on their pieces.
How to build a WFH wardrobe
So how do you rebuild your Marie Kondoed wardrobe?
It starts with thinking about your lifestyle, Halpin says. "Tell me about your lifestyle, where do you spend most of your time. Are you in work five days a week, or three? Are you doing runs to the gym? Are you bringing the kids to school? Meeting friends for lunch? Spend your money where you spend your time."
Be realistic about what you get up to. "If your social life is not what it once was, your occasion wear should be less of the wardrobe", she adds.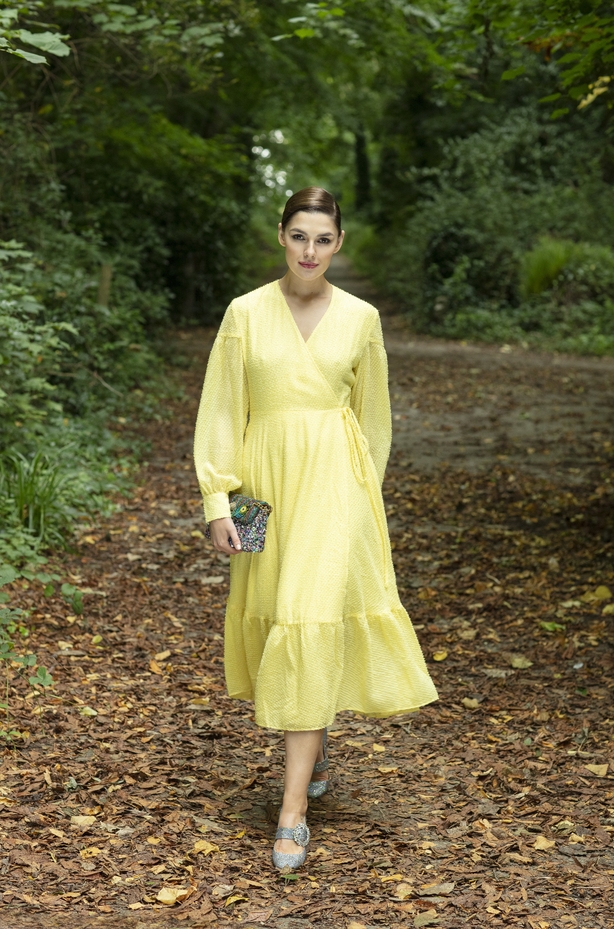 A smart way to make sure everything matches is to keep it to a colour palette. "Say you have your navy suit, I always say you add your cushions, your accents of colour. It takes time, so don't expect you're going to nail it the first time. At the end of it, everything will match everything else."
The future of festive fashion
And what about the next few months, with Christmas an unknown and people desperate for a little festive cheer to look forward to? Halpin says it's time to take out the pieces we've neglected for so long, jazzing them up with some key new buys.
"Ladies will always say to me, they leave things hanging in the wardrobe", she says. "I think we need to get them out, get them on.
"The soiree collection, that's all about embellishment and it's really romantic and feminine, then adding the different textures, your velvets, your luxe fabrics, beading. The Irish designers do that so well", she adds, referring to a standout red sequined tunic by Caroline Kilkenny paired with chic red satin trousers.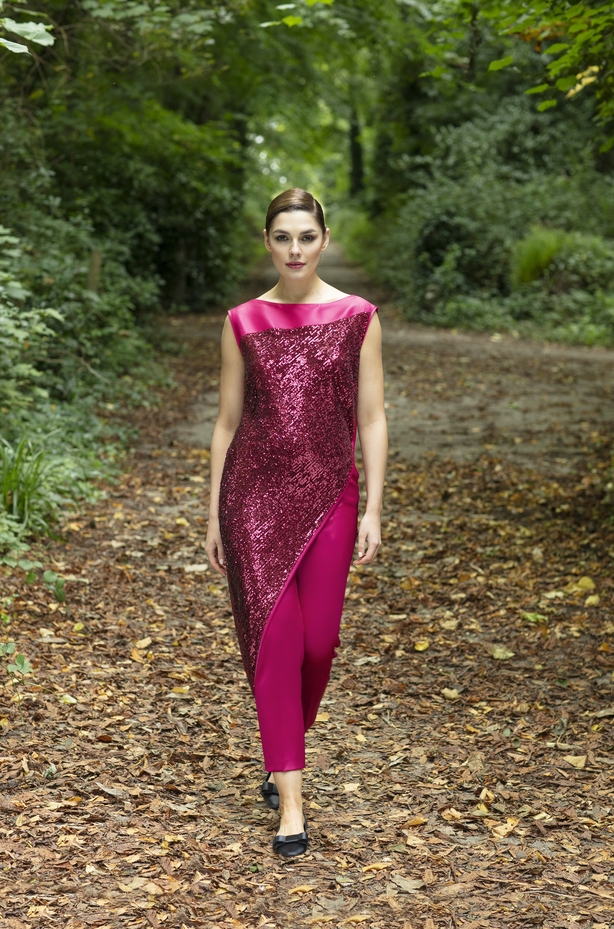 "When taking a look from day to night, look at a great pair of shoes and a bag. Look at your clutch bags, a statement clutch, a great pair of heels", she says.
"We are all in our flats a lot and I definitely have seen a shift, the ladies are loving getting back into the heels. An instant pick me up would be a great bag, pair of heels and a little bit of embellishment.
"Don't underestimate what colour can do for you. We all can wear black too often, but colour can give you such a lift."