The summer sunshine does a lot for us: keeps our skin glowy, our moods high and – for blondes – lifts our golden tresses a few shades.
We can't always depend on the weather to kiss our hair, however, and there's no doubt that many of us are thinking more about how to get the most out of our dyes and highlights after the months of no salons.
Thankfully, refreshing blonde hair can be as simple as washing with a purple shampoo even just once a week.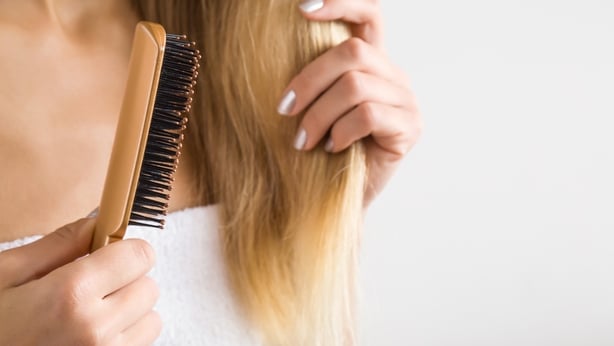 Purple shampoos work by adding violet pigment to yellow "brassy" pigments in blonde or grey hair. Because yellow is the opposite colour to purple on the colour wheel, the logic goes that purple neutralises yellow undertones.
As a lifelong blonde, natural and highlighted, I can attest to this logic working. But revitalising your tresses all depends on the kind of shampoo you buy, and how often you use it.
So whether you're an ashy blonde, a platinum ice queen or a natural "bronde", we've rounded up the best purple shampoos for you to try.
Matrix Total Results So Silver Purple Shampoo, €9.95, Look Fantastic
A firm favourite of beauty experts the world over, Matrix products pack a punch without needing to break the bank, and are especially good for highlighted hair. This deep violet shampoo not only refreshes your colour, but it deeply cleans it, leaving hair soft, silky and glossy.
Once applied and lathered (while wearing gloves, preferably) you can leave it to work for anywhere between three minutes and 30 minutes, depending on how much of a lift you're looking for. Results were visible after just two washes.
Just don't use it too often – my slightly lavender highlights can vouch for how intensive it is.
Aussie Blonde Hydration Purple Shampoo, €7.99
The beloved Australian brand's new Blonde Hydration collection couldn't have landed at a better time, as the summer begins to give way to storms and dull days. Infused with hemp seed and wild plum, the range makes good on its promise to wake up and nourish brassy blondes.
The full range is impressive, with a Lightweight Oil (€10.99), the Hair Hemp-Pathy Conditioner Spray (€7.99) and a lush 3-Minute Miracle Deep Treatment (€7.99), but it's the shampoo we're most excited by.
A deep purple in colour, the major plus of this shampoo is the deep conditioning it gives your hair. If you've been dyeing or highlighting your hair, it's likely you need some TLC, so this hits two birds with one stone. Hair is left sleek and full of movement, while blonde tones are softly evened out.
Kérastase Blond Absolu Bain Ultra Violet Shampoo, €20.40, Peter Mark
If you're looking to treat your hair, this is the shampoo for you. Kérastase is always a safe bet: highly nourishing, beautifully scented and deeply repairing, so their Blond Absolu range is a surefire winner.
Specifically formulated to boost shine and luminosity, using this shampoo is like giving your house a fresh lick of paint. Loaded with hydrating Hyaluronic Acid and Edelweiss Flower, hair is deeply cleaned and moisturised. Cleansing salicylic acid cleans the scalp, ensuring your tresses are healthy inside and out.
And of course, yellow tones are smoothed out, leaving behind creamy and cool blonde tones.
PRO:VOKE Touch of Silver Brightening Shampoo, €4.33, Boots
Usually the blonde gal's first port of call when trying a purple shampoo, it's not just the price that keeps this bargain staple a fan favourite. It's not highly pigmented so can be used every other wash, or left to soak in for longer, and is full of antioxidants to protect your hair against pollution.
It is on the slightly harsher side, however, and doesn't have the deep conditioning ingredients other products have. A good conditioner after washing out sorts this for you, though.
Kevin Murphy, BLONDE.ANGEL.WASH, €26
If your hair is a medley of tones, some purple shampoos will do more harm than good by stripping the colours you want. Kevin Murphy's BLONDE.ANGEL.WASH is the perfect option for you, then, as it works on all shades of blonde and grey hair.
Infused with lavender and nourishing shea butter, this purple shampoo is gentle but effective, leaving hair brighter, softer and stronger. With added optical brighteners, hair is left as shiny as it was the day you got it coloured, while vitamin E, jojoba oil and olive oil leave the scalp conditioned and healthy.