Suzy Griffin reviews the BrowSculpt Lamination by Kim O'Sullivan at The Dublin MakeUp Academy.
Brow Lamination is the latest brow trend sweeping your Instagram feed. You know the one where the brows look brushed up and quadruple in size? Yep, that's it! I've been watching it evolve from afar on my feed for some time now and as I was too much of a scaredy-cat to try the micro-blading trend I decided this was the one for me.
We need your consent to load this Instagram contentWe use Instagram to manage extra content that can set cookies on your device and collect data about your activity. Please review their details and accept them to load the content.Manage Preferences
The brow artist
I reached out to Kim O'Sullivan, Ireland's multi-award-winning brow guru to the stars and the lady who first brought the hugely popular Phi Brows to Ireland.
With over 20 years' experience in the makeup and brow industry, Kim first started designing brows in her school days, sketching them on her copybook, as her lovely sister Debs who works with her revealed. Having originally worked for Armani Beauty in Brown Thomas, she made the leap to working for herself as a brow artist around 15 years ago and has never looked back.
In 2015, Kim won the very first Best Brow Artist Award at the Image Beauty Awards. The beauty guru hasn't spent a penny on advertising as her business has grown through word of mouth, and she is now the proud owner of the Brow Bar in Brown Thomas and the Dublin Makeup Academy in Dublin 2.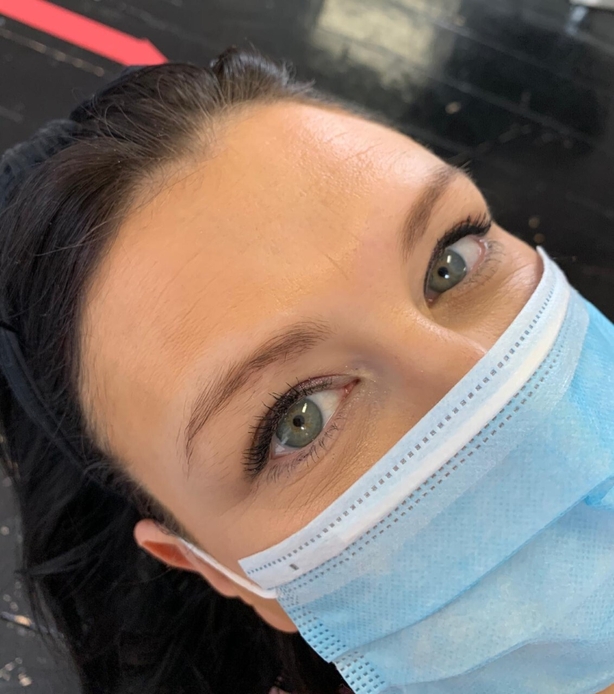 The treatment
I usually have my brows tinted and waxed every six weeks but they haven't seen so much as a tweezers since lockdown. I sheepishly apologised to Kim for my unruly caterpillars but, as it turns out, this was actually for the best as every single little hair is precious. In fact, this treatment works with every hair you have to build the perfect brow.
Originating in Russia, this treatment was inspired by the LVL lash treatment which works on increasing eyelash texture and volume. Describing the process, Kim explained that brow lamination is not a one size fits all treatment and not everyone will walk out with those large brushed up brows you see online. The treatment can be tailored to your own preference.
The process involved tinting and applying a curling agent, (yes, that's right, a curling agent) which increases the texture of each and every hair. Once applied, my brows were covered with cling film and left alone so the agent could work its magic. Finally, Kim angled every hair in the direction to best suit my face and the brow style I wanted.
Aftercare is an incredibly important step in ensuring that the delicate brow hair doesn't get dried out by the thickening agent. After my treatment, Kim gave me a brow conditioner and encouraged me to apply it every morning. If you don't have access to a brow conditioner, castor oil is a good alternative.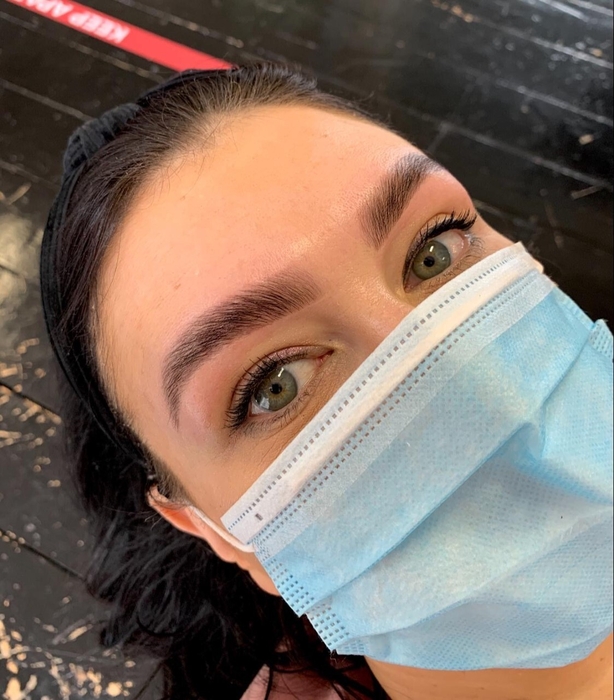 The Verdict
The morning I arrived at the Dublin MakeUp Academy happened to followed a particularly chaotic night with my baby and newborn where I'd aged five years in 12 hours. I left feeling like I'd gotten an eyelift.
My new brows gave shape to my face and were so full and fabulous you'd barely notice the crows' feet my little bundles of joy have gifted me. I'm officially hooked and converted to the importance of a good brow.
The Details
My treatment was gifted but the cost for a BrowSculpt Lamination is usually €67. For more details, you can visit the Dublin MakeUp Academy website or check out Kim's brow wizardry on Instagram.
Other brow treatments in the country: