When it comes to royal weddings, we're well used to months of build-up, speculation about the dress and a final media-grabbing fanfare. So it was a sweet surprise to hear that Princess Beatrice of York married Edoardo Mapelli Mozzi in secret over the weekend.
The romantic ceremony was held in All Saints at Royal Lodge in Windsor and broke with many royal wedding traditions, making it one of the most unique and personal royal weddings we've seen in years.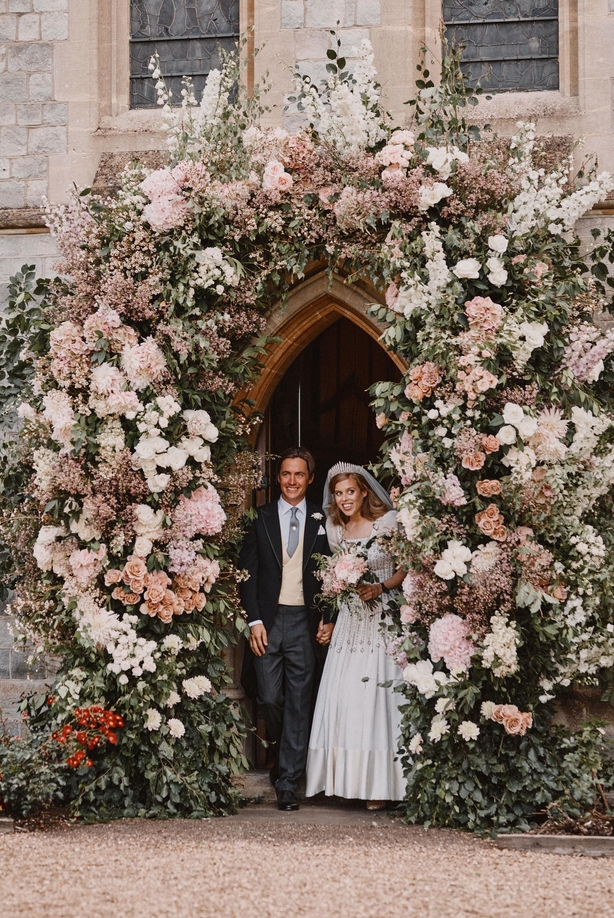 Originally planned for the 20 May, the couple's wedding was postponed by the outbreak of the coronavirus.
Also a surprise: her choice of dress, typically the most speculated-upon part of any royal wedding. Instead of enlisting a top designer to make a gown from scratch like so many royal brides before her, Beatrice opted for a customised vintage dress.
For her big day, she dipped into the Queen's archives and found a Peau De Soie ivory taffeta dress by Norman Hartnell, trimmed with duchess satin and encrusted with diamantes.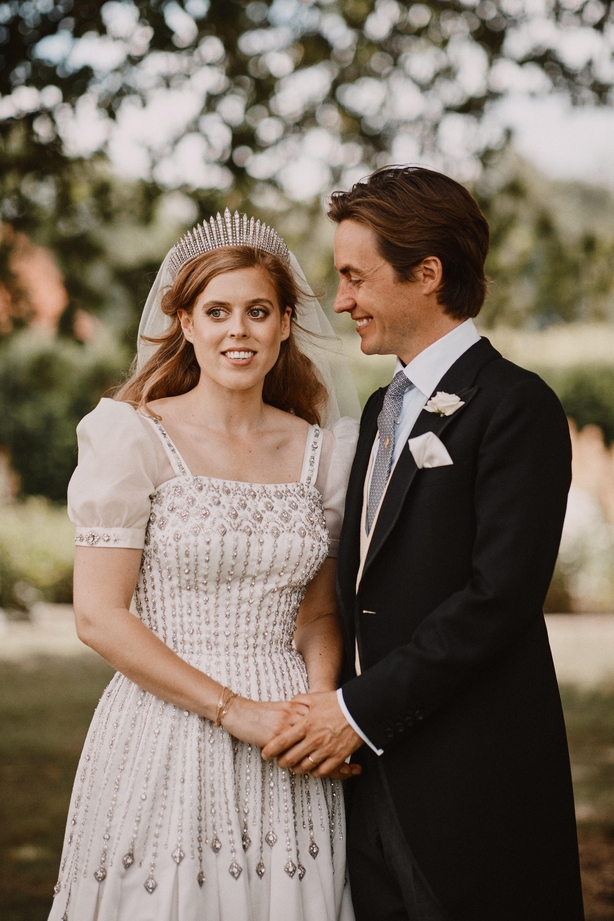 The Queen wore the gown to the premier of Lawrence Of Arabia at the Odeon Leicester Square in December 1962, and again to the State Opening of Parliament in 1966.
Beatrice had the Queen's senior dresser Angela Kelly and designer Stewart Parvin remodel the dress to make it appropriate for her wedding day, adding delicate capped sleeves. She topped off the outfit with another loan from the Queen – the Queen Mary diamond fringe tiara, which Elizabeth II also wore on her wedding day in 1947.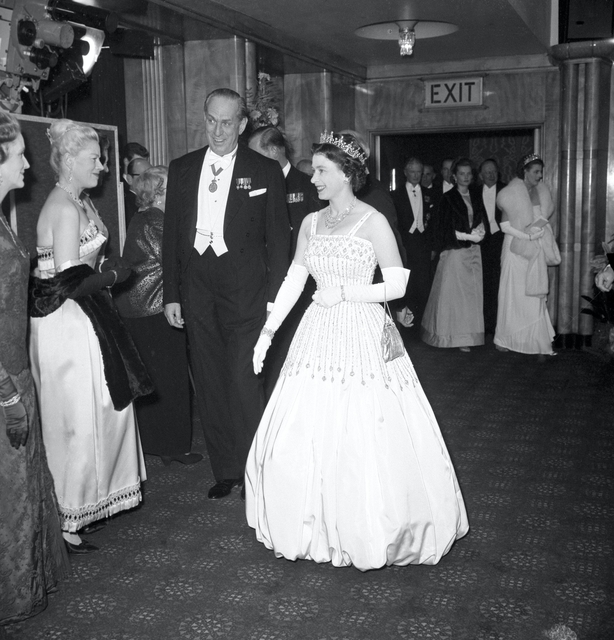 Over the last decade we've seen royals get married in pieces by top designers from Alexander McQueen to Givenchy, so Beatrice's vintage choice is quite unique. The outfit was well-received on social media, with one Twitter user writing: "Adorable couple and could not have picked a more perfect wedding dress for her than that elegant/whimsical, yet very vintage, sentimental ensemble she wore."
Beatrice has also been praised for choosing a more sustainable option for her big day. Not only is re or upcycling an existing dress eco-friendly, but people often turn to pre-loved wedding dresses as they can offer something a little different to more modern designs.
"Princess Beatrice's choice of wedding dress marks a point in the royal family's iconic fashion choices, taking steps towards mindful consumption even on such an important day," says Victoria Prew from rental platform HURR Collective.
Her wedding band was equally vintage-inspired, designed by British jeweller Shaun Leane, the man behind her breathtaking engagement ring.
We need your consent to load this Instagram contentWe use Instagram to manage extra content that can set cookies on your device and collect data about your activity. Please review their details and accept them to load the content.Manage Preferences
Combing the romance of Victorian design with the glamour of Art Deco, the curved wedding band is studded with diamonds and perfectly complements her engagement ring, a central round-cut diamond with intricate detailing on either side.
Even this small choice breaks with tradition, however, as most royal brides are known to favour gold wedding jewellery.
Vintage is all the rage, so if you're looking to wear a vintage outfit on your wedding day, these top tips may help you find the perfect outfit…
Be open-minded and set aside plenty of time
You might have your heart set on a particular designer from a certain era, but Prew warns against this. "Try not to be too focused on the designer; there are incredible options out there without the labels," she says.
Head of pre-loved at eBay Emma Grant recommends you commit a fair amount of time to the hunt, saying: "The nature of vintage clothing is that you'll need to have a good scroll before that one-of-a-kind gown catches your eye."
Be targeted in your search
"Try and find the best vintage sellers online, starting with Etsy or 1stdibs," advises Prew.
To make life a bit easier for yourself, Grant says: "If you're looking for a particular cut, style or era, be specific in your search. Naming brands or eras that are associated with the style you're looking to emulate will help you narrow down the search to the most relevant items."
Plan in advance
Vintage wedding dresses tend to be one-of-a-kind, so it's unlikely you'll find a dress that fits you like a glove. This doesn't mean you can't wear it on your big day, but you'll have to be a bit smart with planning. "Make sure there's enough time to have your perfect piece altered," says Prew. "Get the dress, then get it altered to perfection."
Grant also says you should be flexible with sizing: "As it's pre-loved, it might have also been altered at the time of buying to fit the owner, so you may have to size up or down to get the fit that works for you. Always get in touch with the seller to check the specific measurements." As well as tailoring the outfit to fit, Grant recommends shortening hemlines or streamlining waists to give your vintage look a modern touch.
Search for accessories
You might not have a tiara handy for your wedding, that doesn't mean you can't take inspiration from Beatrice and hunt for vintage accessories to go with your dress.
"Vintage is also great for crowns and earrings," says Prew. "Going vintage means you can guarantee your choice will be 'timeless' rather than 'trendy' – it's your day, so make a statement."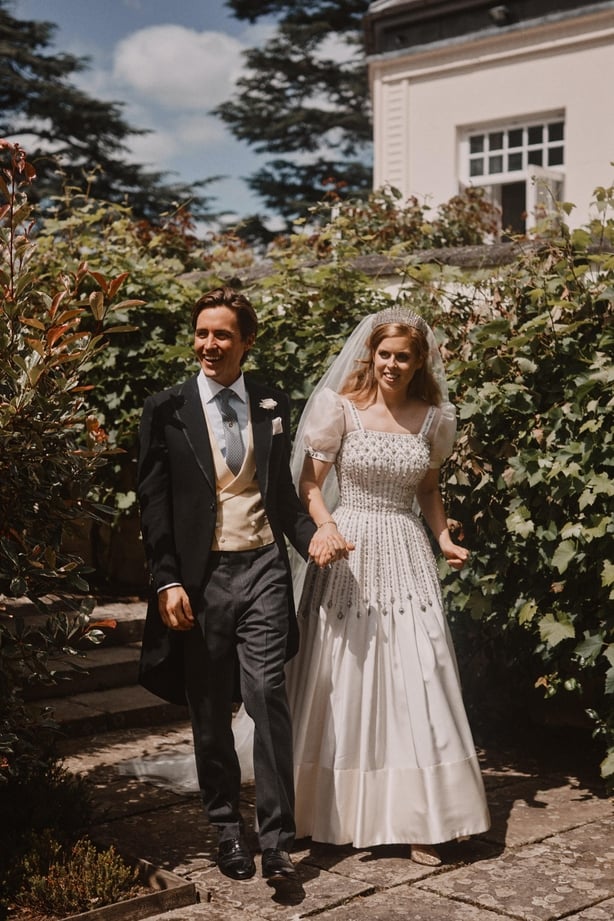 Consider its condition
"While a few buttons or sequins missing shouldn't put you off investing in a great quality, pre-owned wedding dress, more significant signs of wear and tear require further thought," Grant says. "Don't risk your money on items that are fraying, holed and stained as, chances are, trying to repair a gown and get a good colour match will be trickier to get away with. If the dress hasn't been professionally cleaned by the seller, consider getting this done yourself."
Where to buy your vintage dress
Not all of us have a royal relative whose archive we can dip into, and scouring vintage spots can be a challenge if you're new to it. If you have time on your hands and live in a big city, starting small and local with charity shops can be extremely rewarding.
However, there are plenty of vintage shops that excel when it comes to occasion wear, and can verify vintage finds so you know what era they come from – ideal for brides aiming for a roaring 20's theme or with a fondness for rockabilly.
Here are some Irish options for vintage shopping:
1. Jenny Vander Vintage
We need your consent to load this Instagram contentWe use Instagram to manage extra content that can set cookies on your device and collect data about your activity. Please review their details and accept them to load the content.Manage Preferences
A Dublin institution, Jenny Vander has been selling exquisite vintage pieces for decades and her cosy shop on Drury Lane is filled to the brim with authentic jewellery, gowns and accessories spanning the years. Her shop recently hit the headlines as it provided a number of pieces for the BBC adaptation of Normal People, but those in the know have been oogling her shop window for years.
Speaking of shop windows, her current one is a celebration of brides and full of exceptional gowns that would be perfect for a wedding. So whether it's an Edwardian-style lace gown, a simple 70's cotton dress or a glamorous full-skirted 50's piece, you'll find it here.
2. Vintage Finds You
Specially curated by owner Naomi Fitzgibbon, Vintage Finds You is ideal for the truly individual bride. Stocking piece from the 20's all the way to the 90's, you're sure to find a dress or suit to suit you.
Collections drop every few weeks and are hand-selected by Naomi, so keeping an eye on their Instagram is the way to nab what you want. While there may be some waiting and seeing until you find the perfect piece, you can guarantee that what you find will be a showstopper.
3. Lucy's Lounge
If it's a true treasure you're after, rotting through the jewellery box that is Lucy's Lounge is the way to go. Another hallmark Dublin vintage spot, the racks in Lucy's Lounge offer up everything from voluminous 80s gowns and charming prairie dresses, to sleek silk pieces and breathtaking suits.
And if you're looking for vintage bridesmaids dresses, look no further: choose a colour and get your party to pick out their own outfit, or sniff out a selection of lace gowns or pieces from the same era.