On a given day you'll find me holding my sad, tired face up with two hands, while trying to make and drink coffee while bashing away on a laptop. So, it was a joy to be invited to try one of the most coveted aesthetic treatments going these days: aesthetic acupuncture.
Often called "natural Botox", aesthetic acupuncture draws from the ancient Chinese practice and involves inserting fine needles into motor points on the face. LED lights and electrical currents are added to help products penetrate even deeper into the skin.
Rather than anti-ageing, this treatment is designed to help you age in the most natural and beautiful way possible, keeping all the elements that make your face yours. The needles relax tense facial muscles, while also stimulating the production of collagen and elastin and lifting sagging muscles, leaving you with a glowing, plump, serene look about you – ideal.
Read more: What is facial acupuncture and why do celebs swear by it?
Aesthetic acupuncture has only existed for the past three years and is the go-to treatment for some Victoria Secret models, developed for them by New York-based acupuncturist Dr. Travall Croom. Thankfully, I didn't have to go far to try it for myself, as Amanda Nordell practices it out of her Windy Arbour clinic and was trained by Croom himself.
We need your consent to load this Instagram contentWe use Instagram to manage extra content that can set cookies on your device and collect data about your activity. Please review their details and accept them to load the content.Manage Preferences
On a sodden summer's day, I climbed the white stairs to Amanda's cosy office, already soothed by the smell of aromatherapy oils. Greeting me at the door, there was little difference to how an appointment like this would go pre-Covid: the tissue paper on the orange bed, Amanda's face mask, the hand sanitiser in the hall.
As a former nurse, you're in safe hands: The needles are single-use and thrown away after each session, and Amanda nips into a bathroom frequently to wash her hands.
A temperature check and questionnaire about possible exposure to or diagnosis of Covid-19 comes first, then the typical chat about my health (fine), sleep (eh...), diet (cake for breakfast) and stress levels (yikes). Then we get to the fun part.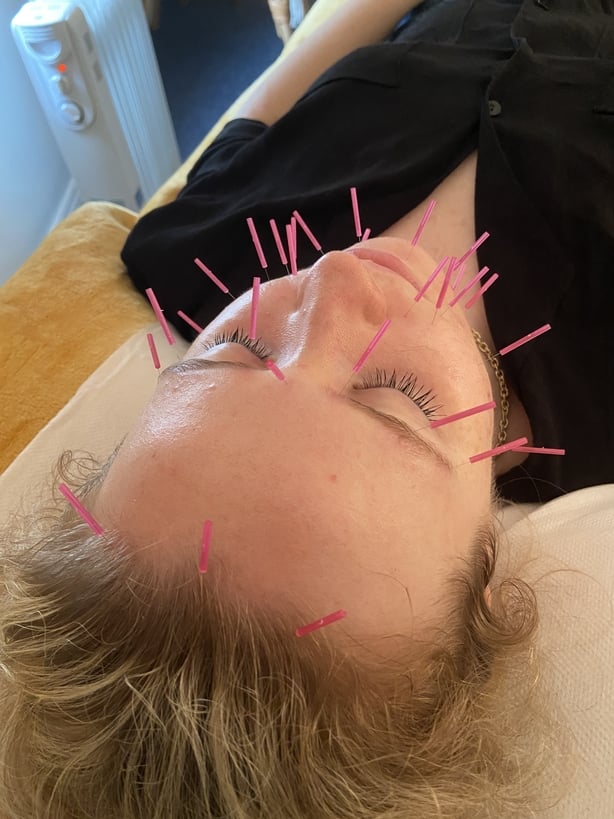 The Treatment
I received the Synergy Facial, a true "East meets West" practice, as Amanda says and the technique taught to her by Croom. Amanda starts by running a body check, feeling my pulse points and inserting some needles into my feet, legs and hands.
The needling isn't painful, but some will create a slight electric shock feeling as they hit tense pressure points. It passes almost instantly, though.
Next, she moves onto my face, plotting a circumference of needles with deft hands and no pain whatsoever. Needles applied to areas like the cheeks and jaw perk up those muscles, lifting and contouring them. As needles hit tense muscles – for me, those frown muscles in my brow from squinting at screens – a warm heat is generated and they relax.
By the time you look like a pincushion, you feel as though you've been lying in the sun and your face feels awake and restored.
As I suffer with acne, Amanda added in some blue LED light therapy which kills the ance-causing bacteria Cutibacterium acnes. For anti-ageing, she says, she would use red LED to promote healing. The lights are covered with disposable paper and cleaned down after each use, and a pair of goggles shield your eyes from the bright lights.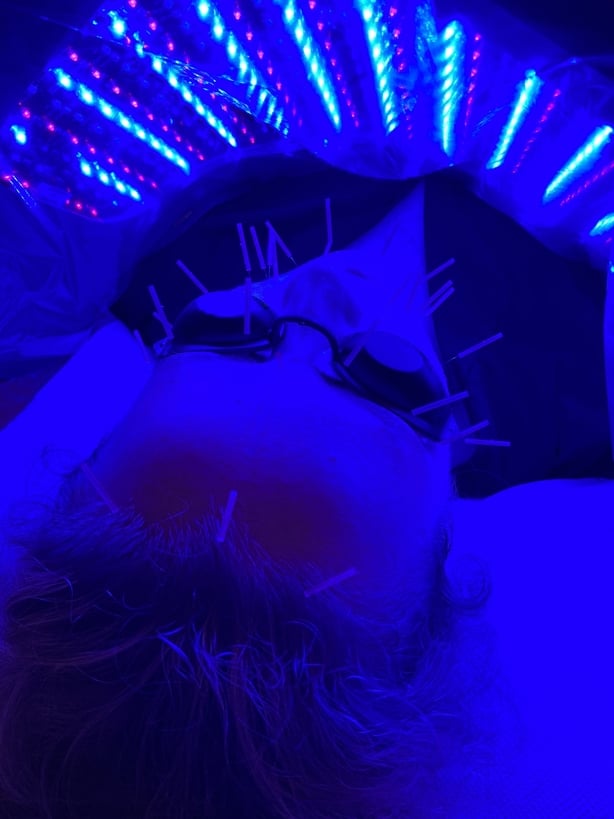 It feels paradoxical to say I was left to "relax" with a face full of needles and bright flashing blue lights for 20 minutes, but relax I did. Amanda offers to play a meditation for you while you unwind, which was a lovely touch, and made me forget for a while the lashing rain outside, my wet runners and everything else we've been worrying about for months.
Twenty minutes later, Amanda removes the needles as swiftly as she put them in, before applying a hyaluronic acid serum to my face. Next, a cooling gel mask is applied to which a microcurrent is attached.
The current mirrors your body's own electrical output by emitting very similar low-voltage electrical currents and triggers cell repair and the production of amino acids. It also helps the serum penetrate deep into the skin. It's barely noticeable – I genuinely asked if it was on –although some people will feel a slight tingle.
After maybe 15 minutes the mask and microcurrent is removed, and Amanda beings the facial cupping: a deeply satisfying technique. Unlike the cupping we've seen on professional athletes, this leaves no mark and involves making sliding movements that mimic the contours of the face, while draining the lymphatic system.
The Verdict
Being in my mid-20s I didn't expect an anti-ageing treatment to have the instant effect on my skin that it did. My skin was genuinely luminous, with a healthy peachy glow and even tone. The acneic bumps along my jaw were even more closed and much less inflamed.
Most impressive to me, however, was the natural contouring I now had: my cheeks looked much more defined and plump, while my forehead was relaxed and eyebrows had a natural arch back to them. I looked like I'd gotten the best sleep of my life, on a beach in the Caribbean.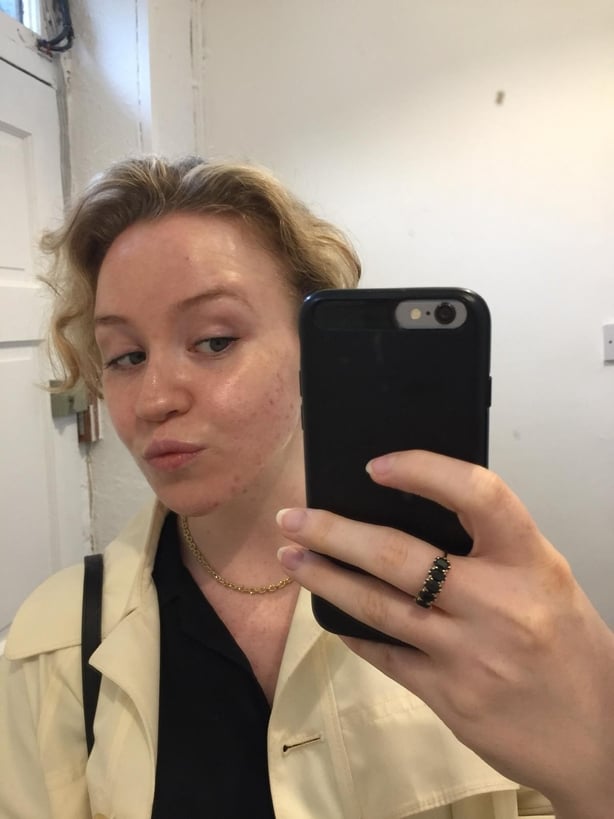 Clearly, I don't have the kind of wrinkles that a person in their 40s might, but this proves that aesthetic acupuncture is less about anti-ageing and more about pro-ageing.
Amanda explains that you can either come for an intensive treatment of four weekly sessions, topped up with one session a month to reduce lines and restore fullness, or you can have a treatment once every six weeks to prevent wrinkles and signs of ageing.
The Details
I was invited to have this treatment done free of charge but, generally, a 75-minute Synergy Facial costs €130, with a course of six treatments costing €650, to be paid in advance. For more information, contact Amanda at 086 8115877 or at www.amandanordell.com.
Other options in the country: