Tanya Grimson looks at the global footprint of the virus and how leading Irish retailers, designers and creatives are adapting to the disruptive fall out of this pandemic.
In March 2020, COVID-19 swept through the world at an unprecedented pace, and with lockdown practices taking place all over the world, it became clear that this was a virus that would have long-lasting results not only from a health perspective but an economic one too.
Hospitality and retail sectors have been one of the hardest hit, with bricks and mortar stores shut down indefinitely with no set contingency plans in place or advance warning. Since then, the effects of the pandemic on the fashion industry globally have been catastrophic with rippling side effects that will change the face of fashion for many years, if not forever.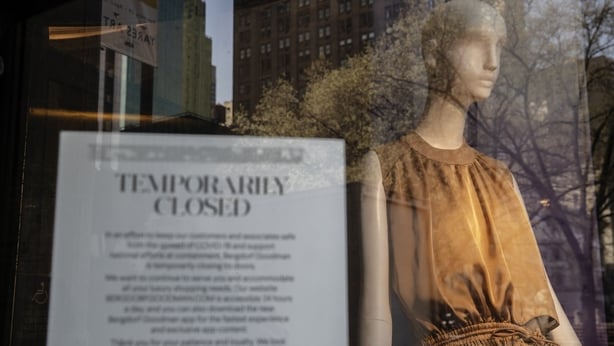 The luxury industry was hit hard as lockdowns in China and Italy - the world's leading luxury makers and manufacturing cities - shut down first, causing a devastating effect on the supply chain and its eco-system. Key designers such as Gucci, Prada and Salvatore Ferragamo significantly cut their orders to luxury leather and textile houses.
Bangladesh also experienced a collapse in orders with some factories, unfortunately, not as protected against these types of eventualities leading people to question if these factories have the balance sheet needed to survive.
This closure of factories and decline in orders has also subsequently placed pressure on luxury retailers who now have to question the impact this will have on their own future inventory and sales forecasts?
"As the world begins to re-emerge from the pandemic, we all have had to adapt and change the way we buy and sell. Production has been delayed which is going to mean a shift in the start of the Autumn Winter 2020 season. However, we're confident that collections will be fully delivered by Autumn in time for the season," states Donald McDonald, Managing Director of Brown Thomas & Arnotts.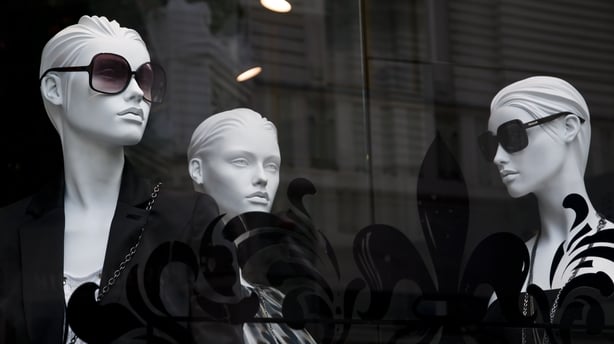 However, questions and conversations in the industry are now not only revolving around how this can be addressed in the eventuality of something similar happening again, but could this unforeseen event be a catalyst to shake things up in this industry and what would those solutions look like?
Could retailers start to look at extending the seasonality of stock, which has become an extremely hot topic in the previous years with a growing backlash to bi-annual fashion weeks due to the environmental aspect?
Creative Director of Gucci, Michele Alessandro announced at a news conference on May 25th that he was going to cut out the traditional S/S and A/W shows and replace with one gender-neutral show stating, "We need new oxygen to allow this complex system to be reborn."
Giorgio Armani echoed this sentiment in the open letter he penned to WWD, commenting: "This crisis is an opportunity to slow down and realign everything; to define a more meaningful landscape. The decline of the fashion system, as we know it, started when the luxury sector adopted the fast fashion operating mode with the continuous delivery cycle, hoping to sell more…I don't want to work like this anymore, it's immoral."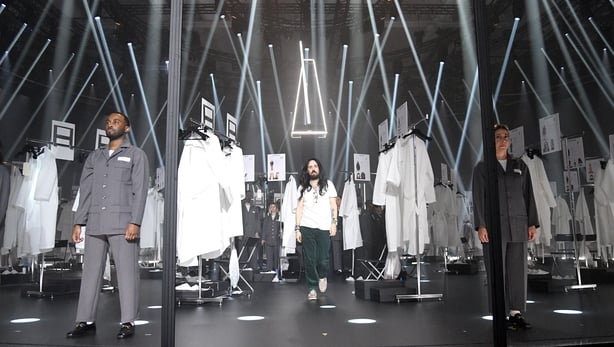 Should retailers also be looking for further diversification of the supply chain? Looking closer to their own domestic market for suppliers, moving production closer to where they distribute themselves?
This is another theory that is being explored and one that is more in line with removing the seasonality of collections and looking towards a more sustainable way of shopping, which has been a growing focus for consumers and brands pre-COVID19.
E-commerce, however, understandably appears to be emerging as the big winner in this pandemic with spikes in online sales reported as consumers were facing lockdown.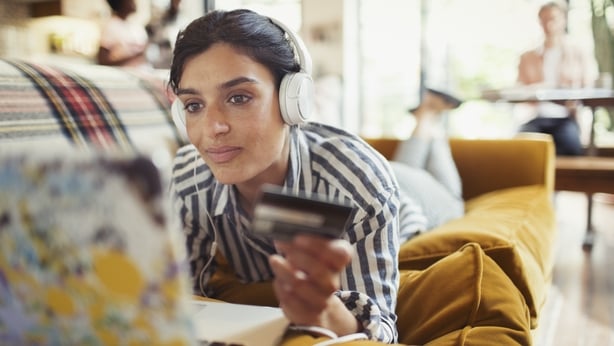 "Over the last decade e-commerce sales have grown share to 14% of overall retail sales," said Alan Coleman, CEO of Wolfgang Digital. "In the last month the volume of those e-commerce sales has trebled," he said in an article for RTE.ie last month.
The absolute necessity of having an online shop or presence became exceedingly apparent as many stores realised that they had to move online to survive. Bricks and mortar-only stores such as Penneys were reported to have suffered losses of up to €736 million of net sales per month according to the Irish Times.
Other wider impacts on the fashion industry have been the change in consumer and brand focus and sentiment. Fashion and luxury were suddenly seen as non-essential items in the face of economic uncertainty and growing job losses.
Consumers are also now highly focused on medical and essential only items with spikes of over 500% in medical goods and baby supplies versus a drop of -100% in bags and travel during the months of March-May according to a recent report released by EShopWorld.
However, while searches for dresses and tops dropped, loungewear and leisurewear were topping our fashion wish lists as the necessity to 'dress for work' became a thing of the past. Retail data analysts EDITED reported an 85% increase in pajama set sales, year on year.
Brands and designers have become philanthropic in their endeavours from making large donations to support the crisis or utilising their existing production outlets to help create face masks and PPE equipment for frontline workers, while marketing messages were being tailored according to the pandemic.
Most notably, Vogue Italia for the first time in its 100 years history also fell quiet in April opting to publish an all-white cover. "But to speak of anything else – while people are dying, doctors and nurses are risking their lives and the world is changing forever – is not the DNA of Vogue Italia."
And this very much has been echoed throughout the world in terms of consumer attention, consumer demand and how the creative and fashion industry is reacting to this unprecedented event" Emanuele Farneti, editor-in-chief of Vogue Italia stated on their Instagram account at the time.
However, as the world slowly starts to awaken from its slumber and Ireland faces a new chapter in retail as our stores officially begin to re-open, it is hard to ignore that this pandemic has changed the narrative of the global fashion industry on so many levels, for the better and for the worse.
Browsing is now replaced in favour of 'in and out' time-allocated slots, models are replacing creative teams and directing shoots from their home, virtual showrooms may replace fashion shows and augmented reality is about to become your new beauty best friend.
The world has changed, and the fashion world has had to pivot, innovate, and respond accordingly in order to come out on the other side. But what impact has the virus had on our domestic stage? What impact has it had not only on major companies but individual Irish designers and creative industry and where does the future now lie as economies look to how other markets respond and rebound?
I caught up with three key players in the Irish fashion industry to find out how COVID9 has impacted their businesses and to find out what does our 'new normal' fashion future look like from their perspective.
Melissa Curry, Designer and Creative Director
Melissa Curry is the Creative Director of Melissa Curry Design and founder of POG: Jewellery with a Kiss.
"We had been designing innovative retail solutions for new markets and consumers. My Melissa Curry brand was on an extensive international launch emerging into travel retail and experiential cruise in Miami and Australia. We had been planning our launch for 18 months and were really excited about it. We had found the perfect partner and consumer fit for our colour loving brand and the conscious consumer. It all just suddenly stopped.
"I was devastated for my team; they had worked so hard. We were very exposed as our business model was focused and in travel retail and retail, so it was a double whammy for us. The most difficult part of the experience was having to say goodbye to some of my colleagues who returned to their homelands as their families were in difficulty so the shock and loss was extensive, financial, and emotional.
"Our products were stuck in airports around the world, so I couldn't do much, as it was all shut down. I stayed in close conversation to all my partners as I knew, financially, we would need their support further down the line once we resurfaced, they are large international companies with contingency plans and supports, where our small company were really only getting back to full capacity after 2 years of planning and building.
"The fall out was extensive, after the first three to four weeks my levels of optimism picked up, as there was nothing I could do except look at what we did have and move on. I have a very stimulating accountant who called me "resilient" and felt I would be simply fine and wasn't worried at all. So that helped me get on with it. We have a combination of gift products and specialised goods that would sell eventually, but just not in the time frame I had set.
"We were preparing to go on line in parallel to our Miami launch, with a full digital marketing strategy. We had to build a completely different version which ended up quite well considering the lack of budget and resources. It took five weeks to build our ecommerce store with the help of a young digital whizz.
"Content is your main overhead, time, and cost, you need good product shots on and off models, videos for all your social media channels and good simple copy writing for product descriptions. Your visuals need to be strong: If you want to sell in a very busy market, especially if you have a quality product and it needs to be appealing to the consumer, and now a very sensitive consumer, who will be discerning.
"I found a great product photographer in the UK who was cost-effective and quick, he got the show on the road and a few friends stood in as models. We luckily had original campaign shots which were strong and helped create a good strong landing page.
"After that, we completely immersed ourselves in Digital which saved us. We also used excess stock from our PÓG collection from our Aerlingus partnership to build a new campaign in support of Jigsaw, and young people's mental health. PÓG promotes gifting and a 'kiss to someone you miss'.
"For now, I will focus on the domestic market as travel retail is so badly disrupted and will remain so well into 2021. We have built an interesting gifting idea for a retail partner, so we are busy polishing this off for launch in Q4 which is a key gifting period.
"Our pivot to digital has been a challenge but also given us a great opportunity to build our own relationship with our customers. Miami is on hold for the moment, time will tell."
Lina Stein, Milliner
Lina Stein's millinery business has spanned over three decades with her architectural creations lauded both nationally and internationally.
"I've been in Ireland since the early 90s I started off in manufacturing and designing and in 2007 I started teaching in Ireland and then oversees at a lot of international millinery events. So, when COVID-19 hit and what really impacted me initially was my inability to attend these pre-booked international trips in London, New York, and New Orleans.
"I had a number of other costume department events also booked so these aspects of my business completely disappeared. I also usually would have had a few ladies booked in for special occasions, but they too had to cancel their own events.
"I make to measure so you have to swallow a certain amount of financial loss but deposits, thankfully, weren't that big and most clients were very very amenable as everyone has to be flexible to be supportive. So I decided one sunny Saturday in lockdown that, as a way of saying a big thank you to all the people who had been booked into these classes in London and New York, I would put up a couple posts asking: "Who's interested in some crazy hat classes making sessions lasting 45 minutes". And it just kind of exploded.
"Immediately afterwards, one of my American clients who was attending online said 'Lina, you should be charging" and, actually, I had no choice but to book the classes via my website so I thought "why not" so I did just that and everyone was very open to them, especially the Americans who are very used to doing workshops and communicating online but, for me, it was absolutely alien.
"Pre-COV19 I would never have dreamt of doing any online sessions because I didn't even learn of these platforms like Zoom even existed, but we worked it out and you learn as you go, I mean you have to pivot out of necessity at times. I am now teaching all over the world online from Ghana to Australia, UK, and the USA. I had existing students in the UK and US that I would have taught in masterclasses that I would have previously travelled for, so this is a really nice way to connect with them in an affordable manner and then they'll come back to me when we can actually see each other again in person.
"Another unexpected positive I have learned from this experience is that when you are in teaching in person, you tend to give a lot of extra physical help and time in class, but online the teacher isn't there to physically take the iron and do it for you, your brain has to work its way around what's happening and that's a really good experience for learning.
"I see this experience, this change as a complete fluke, it wasn't planned at all. For me it feels like millinery pressed play when the world pressed pause, I went full throttle while the rest of the world had to wait a bit. I just hope it takes me forward, I know it is not going to be the same, but I am very flexible, and I have lived my life that way."
Sinead Keenan, Fashion Stylist and Creative Director
Sinead is one of Ireland's leading fashion creatives and has worked in the fashion industry for over 25 years.
"I was in the middle of a busy SS20 season when the lockdown started so the speed in which it all came to a halt was quite a shock. There had been rumors of the virus from international crew and models on set, especially from Italy and France, but no one was expecting the lockdown here or the immediate effect it had.
"It took a couple of weeks to sink in but, once it did, I reflected on how lucky I was in my own personal situation. Thankfully, no one in my immediate family has been affected by the virus. I did have moments of anxiety about what the future holds throughout the lockdown, but I genuinely tried to be grateful for this time and to re-evaluate what's really important, like loved ones and downtime, and also knowing that we can live with so much less.
"One positive is that this time at home has given me the opportunity to work more on a side project that will hopefully come to fruition in the coming months. But how we move forward when this is all over has been at the forefront of my mind since the beginning. Most of my work is done remotely from my home office in terms of creative concepts, building presentations and shoot/show production, etc. My role as a stylist on a shoot set or backstage is the only time it would be tactile and close up.
"However, like the hair and beauty industries, we have to adapt and adhere to the social distance requirements and wear the appropriate PPE so we can get going again asap. I have been speaking a lot recently with photographers and some of the main photographic studios, and like all venues, (entertainment and hospitality) they are preparing for the new normal with deep cleansing routines and they will adhere to the same restrictions and requirements as all other industries.
"In fact, studios will be the perfect example of a controlled environment where small numbers of professionals can work together safely. If supermarkets, restaurants, retail, and hair salons can operate, so can the creative industries.
"During the crises, I think [virtual photoshoots] have been a necessary solution for brands in the interim but, personally, I don't think it could continue to be the only method of image creation going forward. What I do think will happen, is that it will force the return of just having the necessary core crew on set. Shoot production, particularly internationally, became huge and very crew heavy, with many additional personal on set. It will be great to see it return to small intimate collaborative teams, with only the imperative image makers involved.
"I think this pandemic has brought out a lot of amazing innovation and creativity across all industries and I'm looking forward to getting started again albeit initially in a different way. I miss working with brilliantly creative people, and that's why I could never continue to work remotely.
"We need to adapt and refocus so we can move forward creatively within the new restrictions until we can reconnect physically again. Like a lot of people, I have a small touch of anxiety about the world opening up again, we've been cocooned mentally and physically so remerging with a continued feeling of safety will be important.
"Trying to gauge what direction my industry and clients are going to take will also be essential, watching how they are reemerging, how everything is opening up so I can respond accordingly but also lead and guide clients with solutions to help us all move forward on creative projects again.
"Navigating the near future will need lots of innovative thinking and I for one am looking forward to seeing what positive changes this will bring about. Sometimes, you need to leave the field to fallow in order to continue to grow."