Over the past few years, the environment has become a hot topic in the fashion industry. Even though it's cool to talk about now, Christopher Raeburn has been quietly championing eco-friendly fashion for over 10 years.
When the British designer burst onto the scene, he became known for making clothes – particularly menswear – out of cast-offs like old army parachutes. "I like to joke that I'm a dinosaur in this conversation," the mild-mannered designer says when asked about the industry's new obsession with the environment.
"I graduated back in 2006 and started Raeburn in 2009. For me, it really started with a love of material first, and a pragmatic 'make do and mend' approach in the way I live my life."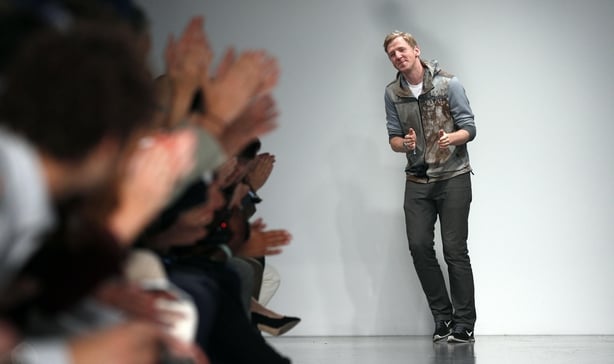 Raeburn started an eco-friendly label before it was cool to flaunt your environmental credentials. He plays down how cutting edge he was by saying: "Actually, all of this is just common sense. It's about reducing your impact and really doing what you can for the environment."
It's not just parachutes, but Raeburn has also transformed things like delicate 1956 maps used by Britain's Royal Air Force into dresses, tops and trousers. A lot of his clothes – in style and material – have military connotations, which reflects his resourceful world view.
Raeburn admits he is "proud" to have been ahead of the curve back in 2009, and recognises how far the industry – and the world – has come since. "It's almost like the whole vocabulary around responsible design has shifted," he says, crediting groundbreaking TV shows like Blue Planet II and War On Plastic, for helping people become more aware of waste.
"People have really woken up to their responsibility," Raeburn says – but there's still a fair way to go. "We all need a more circular way of working, not just making recycled clothes – but recyclable. For me, it's not even about sustainability anymore, it's about what we can do to really start to regenerate and be a lot more positive on the planet – after, let's face it, quite a few decades of being pretty detrimental."
Unsurprisingly, Raeburn champions everyone making more sustainable choices in their day-to-day lives. His advice for a more eco-friendly life? "I would say absolutely, you should start small and manageable – if you think you can do everything straight away, it can be quite overwhelming. But actually, if we make small choices, collectively that makes such a big difference.
"I do think it's about doing less but better when making purchases, and really thinking about the quality of the items you're purchasing. Ultimately, the best thing we can do as people – particularly around clothing – is keep what we have in circulation for the longest possible period of time. Then we're really reducing our impact on the environment."
Raeburn might be an established designer who studied at the Royal College of Art, but he's a firm believer that everyone can repurpose their own clothes. He's been working with fabric dye company Dylon to encourage people to do just this, coming up with templates for remaking old t-shirts and shirts, as well as transforming a pair of jeans into a new tote bag.
"What's quite cool about this project with Dylon and encouraging people to upcycle what they already have, invariably you already have an emotional attachment," Raeburn says. "So that pair of jeans, for example, might be quite worn down, or that beautiful top you wore for years. Isn't it cool if you can take that same thing and give it a new lease of life?"
Now is a particularly good time to give it a go, because you might find yourself stuck at home more. "What better time to try and get creative, to test and learn and experiment and have fun," Raeburn says. "That's what this is all about."
This isn't the only way Raeburn is reaching out to people during the coronavirus crisis. Community is incredibly important for his brand, and now, he's posted patterns for some of his most iconic designs on social media, meaning you can make your own Raeburn shark at home.
"What an amazing opportunity to hopefully get people making and doing things," he says. "We all, for the first time, seem to have… time. So, if we use that wisely, we have an opportunity. And, hopefully, there will also be that opportunity to really take stock and consider what happens next within the fashion industry, and within the wider world as well."
You can find the how-to guides on upcycling your clothes at dylon.co.uk