Once upon a time, being "eco-friendly" conjured images of simple fabrics, pre-loved and well-worn clothes and threadbare furniture, but those days are long gone. Junk Kouture is back to prove that thinking outside the box can be incredibly glam.
Leading the charge on sustainability for years, and now in its tenth year, Junk Kouture has been challenging post-primary school students across the island to create high-end designs from junk.
Whether it's old bin bags, car parts, discarded metal or old newspapers, the competition has pushed students all over the country to embrace the spirit of invention along with sustainable living.
🔥 Our @tarastewartdj has picked her five 2FM @junkkouture Wildcard Winners 🔥

Feast your eyes on these 👀👏 pic.twitter.com/XTssmVH3sS

— RTÉ 2FM Stay at 🏡 (@RTE2fm) April 6, 2020
With 75 entries already chosen for the final showcase in Dublin's 3Arena, the final five wildcard entries have now been selected, handpicked by sustainable style queen, RTÉ 2fm's Tara Stewart, who made the announcement on Twitter today.
Junk Kouture are delighted to reveal the remaining five final spaces have been awarded to one team from each of the five regions. And while the final is postponed for now, the spectacular showcase will take place later this autumn. The final five are:
Northern Region, Olann Álainn by Aoife Brogan of Deele College, Raphoe, Co Donegal:
This is Aoife Brogan's first time taking on a Junk Kouture project but she is the third sister in a house of Junk Kouture enthusiasts, having already created seven dresses between them and reaching the Grand Final on multiple occasions.
During Transition Year, Aoife worked in a craft shop specialising in wool and yarn, and she was able to collect off-cuts and trimmings from various projects destined for the bin. From this, she's created a modern-take on a classic ballgown dress which features leggings underneath a full skirt.
An interesting use for knitting needles can be seen in her headpiece, complementing the overall theme of the design.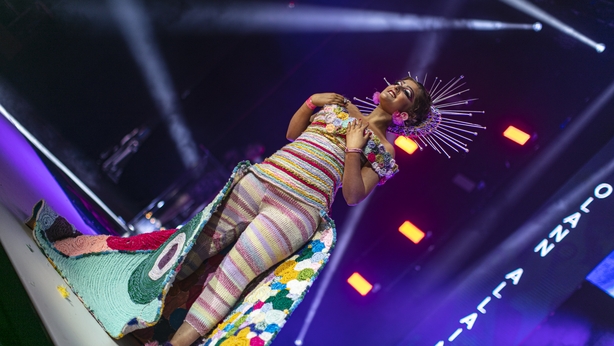 Eastern Region, Once Upon A Culture by Anastazija Stojakovic, Alex Sirbu, Mansi Neerputh of Larkin Community College, Dublin 1:
This thought-provoking design from Anastazija Stojakovic, Alex Sirbu and Mansi Neerputh in Larkin Community College, Dublin 1 is based around the theme of arranged marriages, which still occur in some cultures today.
The design tells the story of a woman who wants to be herself but ultimately is trapped by her culture and must accept her fate. The team were inspired by the beautiful body designs of henna and lace worn in the Indian culture, upcycling old lace. They used cheese puffs and the packaging to create a ruffled skirt on the dress.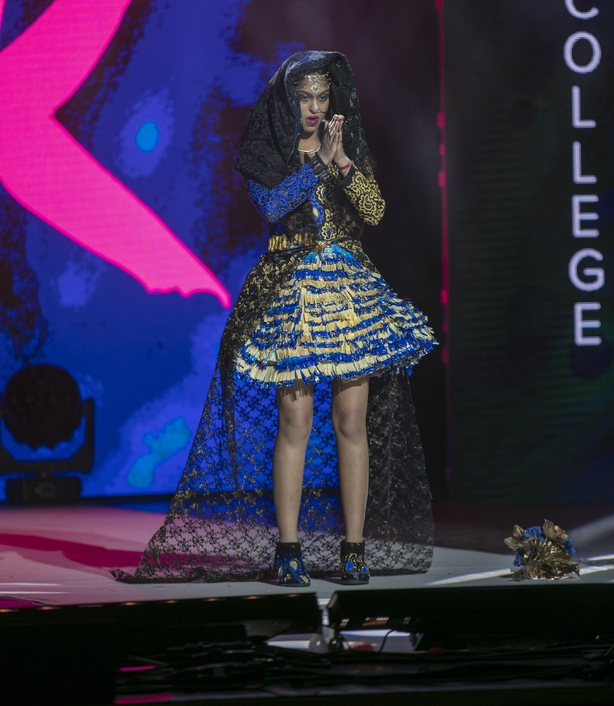 South Eastern Region, The Butterfly Effect by Lexie Carty, Nadine Kehoe, Aoife Moorehouse of Coláiste Bríde, Enniscorthy, Co Wexford:
This vivid orange and black butterfly-themed design from Lexie Carty, Nadine Kehoe and Aoife Moorehouse of Coláiste Bríde, Enniscorthy, Co Wexford is predominantly made of 300 respiratory tubes.
Butterflies are associated with hope, resurrection and remembrance and this fitted the idea to design a dress using respiratory tubes. The butterfly wings for the top and bottom of the dress were handcrafted from chicken wire by the team. They then cut, rolled and sewed corrugated respiratory tubing from a pharmaceutical company to slot into each individual section of the wire.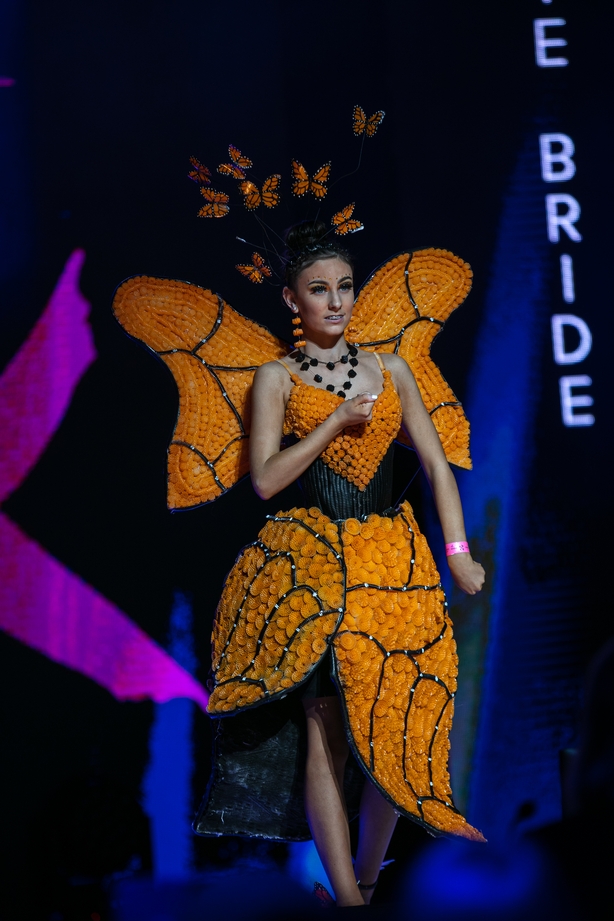 Western Region, Bee Gold by Moya Ibbotson, Katie Flynn, Moya Guinan of Gallen Community School, Ferbane, Co Offaly:
This design by Moya Ibbotson, Katie Flynn and Moya Guinan of Gallen Community School, Ferbane, Co Offaly raises awareness about the importance of honeybees, as they are an integral part of our environment. The midlands are surrounded by natural landscapes, such as the bog.
As climate change is so topical right now, the team felt that creating this dress would give them an opportunity to promote sustainability and protection of natural environments. Election posters and old jeans were used to create this regal masterpiece.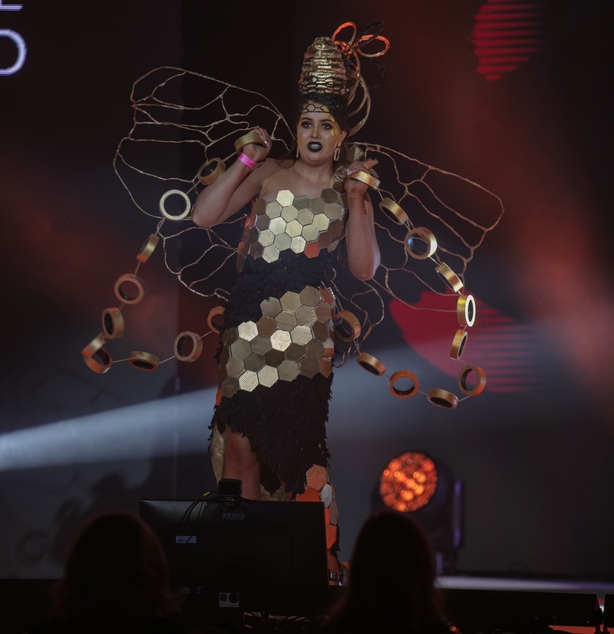 Southern Region, Arcoiris by Lauraine Canty, Sophie Pyke, Rachel Lambe of Presentation Secondary School, Clonmel, Co Tipperary:
This dazzling design is loud and proud – just like everyone should be about who they love and who they are! Using over 500 Pringle cans, Lauraine Canty, Sophie Pyke and Rachel Lambe hand cut and shaped each piece to make a variety of dynamic designs to create their colourful outfit called Arcoiris, which is Spanish for 'rainbow'.
Taking inspiration and vision from Ru Paul's Dragrace and iconic popstar Lady Gaga to make the design, the team's design celebrates the LGBT+ community and promotes a message of positivity and pride.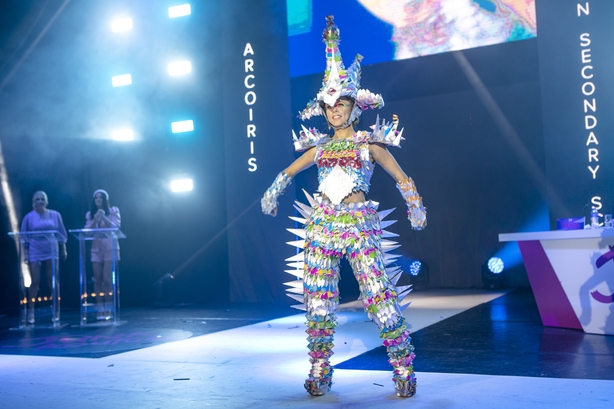 This year, Star of RuPaul's Drag Race Michelle Visage will join the judging panel with The X-Factor's Louis Walsh to lend their entertainment expertise to proceedings to help their fellow judges - Dr. Tracey Fahey from LIT, Jane Leavey of Griffith College, and former winner and LSAD graduate Stephen McLaughlin - on the night.
The standard of designs from the crafty students was "through the roof", Stewart said. "I was impressed by the brilliant stories and even political messages behind the designs. Important topics ranging from global warming and Pride to arranged marriages were touched on by students – I think it is safe to say that the kids are alright!"