Fashion influencer Rob Kenny sat down with Senior Brown Thomas Menswear buyer, Stephen Burnett, to discuss the luxury retail giant's current push to target Ireland's most stylish men.
Last week, I popped along to the annual Brown Thomas Menswear Spring/Summer Fashion Show. It's ordinarily a more intimate occasion, featuring the regular top-tier Irish fashion faces, so I was confused to see a long queue of notably trendy fashion followers as I pulled up to the event.
Irish press launches generally pull from the same pool of attendees: a mix of journalists, media personalities and influencers but the crowd here was a much broader array.
And they were noticeably cool. To the point that James Kavanagh in his floor-length Alan Taylor wool coat and thick white socks tucked into Gucci platforms, looked (almost) commonplace.
I found myself raging I hadn't put more effort into getting ready that morning, keeping my Burberry trench and Stable of Ireland scarf firmly wrapped in place, hiding my highly uninspiring outfit below.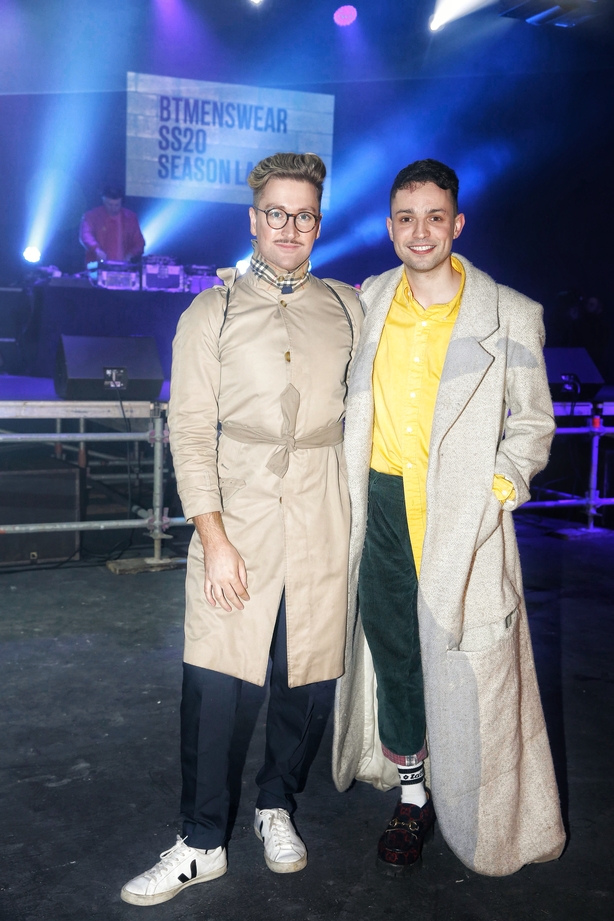 The Show
After small-talk, finger food and a trip to the bar, we nabbed a spot standing along the towering catwalk. Ready to be introduced to what men's collections Brown Thomas will house for the next few months.
Rumbling house and electro music took off, as did the models who deserve a shout-out of their own - they were incredible. All Irish born or based, the standard would be the envy of any other fashion house in Europe.
The show itself was big, bold and impeccably orchestrated. Balenciaga, Alyx, and Prada were the shining moments for me.
Post-show I was delighted to grab the opportunity to sit down with Senior Brown Thomas Menswear buyer, Stephen Burnett to discuss all the upcoming trends. Read the Q&A below.
Was there a decision made to up the ante on promoting menswear this year? This was a bigger launch event for menswear than we've previously seen.
Over the past couple of years, Brown Thomas has welcomed the arrival of the most sought-after contemporary labels to menswear. We were really keen to showcase the incredible mix of brands available today with a special event to the most fashionable men in Dublin.
What were your main motivations when buying this season's men's SS20 collections?
Our loyal customers. They appreciate well-known labels but then are also on the look-out for something different; the next hottest, coolest brand or must-have item.
Which brand's collections were you most impressed with when buying this year, and why?
Prada is very strong this season; the coloured parka is a real highlight. Stone Island's collection sees a range of colours and styles that are perfect for warmer months.
Stussy has quickly become a firm favourite: 90's inspired skate style being a real influence at the moment, the relaxed hoodies and shorts are set to become this season's most wanted.
There seems to be a strong shift from tailored looks to more of a street style, where is that coming from?
Streetwear has remained a huge trend in menswear, along with sneakers, with luxury labels such as Prada, Givenchy, Balenciaga leading the way and it resonates really well with our customers.
The recent AW20 menswear fashion weeks saw a move towards relaxed tailoring, which will be reflected in our menswear collections in store next season.
What was notably new in the men's buying from Brown Thomas this season?
We introduced Dior, Dsquared2 and Bathing Ape last season and we're excited to expand these collections even further for SS20.
We have a capsule range dropping from Prévu in March and a couple of others that we're keeping under wraps for now, but keep an eye out on Instagram (@BTMenswear) for the latest news.
We're just back from buying trips in Milan and Paris for next season and we've some really exciting additions coming down the tracks.
From what I saw on the catwalk, it looks like there are some really exciting times ahead for menswear in Ireland, something that I am more than happy to embrace.
Follow Rob Kenny on Instagram here.