With the fashion weeks of New York, London, Paris and Milan all wrapped up and pastels slowly making their return to the shops, we're one step closer to the warmth of summer: sunglasses, frilly dresses and flirty delicate slips.
And according to the stylists in Arnotts, sultry and sexy fabrics, clashing prints and cardigans are what we'll be wearing when the temperature rises.
With Kathryn Thomas, Stephen Byrne, James Patrice, Lorraine Keane, Rob Kenny, Darren Kenny, and Tara Stewart in attendance at the Arnotts Spring Summer 2020 show, it was an exceptionally stylish morning.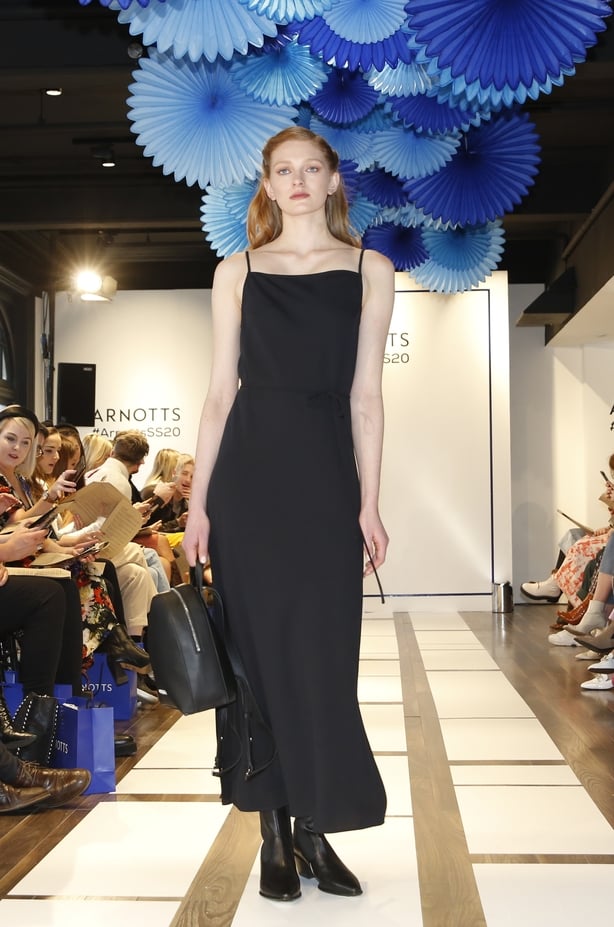 Styled by Aisling Farinella, models strutted their stuff on the runway wearing pleated skirts, satin gowns, and mix-matched check dresses and blazers, while practical pieces like trainers, backpacks and puffer jackets assured us we can be chic and comfortable come summer.
We caught up with some familiar faces while at the show, with RTÉ presenter Kathryn Thomas and stylists Cathy O'Connor and Clementine MacNeice sharing their top picks of the looks, as well as what they're planning to wear this summer.
"The thing with this show, in particular, was really femininity", O'Connor said. "We're seeing a lot of really beautiful dresses in gorgeous fluid fabrics and what really adds to that layer of femininity is the colour palette. You've got very soft pinks and blues, almost like sorbet colours. Really just delicious colours!"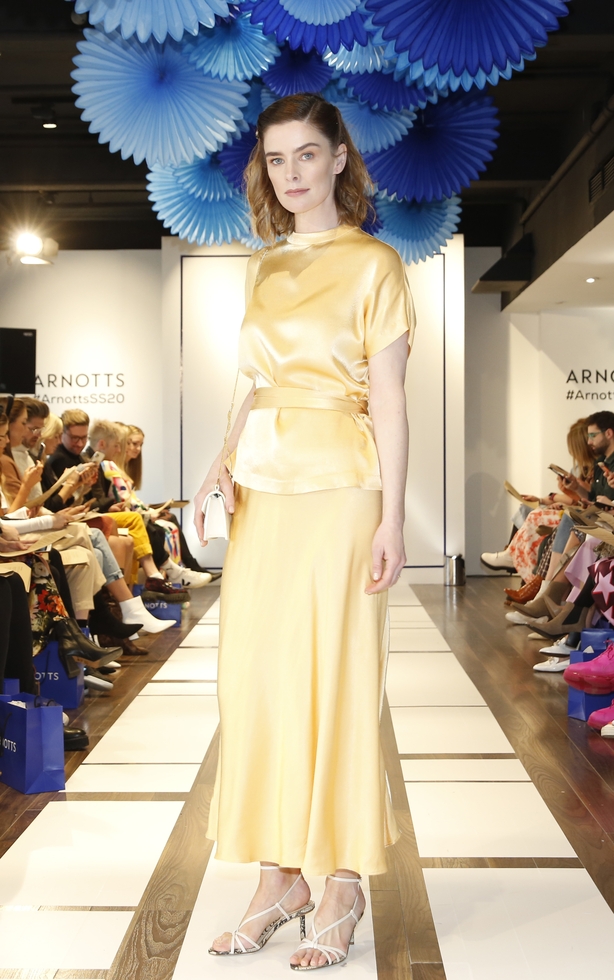 "I absolutely loved it, I think Aisling's style really came through there", said Thomas, adding that she was most drawn to an oft-overlooked shade on the spring/summer runway. "I loved the colour but I loved the neutrals and the black as well. There was a little spaghetti strap black slip dress, I thought that was stunning."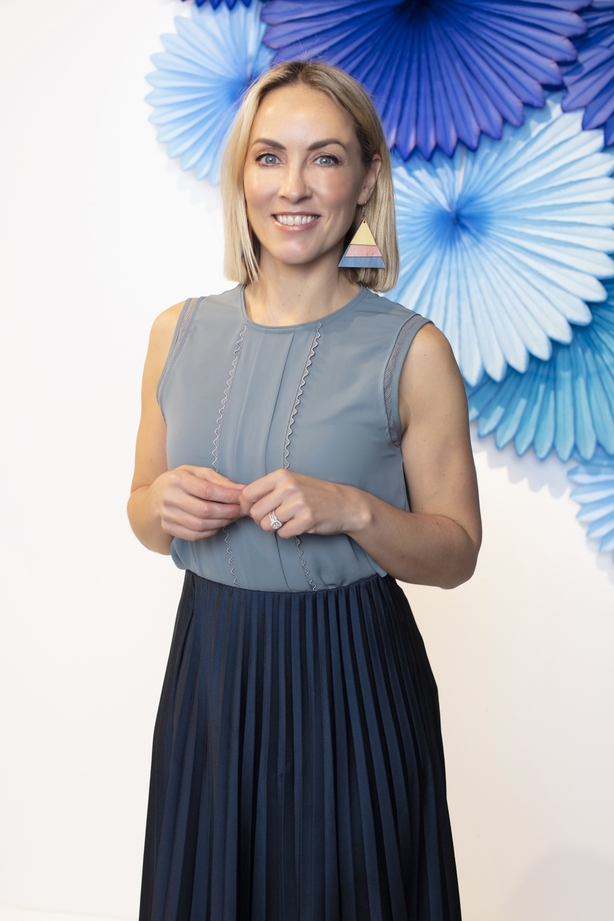 "The big chunky Docs making an appearance again for the summer. I love black for the summer. I think it's overlooked sometimes but black in the summer can be cool."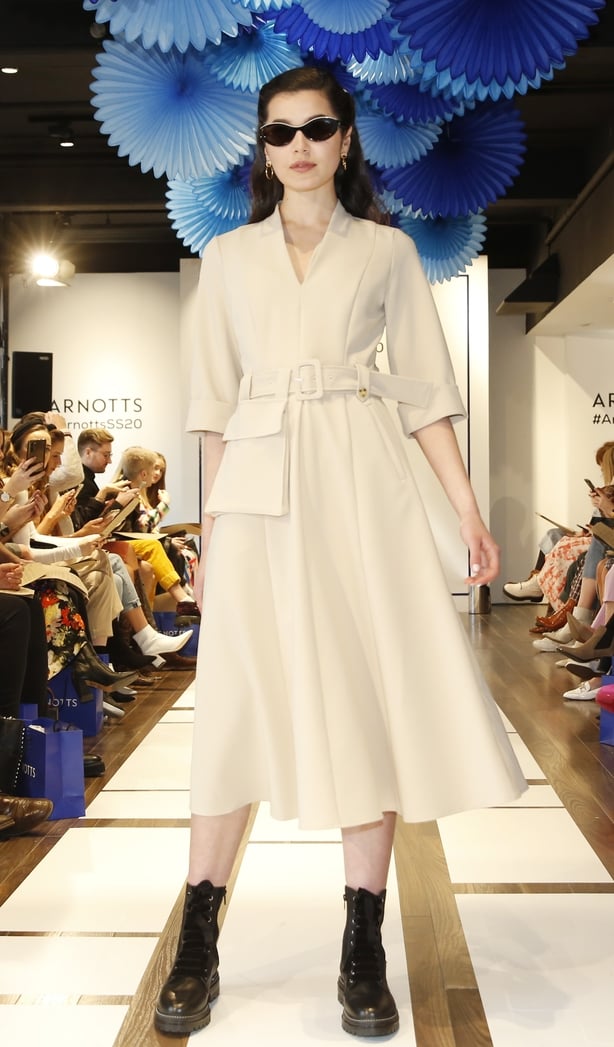 Other favourites where the red tiered pleated dress by Essential Antwerp and a mocha silk vest by Reiss paired with a shimmering pink pleated full skirt by MAX&Co. "It was really cool but edgy as well, kind of boho."
Clementine MacNeice, who many will remember as the former stylist for Dancing With the Stars, was drawn most to "all the pastels, the clashing prints - the gingham with the floral - and of course all the pop colours" as gowns in fuschia, orange, red and yellow came down the runway.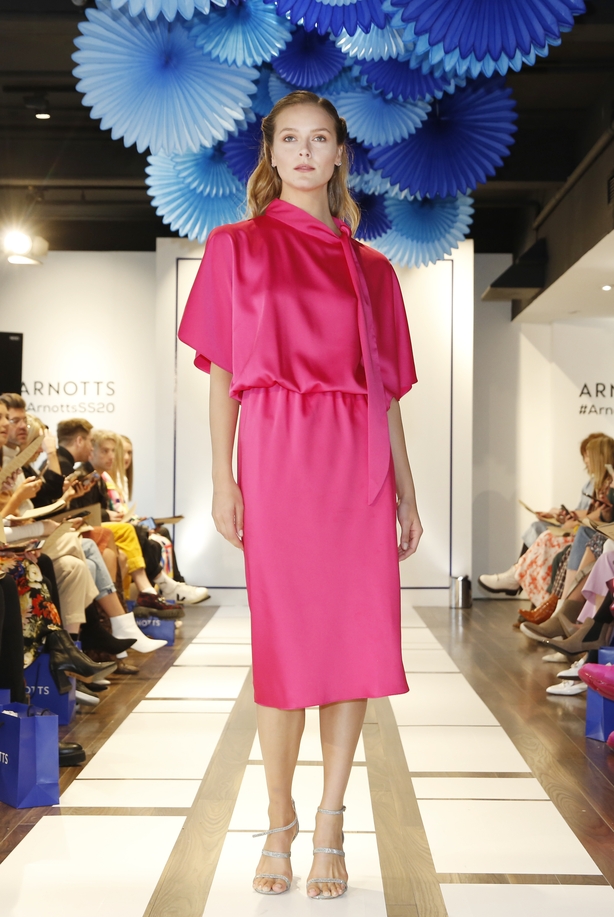 However, the moodier and more seductive looks also caught her eye, particularly the deep navy shades in satin and silk. "It was more about clean lines and those luxurious, deeper colours."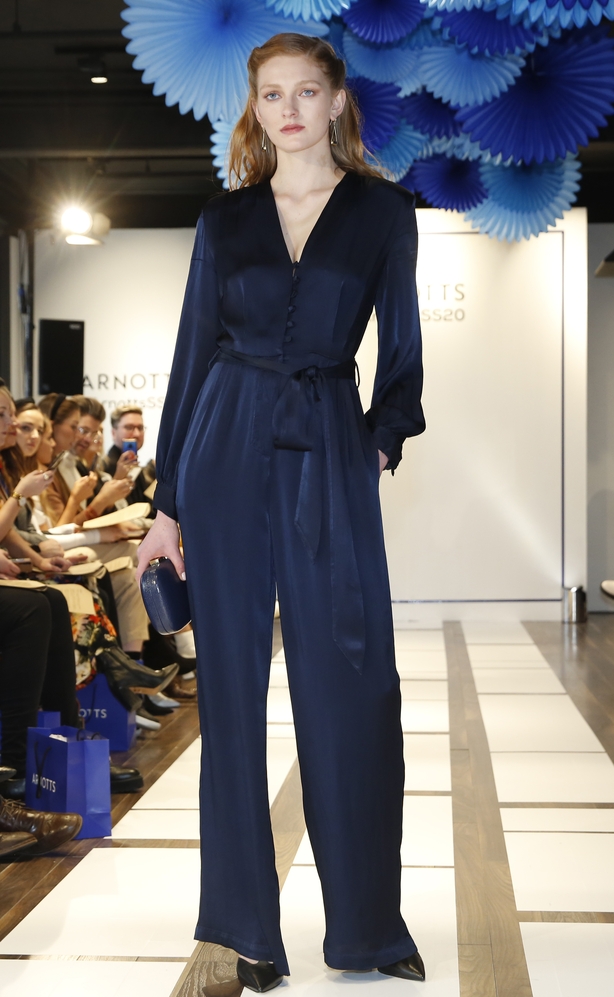 As for their summer looks, Kathryn said she's counting down the days until she can break out the flatties. "I'm in sandals at the moment but it's still not warm enough for them yet. My little camis, my vests, they're all up in the attic and I haven't taken my summer box down yet but they'll be on their way now. I'm inspired by all of that!"
Clementine was drawn to clashing prints, she said. "Floral is always huge and we always go for floral prints, but I liked the gingham mixed with the floral. Something we're always afraid of is clashing prints and then when you saw it in the runway today it looked amazing, so it's something we should be a bit more experimental with. If it's done right, it works!"