Sinéad Burke sat in the much-coveted front row of Roksanda's autumn/winter 2020 show at London Fashion Week, wearing a leather jacket, burgundy top, black velvet skirt, and black ballet flats.
The Irish activist attended the show alongside Oscar-winning costume designer Sandy Powell; former-model Sheila Atim; actresses Joely Richardson, Vanessa Redgrave, Cate Blanchett, Zawe Ashton, and fashion icon Billy Porter.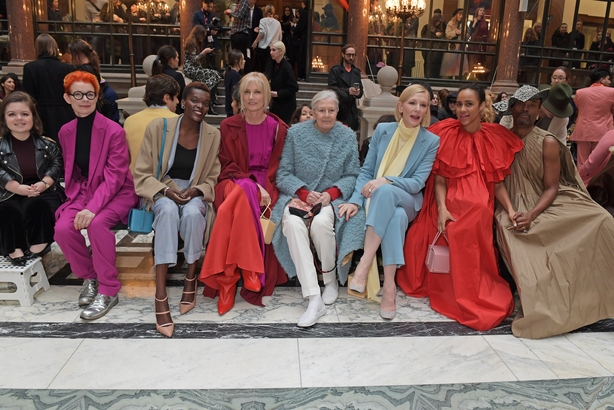 In over a decade since launching her label, Serbian fashion designer Roksanda Ilinčić has become a staple name on the London Fashion Week schedule.
Her iconic collections are instantly recognisable thanks to her use of stand out colour blocking, sculptural shapes, modern, distinctive cuts.
The autumn/winter 2020 collection proved to be no different, showcasing a collection of sweeping fabrics and vibrant colours.
Burke, who became a contributing editor for British Vogue in 2018, has become a staple of the fashion scene, even becoming the first little person to attend one of the world's most prestigious fashion events - the Met Gala.
Featuring on the cover of The Business of Fashion in 2018, and Meghan Markle's September issue of British Vogue in 2019, the Navan woman has become quite the cover star.
During London Fashion Week, Burke attended both the Roskanda and Victoria Beckham shows as well as the British Vogue party.
And, by the look of her latest Instagram post with Posh Spice herself, Sinéad feels right at home at the star-studded events.
The 30-year-old has made leaps and bounds in her career in a relatively short time, earning herself a spot on the global stage with appearances on Late Night with Seth Meyers in the US, The Late Late Show in Ireland, and The Russel Howard Hour in the UK.
The activist has an impressive list of accomplishments behind her whether it be her 2017 Ted Talk 'Why design should include everyone'; her role as guest-editor with British Vogue; her celeb-filled podcast As Me with Sinéad or, indeed, the fact that she is undertaking a Ph.D. in Trinity College on human rights education.
Named in BBC's '100 women of 2019', the academic has been praised for her positive influence, noted for her ties to fashion icon Anna Wintour, and celebrated for her passion for empowerment through design.
We can't wait to see what 2020 holds for this impressive lady.