She's known for her adventurous and avant garde red carpet looks, but the Little Women star is just as stunning when wearing something sleek and simple, as her appearance at the Baftas tonight proves.
The Carlow native walked the red carpet as a nominee for Best Actress in the Greta Gerwig hit, but her outfit was a far cry from 19th century United States. Looking radiant in a simple black Gucci gown, the star gave us her take on Old Hollywood glamour - with an edge.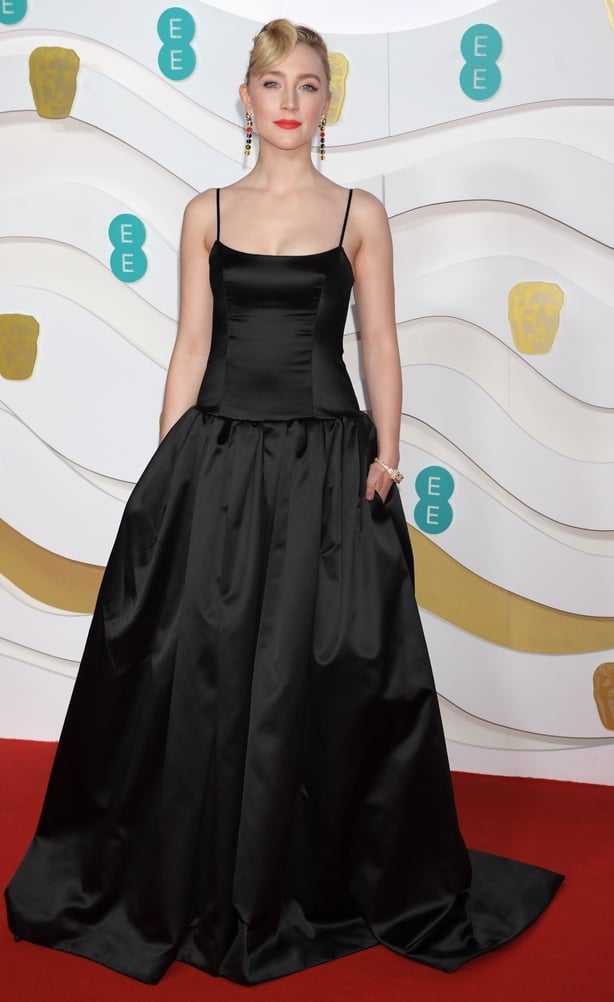 The gown is a custom piece by Gucci, a structured and minimalist gown in inky black satin, with a corset bust nipping in Ronan's waist. The hem sits low on the hips before flowing out in a full romantic skirt, while the patent leather straps adds a touch of the modern.
Adding some colour to the monochrome look, Ronan added a dazzling pair of bejewelled earrings, with multicolour stones dropping from shimmering clusters. Boosting the rich jewel tones of her accessories was a soft orange lipstick, no doubt chosen by Ronan's makeup artist Kara Yoshimoto Bua, her makeup finished with lush black lashes and a hint of blush.
Ronan was dressed by her longtime stylist Elizabeth Saltzman, who spoke of how the dress was made sustainably in keeping with the Baftas' request that stars be environmentally considerate this year. "We wanted to create a gown that didn't waste any resources or people's time," Saltzman told Vogue.
Her hair, meanwhile, was another modern take on a classic, with her hair twisted and pinned at the top of her head to resemble a 1940s-style fringe.
The look was a turn away from her usual look this red carpet season, which saw her pick dramatic and romantic gowns in bright shades of red and lavender, arty sculptural dresses and a jaw-dropping shimmering number at the Golden Globes.
Earlier tonight, the star turned out another chic and edgy look for the pre-Baftas party in London, stepping out in a one-shoulder black sparkling mini dress with a gold chain belt and trailing mini train.
The spunky number was accented with matching Chanel cuffs on each wrist, and layered over black sheer tights, ensuring they're the formal accessory of the moment once again.