This year's Paris haute couture fashion week is already shaping up to be a memorable one: Jean Paul Gaultier is set to carry out his final runway show today after 50 years in the business, Comme Des Garçons drew criticism for sending white models down the runway in cornrow wigs and Dior asked "What if women ruled the world?"
But the most beguiling event may have been Louis Vuitton's unveiling of their latest purchase: the 1,758-carat Sewelô rough diamond, which is the world's second-largest rough diamond.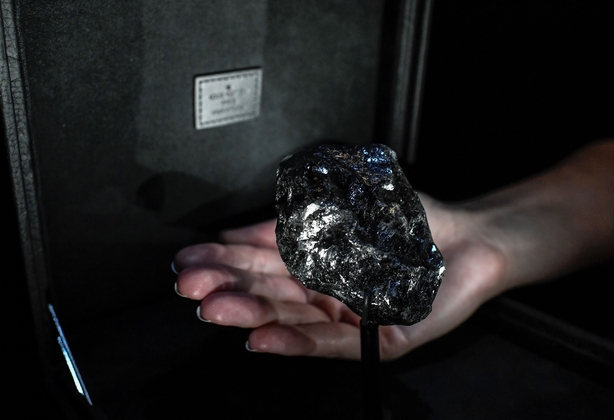 The craggy stone, blackened with carbon and as yet unpolished, was revealed in the Louis Vuitton's store in Place Vendôme and even in the dark it glinted fiercely from behind the carbon.
The company, which is owned by the luxury goods company LVMH, did not reveal how much they paid for the diamond, but its worth is sure to be profound. The word Sewelô means "rare find" in Setswana and the diamond was found in Botswana last year.
In comparison, the largest rough diamond ever found - the Cullinan Diamond - was discovered in South Africa in 1905 and weighed in at 3,106.75 carats or 621.35g. It was originally put up for sale, but after two years was still available. Eventually, it was cut down into smaller diamonds by Edward VII, King of the United Kingdom. The largest of them, the Great Star of Africa, is mounted in the Sovereign's Sceptre with Cross.
According to Lucara, a Canada-based company that owns the mine where the stone was found, the Sewelô will be polished and divided up into smaller gems for luxury items of jewellery, as stated in The Guardian.
Luxury jewellery is fast becoming one of the most profitable branches of luxury fashion, with many of the traditional fashion houses investing more in the area in recent years. Louis Vuitton entered the market in 2012, and is in direct competition with Bulgari, also owned by LVMH, and Richemont's Cartier.
Dior has been celebrated for many years for its intricate and highly creative jewellery offerings, while Chanel is known for its layered, textural pieces.
However, Gucci - under the celebrated and modern leadership of Alessandro Michele - has also recently announced that it will enter the high-end jewellery market.