It's still early on in awards season, and events like the Critics' Choice Awards give us a taste of what we can expect on the red carpets this year.
It would seem like celebrities are rebelling against the dreariness of January with their sartorial choices. Sunday night's awards show was awash with bright colours – think highlighter greens and eye-catching tangerines.
Here are some of our favourite sunny looks from the night.
The pinks…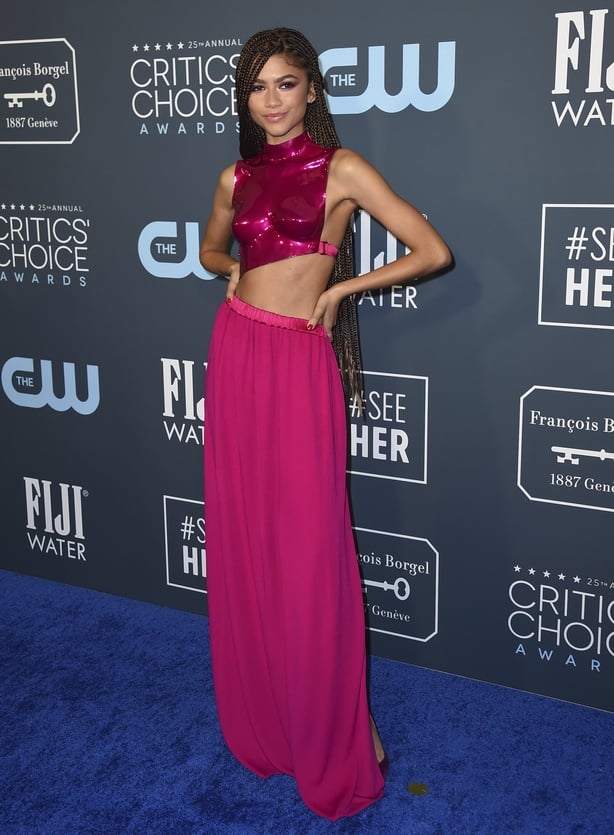 In one of the stranger new trends, breastplates are set to be big this year. Zendaya wore a bright pink breastplate with a matching floor-length skirt from the spring/summer 2020 Tom Ford show.
This isn't the first time we've seen the futuristic-looking top – Gwyneth Paltrow wore the same one on the cover of the February edition of Harper's Bazaar, and Zoe Kravitz wore something similar from the same collection in a recent photoshoot with Elle.
Zendaya told Entertainment Tonight: "I saw it on the runway and thought it was sick and amazing because they were actually able to scan and mould my own body so it fits me the right way, so it's pretty cool. It was very science tech situation going on."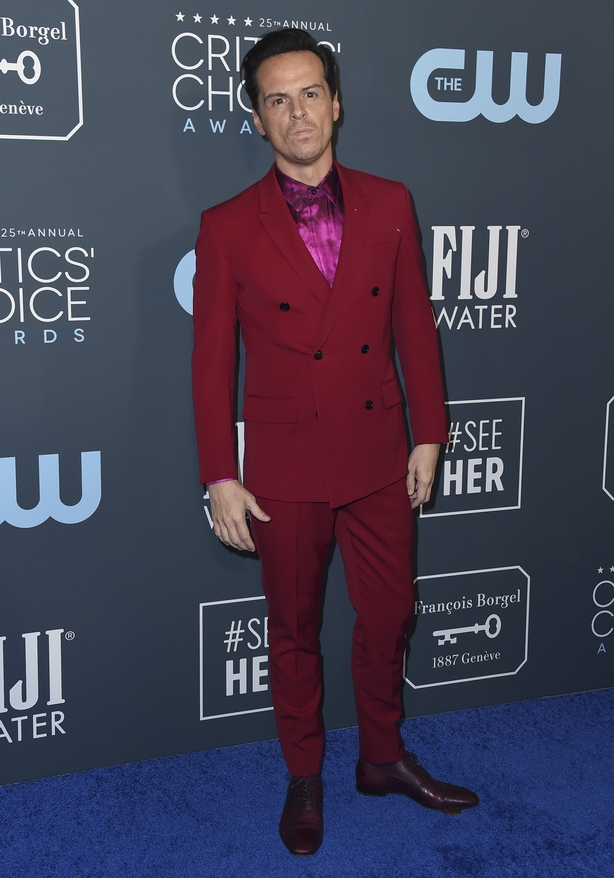 Fleabag's Andrew Scott is a particularly fun addition to this list. Not only is he wearing bright colours on a night where male sartorial experimentation was limited, but he went one step further and clashed red and pink together.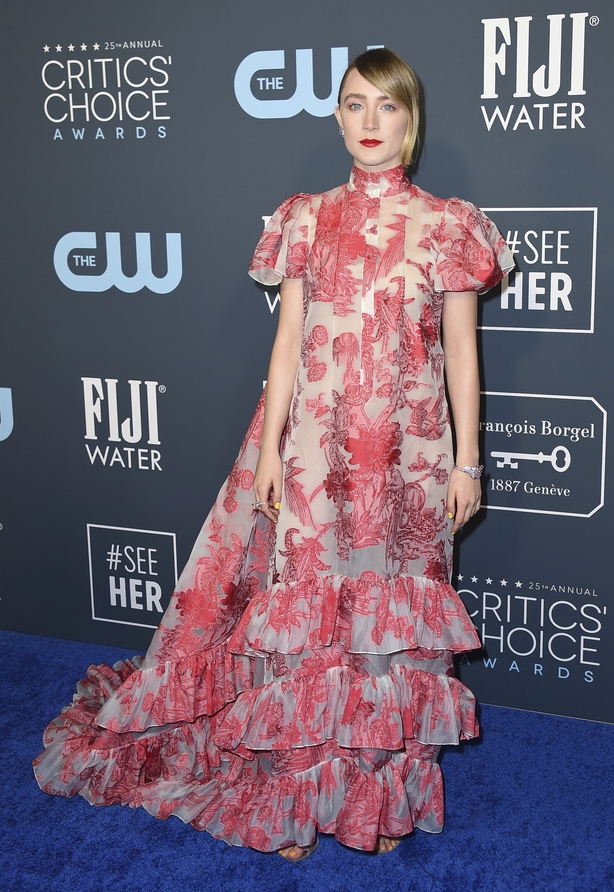 Saoirse Ronan was one of the few people on the red carpet to rock a pattern. Her Erdem dress featured a pink floral design, and she elevated the look with a bright red lip and yellow nails.
The greens…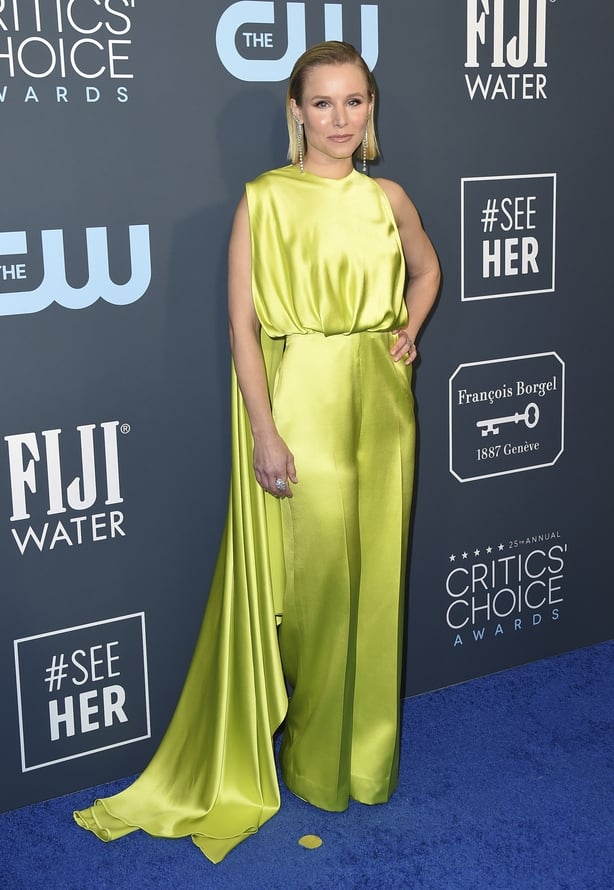 The trend for highlighter colours doesn't seem to be going anywhere. Kristen Bell wore an acid green jumpsuit with a trailing sleeve by designer Cong Tri to the Critics' Choice Awards. Vietnamese designer Tri is fast becoming a celebrity favourite – Beyoncé famously wore one of his gold dresses for the European premiere of The Lion King last year, during which she met the Duchess of Sussex.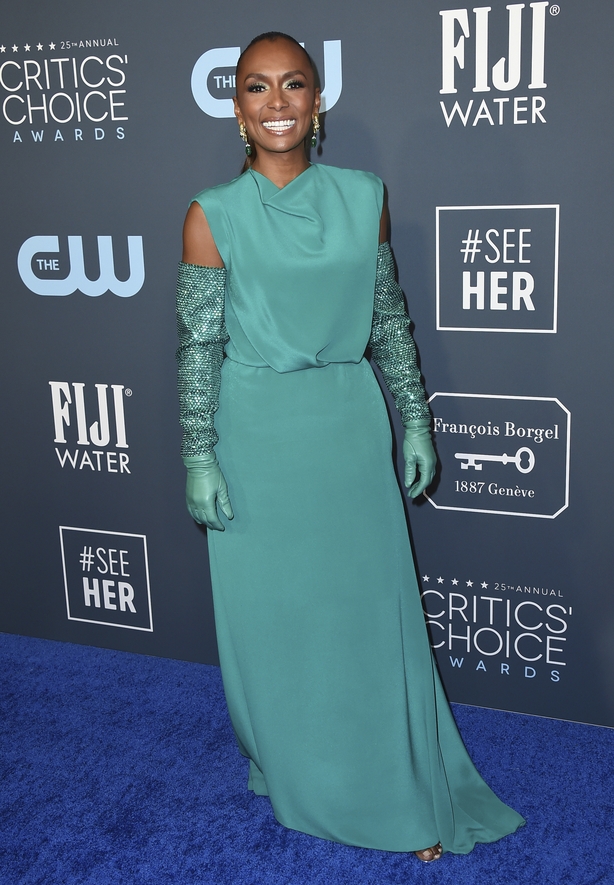 Janet Mock represented jewel tones on the red carpet, wearing an emerald green Valentino outfit. The dress itself was simple and classic, but the look was given an edge with the addition of bejewelled matching gloves.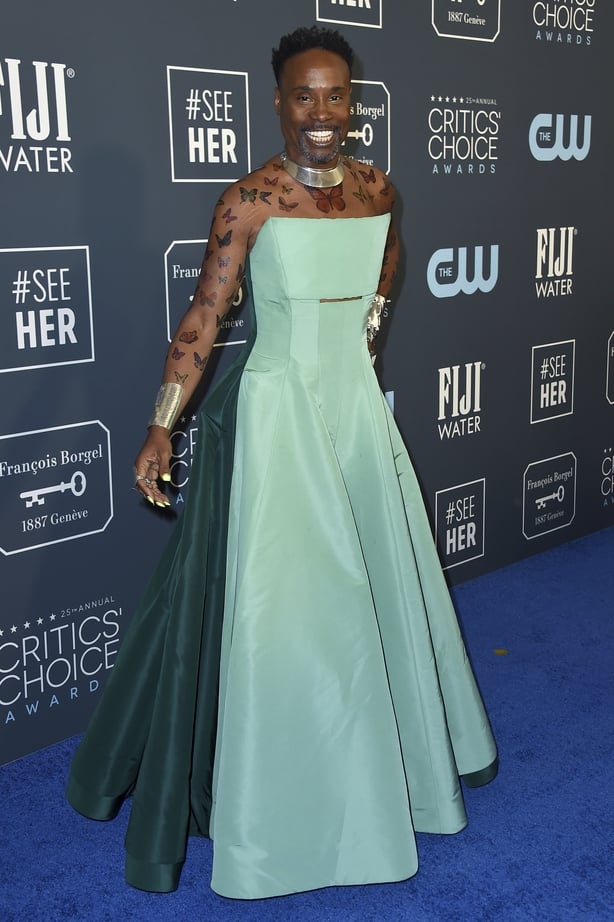 Billy Porter can always be relied on to wear something unusual and exciting. He donned a custom two-tone jumpsuit by Hogan McLaughlin with hand-painted butterfly 'tattoos' on his chest and arms.
On Instagram, Porter said the outfit was "inspired by the free-spiritedness of David Bowie and the 1970's disco-era" and that the tattoos continue his "theme for 2020, which is being released from the bondage of masculinity and flying free".
The oranges…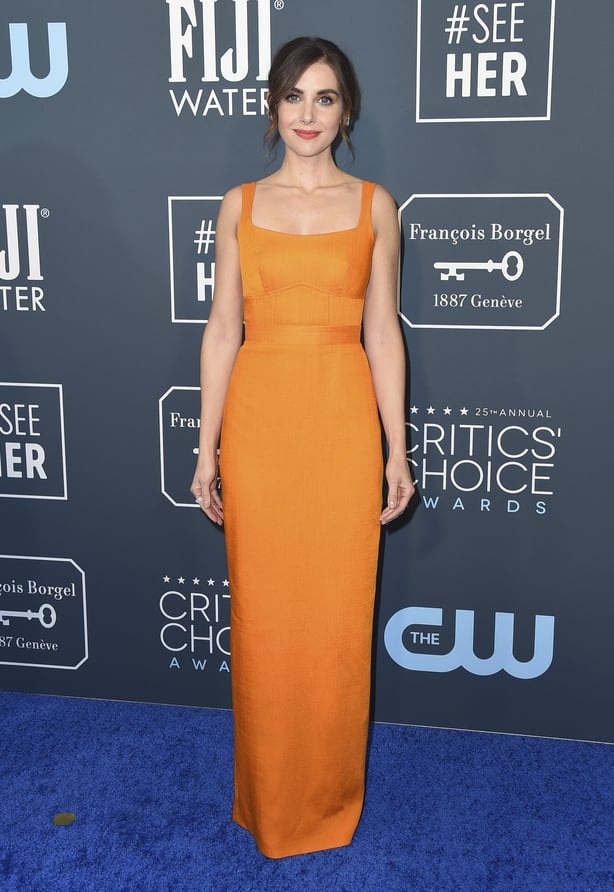 Repping the oranges on Sunday night was Alison Brie in Brandon Maxwell. The American designer is known for his modern and elegant designs and a love of bright colours (remember the yellow pencil dress the Duchess of Sussex once wore?) and this dress is right in his wheelhouse.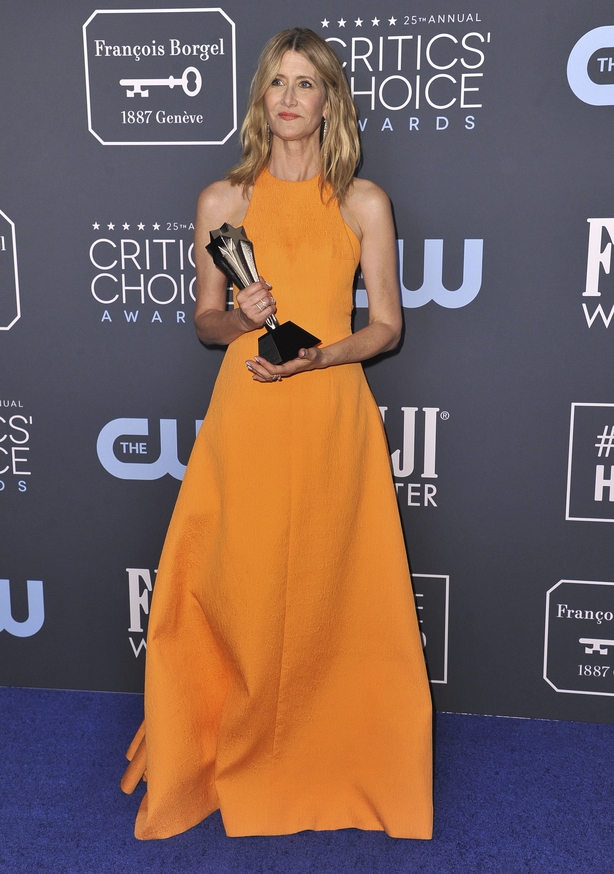 Wearing a similar shade, Laura Dern opted for a more expansive silhouette in this Emilia Wickstead gown.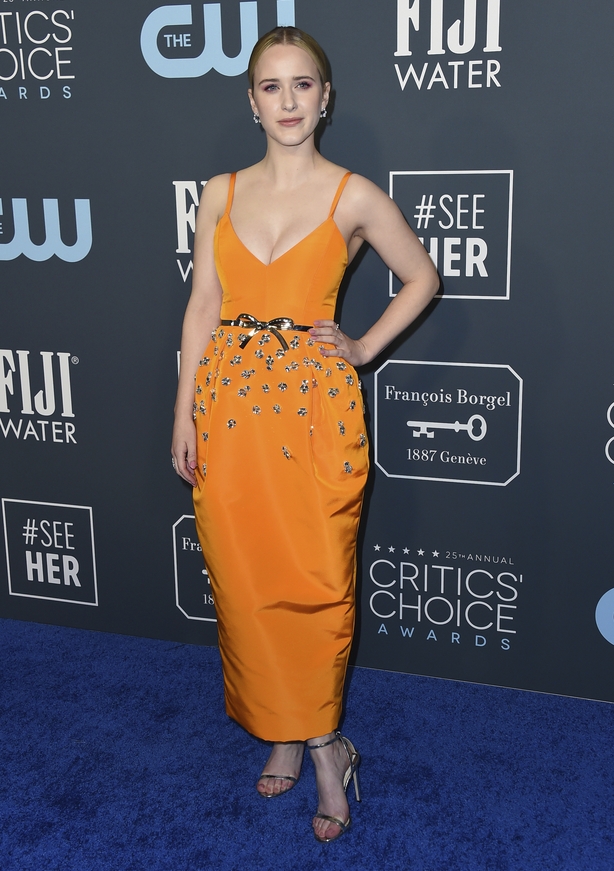 Tangerine really must be the colour of 2020, because Rachel Brosnahan wore the same hue – this time by Carolina Herrera, with spaghetti straps and metallic detailing on the waist.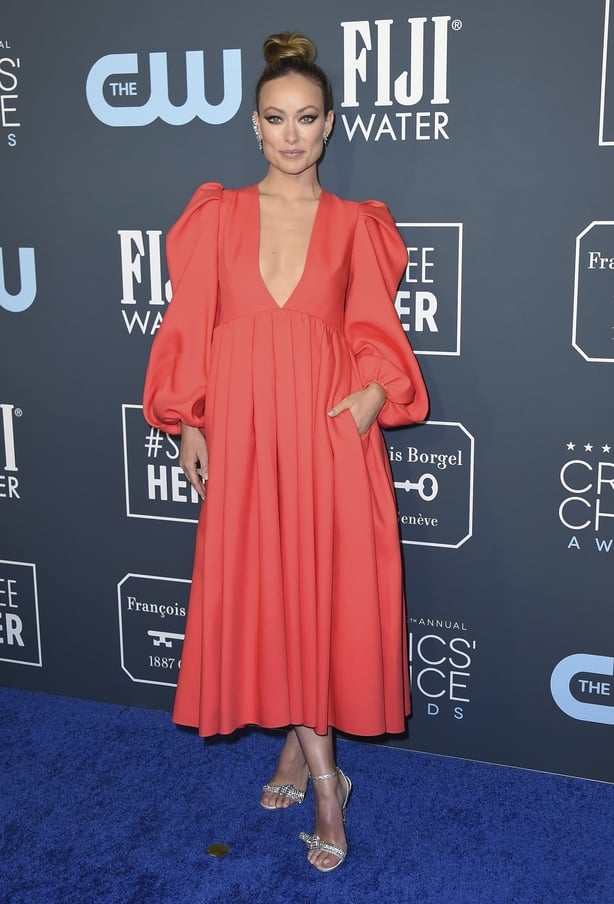 Actor and director Olivia Wilde's Valentino dress toed the line between orange and red, and really fit in with this year's trend for major sleeves.
The yellows…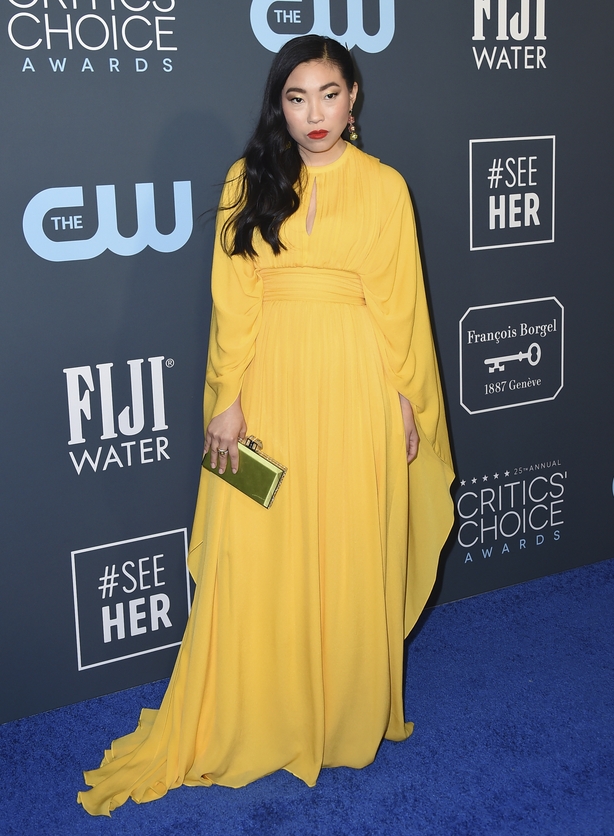 The designer Elie Saab is known for hyper-feminine, romantic designs, and Awkwafina's dress was no different. It had flowing layers of tulle and billowing sleeves, but the bright yellow shade kept it from looking old fashioned.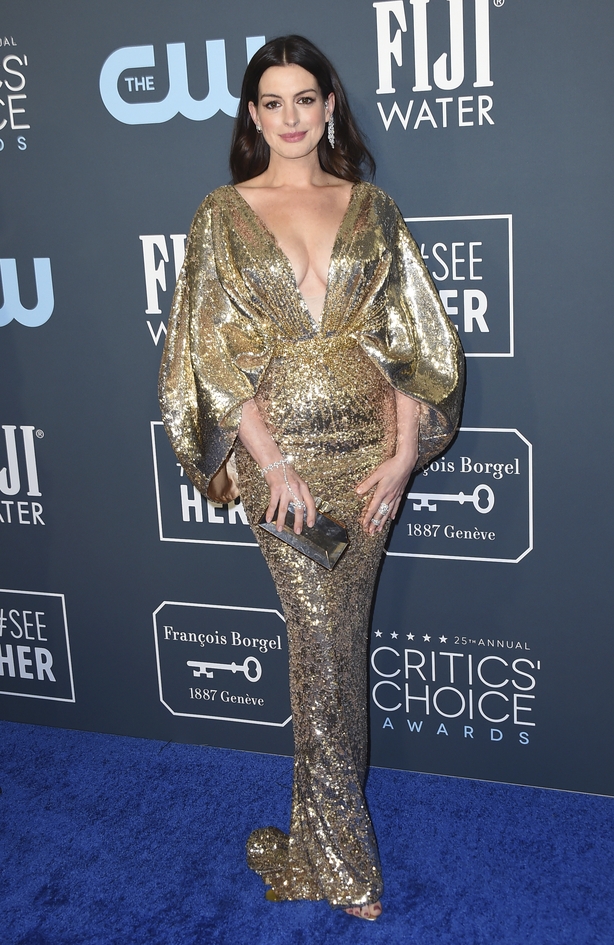 We're putting Anne Hathaway's stand-out gold outfit into the yellow category – it might not technically be a bold colour, but you can't deny it's eye-catching. The actor's Versace outfit was full of Seventies sex appeal with a plunging neckline, fluted sleeves and a whole lot of sparkle.