When it comes to the red carpet, men's fashion has undergone a seismic shift in recent years, making the annual awards ceremonies even more fascinating than before. Nothing is off the table, from bibs to three-piece suits and even shorts.
As the first big awards show of the season, the Golden Globes sets the stage for the looks to come, and this year's event did not disappoint.
Jason Momoa continued his love affair with velvet in a sea green velvet blazer by Tom Ford, paired with black Valentino trousers and a (borrowed) emerald and diamond Cartier pin worth $250,000.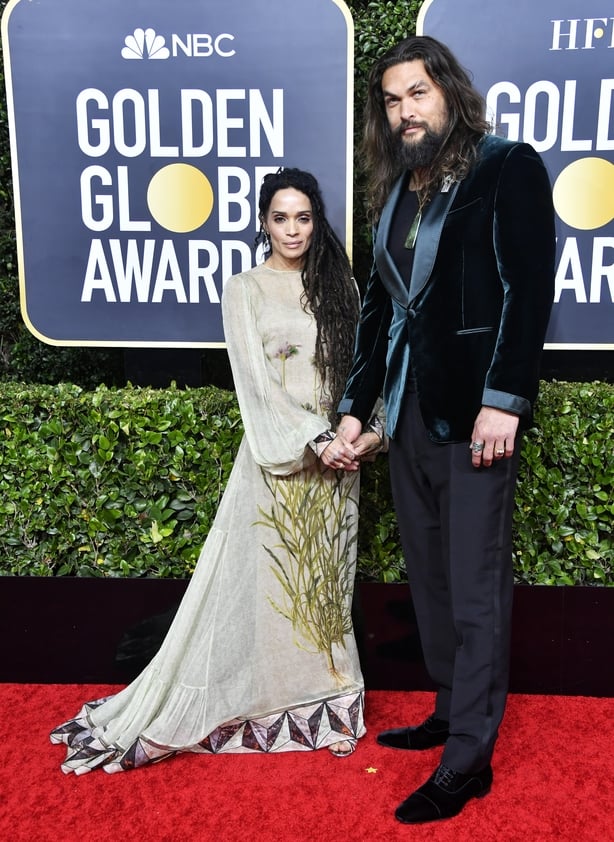 Destined to steal the spotlight at every turn, Billy Porter did not disappoint, making jaws drop with his all-white feather-festooned outfit. The dramatic Alex Vinash creation featuring a long suit jacket covered in white feathers, allegedly took three months to make and was what Porter called "a standing outfit" due to its fragile nature.
Pairing the look with a Tiffany diamond necklace and white Jimmy Choo pumps, the Pose star instantly outshone most people around him.
Dazzling in bright cerulean, Sasha Baron Cohen brought some much-needed colour to the red carpet, coordinating his jewel-toned suit with wife Isla Fisher, who looked radiant in a rich purple gown.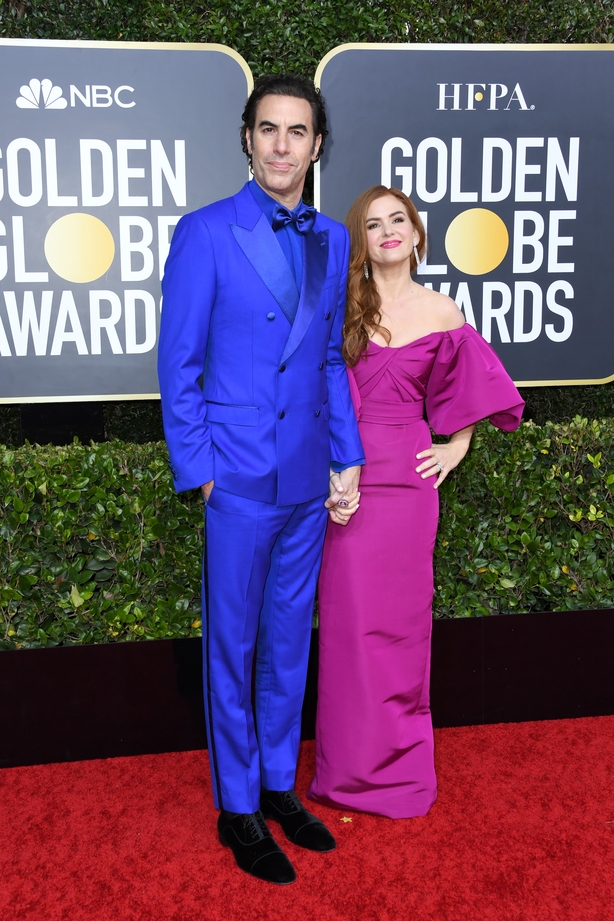 For some, accessories were the focus of the night, such as star of The Goldfinch Ansel Elgort who dressed up his teal velvet suit with a butterfly brooch, white nail polish and a sweep of glitter eyeshadow, proving that the move towards boundary-blurring fashion is still going strong.
Old Hollywood glamour was still present, though, as Once Upon a Time in Hollywood stars Brad Pitt and Leonardo DiCaprio looked dashing in sleek black suits by, looking like the thick-as-thieves buddies they played so well. Brad wore Brioni, while Leo stuck to his old favourite, Giorgio Armani.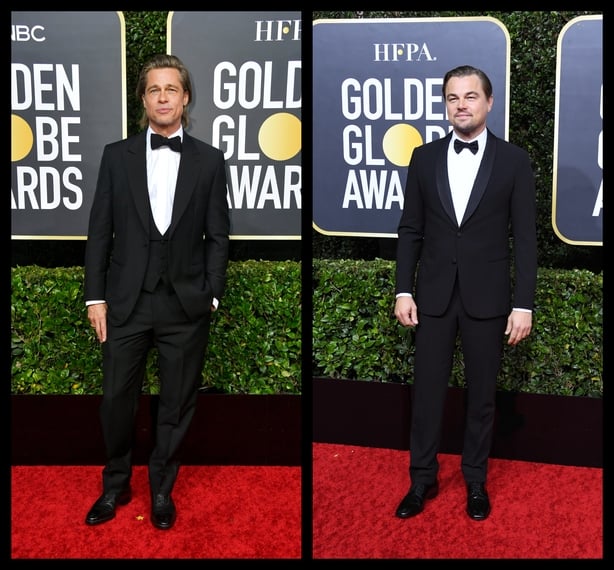 Andrew Scott, who was nominated for his now-iconic role as the "Hot Priest" in Fleabag, stepped out in a bold ensemble, featuring a white suit jacket, black trousers, black cumberbund and - our favourite detail - a gold bowtie, looking every inch the Hollywood A-lister and dazzling alongside his fellow Irish stars.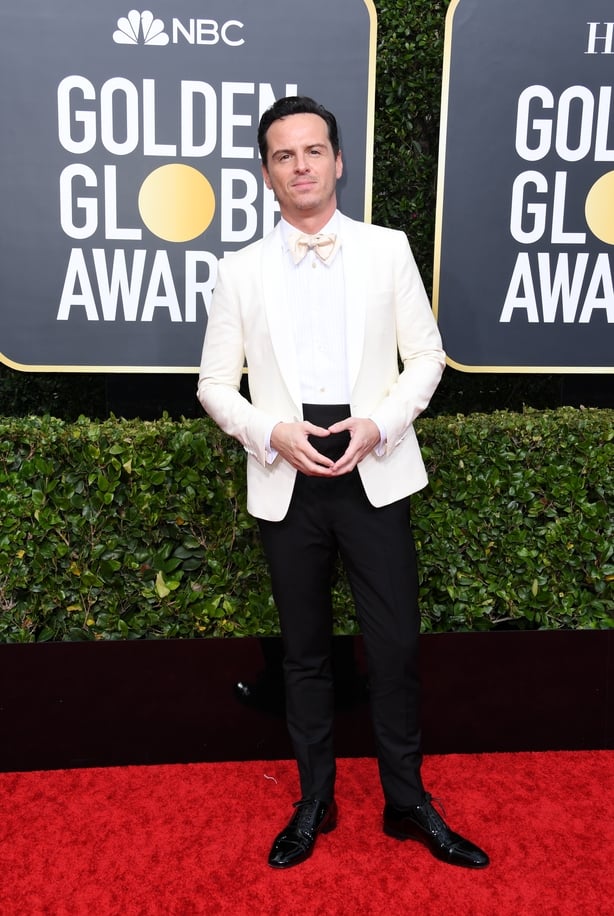 Pierce Brosnan debuted a striking new look, walking the red carpet with a moustache and goatee combination so impeccably groomed that even Queer Eye's Jonathan Van Ness would say "yes, honey".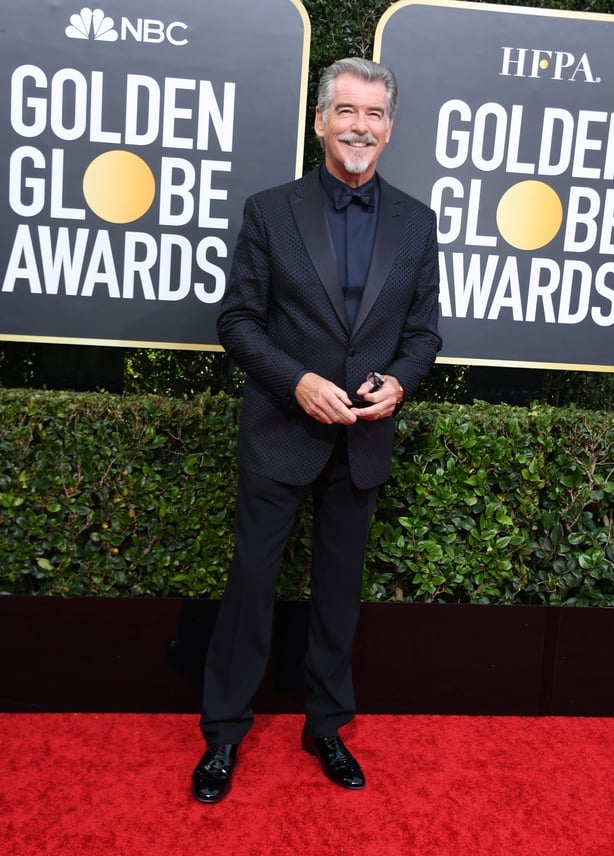 Speaking of "yes, honey", the show's eternally stylish Culture expert Karamo Brown stepped out in a bold black silk pajama-inspired ensemble, with a suit jacket and trousers in matching floral brocade print.
The Globes red carpet has often been the spot where stars can try on outfits that are maybe a little out there, so we were cheered to see Wesley Snipes looking like he went to prom in the 80s, rocking a maroon three-piece suit with a ruffled pink shirt.