Since bursting onto screens on Love Island, Maura Higgins has wasted no time in following her passions and buckling down on business.
A firm fashion lover, the Longford native has stunned audiences and followers with her daring looks time and time again, whether it's a racy lacy gown at the ITV Palooza in London, or that cat costume on Love Island.
Now, as the face of Ann Summers' Winter '19 lingerie campaign, Be More Maura, it seems she's found a perfect fit. Donning a black bra from the collection at the launch, the former Islander continued to make the case for underwear as outerwear.
We caught up with Maura for five quick questions about all things lingerie: her tips, tricks and absolute essentials.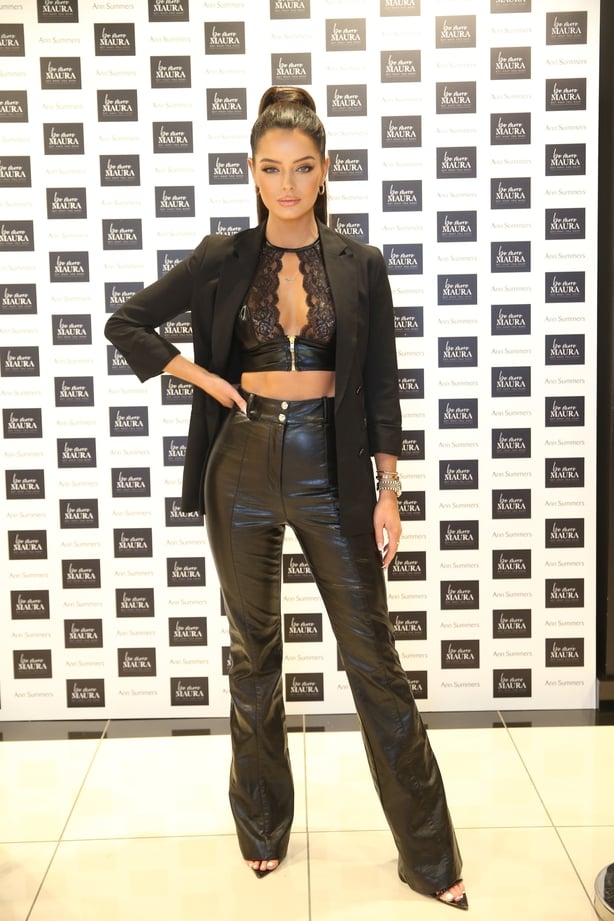 On her lingerie essentials:
When it comes to must-have items, you might assume a strapless bra, tummy control underwear or even a classic t-shirt bra should be in every woman's wardrobe. Maura, however, plucks for something even more versatile.
"You can never go wrong with a bodysuit", she says. "I like to team these up with jeans, trousers or a skirt or shorts." We certainly agree that a lacy bodysuit is the perfect piece to layer under a party look, be it a tuxedo, a mini skirt or under your slinkiest dress.
On her lingerie hacks:
Lingerie tips and tricks are as valuable as gold dust, and more often than not passed down from family, friends and maybe the odd article. Wardrobe malfunctions can strike any of us: not even the Duchess of Sussex Meghan Markle was immune, when her dress came undone at a wedding last year, flashing a peek of black lacy bra or camisole.
Maura has an ingenious hack for minimising the risk of a malfunction: "I always wear the same color underwear as my outfits." This works on two levels, as you're less likely to ruin a great outfit by wearing the wrong shade of undies, but also if you do accidentally flash a peek of your bra, it can look intentional!
On her booming career:
Maura has had quite the year: from being announced as a Boohoo ambassador, to being confirmed as a contestant on Dancing on Ice, and of course news of her upcoming reality show.
"Life is crazy at the minute", she says. "I have to pinch myself all the time as I'm just so grateful for all the opportunities given to me. I'm excited to start Dancing on Ice in the new year and also have been working on another exciting project with Ann Summers, so watch this space!"
On her go-to party look:
Her edit for Boohoo was filled with fun and flirty party essentials, from a beaded bra to a satin two-piece, and for Maura festive dressing will be all about making a daring statement.
Continuing her penchant for pairing underwear with the usual party pieces, she said her go-to outfit for the festive season will be "a bra or bodysuit with leather trousers and a blazer for sure!"
On "dressing up":
Whether she's walking the red carpet, dazzling on ice or prowling around the Love Island villa in her cat costume, Maura clearly has a fondness for dressing up. With this in mind, we wondered if there's much dressing up in other parts of her life?
"Dressing up makes you feel good! So of course!"