Steve Jobs' black turtleneck, Mark Zuckerberg's plain t-shirts and now ... Paddy Cosgrave's "iconic" knitted sweater? 
Cosgrave, the chief executive of the annual Web Summit event in Lisbon, has caused a stir online by selling hand-knitted jumpers costing €850 on the conference's website. 
Included in the "swag" section, "Paddy Cosgrave's iconic jumper" cost €850 and comes in a muted blue shade. According to the site, each jumper is "hand-loomed and hand finished by local craftswomen in Co. Donegal, Ireland", and all 50 of them are numbered.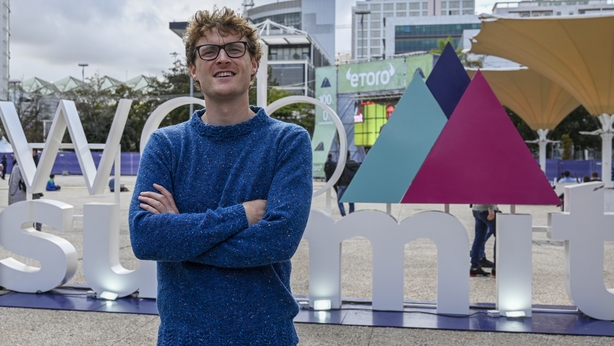 Identical in design to the jumper Cosgrave has worn at many past events, the jumper was included alongside other merchandise like branded Keep Cups, reusable water bottles and a slightly cheaper (€780) Aran-style jumper made with the "distinctive blackberry stitch that can't be replicated by machines". 
Almost immediately, the conference's foray into techie fashion triggered a debate online, with many delegates chiming in with others about the high prices and air of exclusivity around the jumpers. 
This just underscores how tech conferences like this are for the rich and are exclusionary to founders without easy access to liquid capital. This is a symptom of a larger issue.

— Allie Lindo (@AllieLindo) November 4, 2019
Paddy every word you tweet is like a shovel digging a bigger hole. There is no justifying those prices. Only for the rich and elite. How quick Joe soap can be forgotten amongst the champagne and caviar lifestyle.

— Sean Murphy (@Cowboysrus) November 2, 2019
In a tweet, Cosgrave explained the pricing behind the jumpers, saying that they take "40 hours" to make, are "hand-knit" in Donegal. 
There's a story here

The T-shirt's are €25, the bottles and cups €30

The €850 sweater is handknit over approximately 40 hours in Donegal, Ireland. Not "finished" in Ireland. Designed & hand-knit in Ireland. It's been on sale in Brown Thomas for the best part of two seasons. https://t.co/SDfvFaMMfz

— Paddy Cosgrave (@paddycosgrave) November 2, 2019
Cosgrave told the BBC that despite the slight controversy, all jumpers were sold out by the time the Web Summit, which runs from 4-7 November, wrapped up. 
According to Cosgrave, the jumpers were inspired by a similar knit that his wife made for him, and that he used to wear on stage for events. He said that many speakers, including professional skateboarder Tony Hawk, complimented him on it, leading to the team offering them as merchandise. 
"If you want fast fashion from some part of the world made under very dubious circumstances, you can absolutely have a cheap sweater but if you want to support a dying indigenous industry and some wonderful female knitters in Donegal, there's a sweater I've been wearing for a number of years and we made it available online," Cosgrave said.
The tech event has ran for nine years, and now hosts over 70,000 guests in Lisbon's Altice Arena, after moving it from its Dublin base in 2015. This year's speakers included former British Prime Minister Tony Blair and EU negotiator Michel Barnier.