Hustlers star Jennifer Lopez closed the Versace show at Milan Fashion Week by strutting her stuff in a revamped version of the iconic green dress that inspired Google images.
The 50-year-old (yes, really) wore the original, barely-there, gown twenty years ago while attending the 42nd Annual Grammy Awards where the silk chiffon number became so talked about, it was deemed the 'first viral dress'.
It seems that JLo and the gown were meant to be but only found one another at the last second thanks to the eagle eye of her then-stylist.
Due to her whirlwind success and non-stop schedule, Lopez found herself without an outfit just days before the Grammys until Andrea Lieberman spotted it in a window.
The former stylist told Billboard: "I was preparing for a last-minute fitting with [Lopez] in New York, driving down Fifth Avenue in a taxi, and I remember seeing that green dress in the window of the Versace boutique. When she tried it on, everyone knew it was the dress."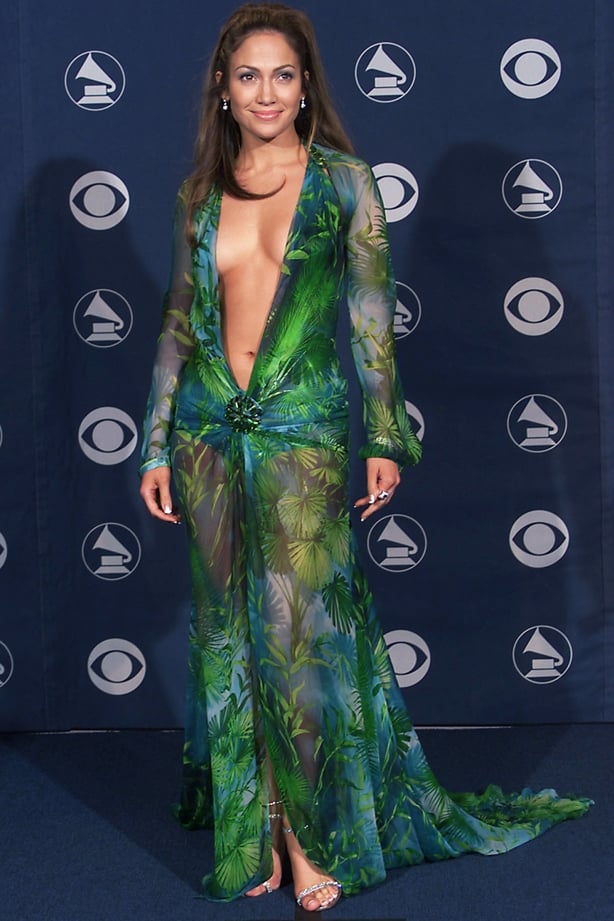 The revealing number was so eye-catching, it pretty much 'broke the internet', as the kids would say.
So many people searched for the dress following J.Lo's red carpet appearance that Former Google CEO Eric Shmidt realised that he needed to create a way for people to search exclusively for images online.
In 2015, Schmidt wrote on the subject in Project Syndicate saying:
"People wanted more than just text. This first became apparent after the 2000 Grammy Awards, where Jennifer Lopez wore a green dress that, well, caught the world's attention.
"At the time, it was the most popular search query we had ever seen. But we had no surefire way of getting users exactly what they wanted: J.Lo wearing that dress. Google Image Search was born."
According to The Cut, Donatella Versace paid homage to this historical moment in her Milan show by flashing a 'Google Image search' on the screen saying, "Okay Google, show me images of the Versace jungle dress" followed by photos of the 2000 dress.
Next, the screen showed the message: "Okay Google, show me the real jungle dress." Then, to the sheer delight of the crowd, Jennifer Lopez herself strutted down the runway wearing a new version of the iconic dress.
Take a bow, ladies.
Click through our gallery at the top of the page to see the dress in more detail.