When we surprise our friends with a last-minute visit, it's usually for a glass of wine* after work or some gossip shared over a pizza.
When Meghan Markle supports her friends, however, it involves a jet-setting trip, dozens of paparazzi and VIP seats at the US Open Tennis Championship finals. And the friend in question is Serena Williams.
The Duchess of Sussex got some rare me-time as she made a flying trip to New York City to support her friend as she took on - and eventually was defeated by - Bianca Andreescu. Leaving husband Prince Harry and four-month-old baby Archie at home, Meghan flew home shortly after the event.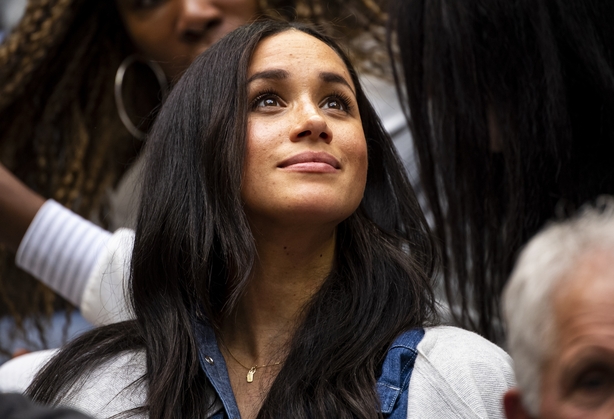 Choosing to fly commercial after the recent furor over her family flying on private jets, Meghan did not fly with her team of staff, flanked only by the security that must follow all members of the royal family.
Making the most of her alone time, the Duchess reportedly took in a morning yoga class before the match, possibly to shake off the jet lag before catching the match the following day.
She is reported to have dropped in at Modo Yoga, which offers hot yoga classes in an eco-conscious studio, in the West Village neighbourhood. Apparently a regular at the classes before joining the royal family, Meghan joined a class of 60 for a morning stretch.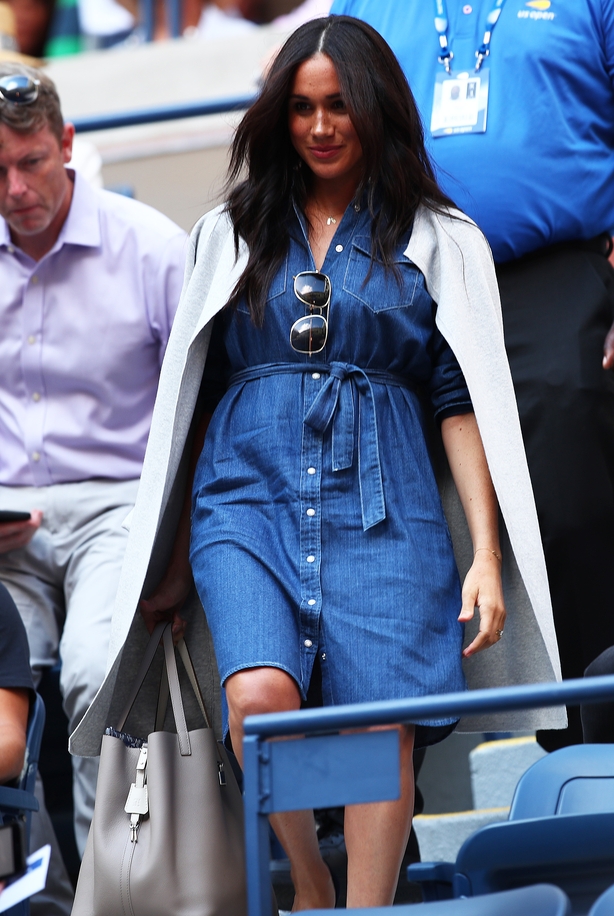 Arriving at the arena, she certainly looked radiant, sporting her hair in a longer style and gently waved, with her typical minimal makeup. Wearing a blue denim J.Crew dress tied at the waist and paired with a white cardigan from the same brand, casually slung over her shoulders, Meghan looked every bit the glamorous friend - understated and elegant.
As usual for the jet-setting royal, Meghan included a sweet nod to her family back home, wearing a 14-karat gold necklace from designer Mini Mini Jewels with two dog tag pendants, one of which had the initial "H" on it, while the other had an "M."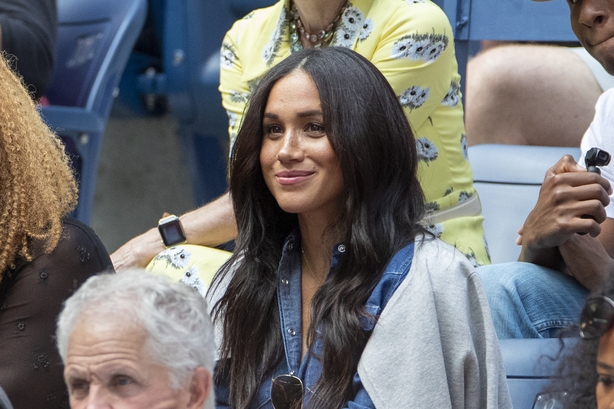 The pendants cost between $124-244 (roughly €112-220) and can be studded with specific birthstones.
Meghan has worn such mementos of her loved ones before, such as when she debuted a gold pendant with an "A" on it for Archie when attending Wimbledon this summer, and when she wore a new eternity ring for the Trooping the Colour in June, more than likely given to her by Prince Harry to celebrate their anniversary and/or the birth of their son.
The Duchess was in fashionable company as she sat hear Vogue US editor Anna Wintour. She was also seen hugging and catching up with Serena's husband, Alexis Ohanian.