The workroom of hit television show Vikings may not be the first place you think of when you hear "bespoke tailor", but it's where Karen O'Mahony honed her trade like a battle-worn axe.
As the woman behind Rag Order, an online tailoring, alterations and upcycling service - as well as the hands behind many of the chic co-ords you'll have seen on Instagram - O'Mahony is leading the charge in sustainable fashion in Ireland.
When we speak on the phone, she's working on a vintage Laura Ashley dress, hot pink with flowers in muted Saved by the Bell colours. She explains how she'll cut it in half, creating a modern co-ord from her client's mum's dress, adding a lime green corset closure at the back - a trick learned in the Vikings' workroom.
All I can picture is Jackie O meets 90s Barbie. It's the kind of piece O'Mahony has become synonymous with, a whimsical, daring and eco-conscious ensemble I could imagine Tara Stewart bopping in at Electric Picnic.
The RTÉ presenter is just one of the public figures who have championed O'Mahony's work in recent months, alongside Louise McSharry - who stunned in a bespoke black tulle creation at the VIP Style Awards - and Jess Brennan. In her before-and-after photos on Instagram, O'Mahony debunks the myths on what can and cannot be salvaged from clothes, leading the charge of Ireland's hottest fashion fixation: upcycling.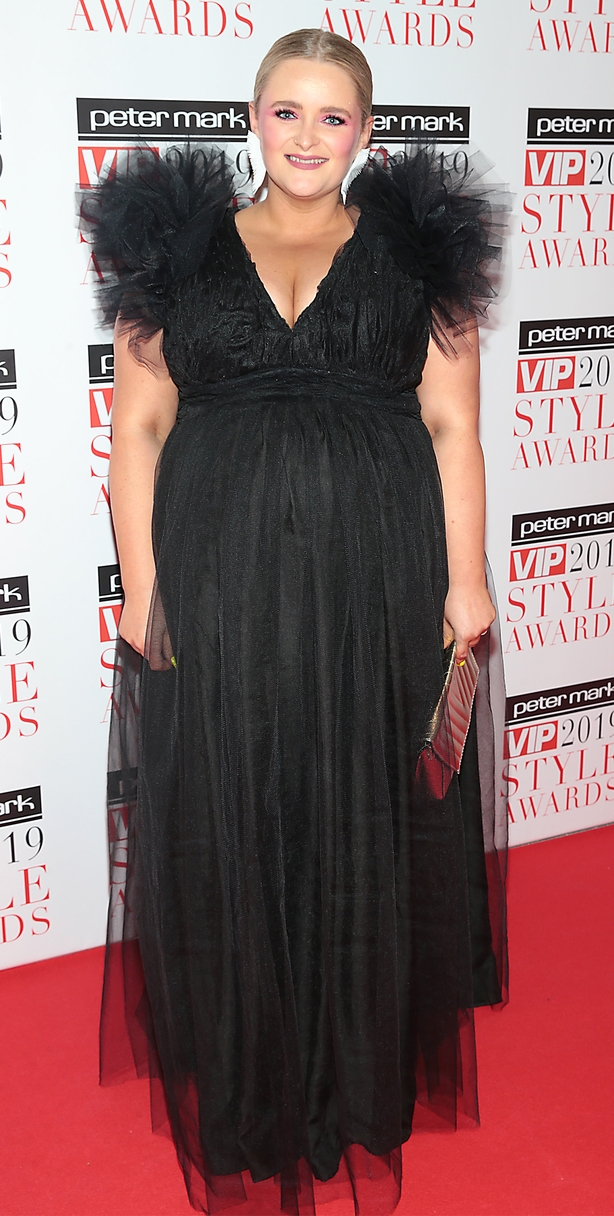 Working on a commission basis, O'Mahony tailors, alters and upcycles clothes and accessories, whether they are your mother's vintage cocktail dress, a moth-eaten winter coat or a 60s shift dress you fell in love with in your local charity shop. She can cover holes with geometric beading, create co-ords out of dresses and make items bigger by adding panels and corset closures.
"There's very few pieces of clothing that people have brought to me that I can't do something with. There's always something you can do, it's just about thinking outside the box.
"I think that's one reason I can do what I do - I think differently about clothes and what you can do with them."
A perfect storm
O'Mahony calls herself an "accidental businesswoman", but by her foray into the world of sustainable fashion was down to a "perfect storm" of factors. Looking to exit the film industry, she handed out leaflets in her neighbourhood advertising alterations. "It started to get traction pretty much immediately and that's it", she says.
"I can't really say there was this idea of this big business. I describe myself as an accidental businesswoman, it just happened."
But, of course, nothing ever just happens. Just as ice doesn't melt without heat, the appetite for sustainable fashion didn't grow in a vacuum.
As we speak, the Amazon rainforest is engulfed in flames, with wildfires raging in record-setting numbers; Greta Thunberg, the pioneering 16-year-old climate activist sailing from the UK to New York City on an emissions-free sailboat, tweeted her sorrow at the news from the middle of the Atlantic Ocean. In the preceding days, climate scientists held a funeral of sorts for Okjökull, the first Icelandic glacier lost to climate change.
The earth is literally on fire, so goes the Internet refrain.
When we question why millennials are moving towards craft-based goods once again, prioritising quality over quantity, it is less a statement against capitalism than against this horrifying slow-motion apocalypse playing out on our Twitter feeds. O'Mahony is resolute on this point.
"The fact is that we've been told for years that the world is heating up and we need to stop consuming so much, stop spending so much money on fast fashion. I think it started there, because people were like, 'Well, I can't shop on the highstreet anymore, what do I do? I'll go to charity shops, right, but there's loads of stuff there I can't wear. Who do I bring it to?'
"It's sort of like this snowball effect that started with climate change - excuse the pun. A very rapidly melting snowball."
Unlearning habits
Watching the earth burn in real-time has forced many people to be more conscious, she adds, unlearning habits learned in a pre-Twitter age.
"It's just this thing of constant consuming, of having to look different each time you go out. Every Friday night, having something new to wear", O'Mahony says. "It's a push from young people, now. A lot of my clients are younger, they're in their early 20s and they have a fear of what is going to happen in the future if we don't stop consuming. It's making them much more vocal about what they wear and where they get it from."
Fashion houses have started responding to such pushes. Burberry faced criticism when it was revealed the major fashion house burned £10 million worth of old product to "protect" its brand. They have since committed to ceasing this practice, but as the textile industry is the second-largest polluter in the world behind oil, pressures are only mounting.
Charity shops solve so many of these problems: affordable, very often local in larger towns and cities and sustainable. Even better, combine secondhand shopping with bespoke alterations and you have a truly one-of-a-kind piece with very little carbon footprint.
It is not hyperbolic to say that for many people out there, this is the lifestyle holy grail.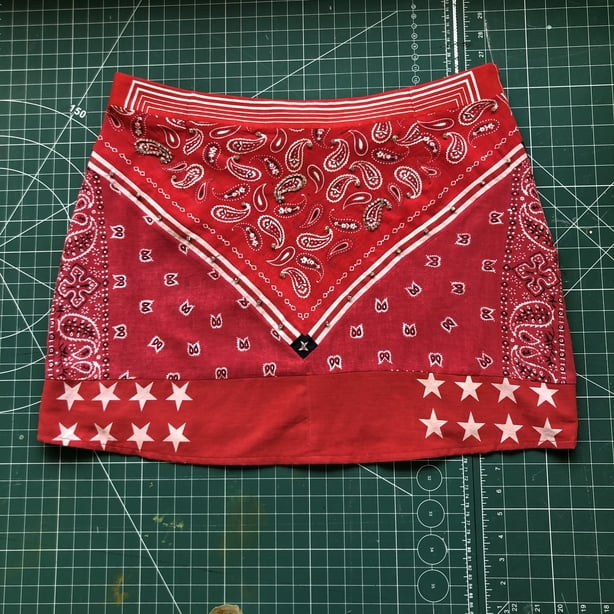 O'Mahony clearly revels in the process, possibly more than her clients walking away with new threads.
"Any time someone comes into me, they have this dress or whatever and they have it for a reason and they come into me for a reason, they love the fabric or the pattern", she says. "Everyone has those things in their wardrobe when, every time they're doing a clearout, they can't let it go."
It's a truly collaborative process, too, with O'Mahony often fleshing out what her client's vision is, checking what colours, styles and the like do and do not suit them, and pulling together a personalised mood board for each piece.
"Yeah, it might be more expensive than going to the high street, but this is something completely individual, you have the excitement of going and getting it measured and then there's the excitement of going to pick it up."
Inclusive innovation
It's particularly useful for people who would fall into the plus-size category, as shopping sustainably for fuller figures - especially in rural areas where charity shops are far less served - can be a challenge.
"I do have quite a lot of girls who come to me who would be considered plus-sized, whatever that means". O'Mahony says. On her "muse", Tara Stewart, she says: "She's an amazing advocate for bigger gals, she just owns it so hard."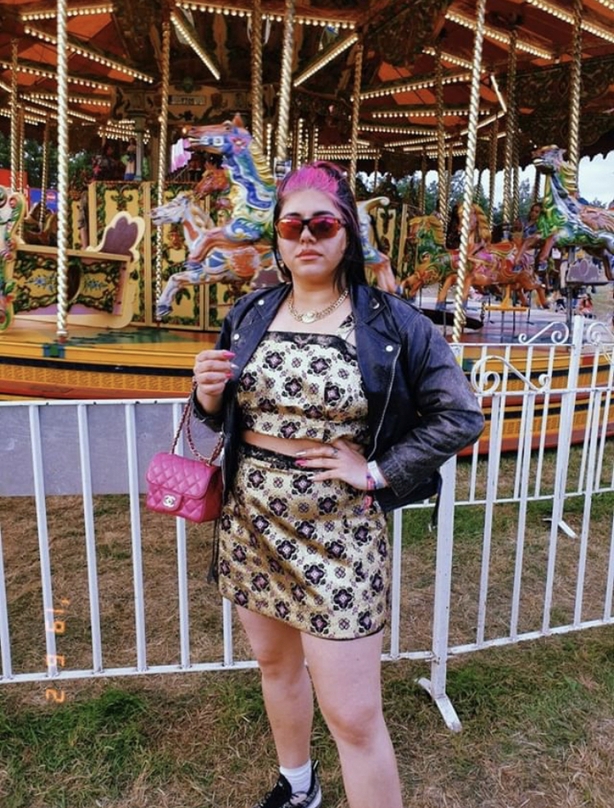 Assumptions about charity shop shopping have, for the most part, been beaten down. You are far less likely to pull a urine-scented jacket from a molting pile of crumpled clothes, and anyway, how common even was that experience? O'Mahony tells me that she's taken to buying baby clothes for friends in charity shops now, as the turnover for baby clothes is so high and, anyway, her finds mostly have the tags still on them.
One enduring preconception is that trawling through charity shops is overwhelming. And that's because it sort of is.
"You have to have time to do it", O'Mahony says. "If you're into it and you want to get into it, set a date and decide and plan out where you're going to go."
As for what she gravitates towards, she says: "I would always go for colour, texture and pattern, and label."
"The more you do it, the more you get used to seeing the things that you like and you start noticing them more and more. Generally, I don't mean to be discriminative but I'd stay away from stuff that's from cheaper shops, only because it's really bad quality and it's not going to be worth altering - unless you love it."