There's no family that has to stick with tradition more than the UK's royal family, and as with all royal babies throughout the centuries, the Duke and Duchess of Sussex's son Archie has recently been christened.
The Archbishop of Canterbury performed the baptism in a private ceremony for family and close friends of Harry and Meghan on Saturday 6th July in the private chapel at Windsor Castle.
Christenings are something we know well this side of the Irish Sea, of course. According to the Central Statistics Office, in 2016 Roman Catholics accounted for 78.3 percent of the Irish population compared with 84.2 percent in 2011.
Recollecting, the census results show that historically Roman Catholics represented an average of 89.5 percent of the population in all of the four censuses taken from 1881 to 1911. It later peaked in 1961 of 94.9 percent. Since then, its ratio of the total population has slowly decreased.
So, welcoming a baby with a church service has decreased in popularity in recent years, as dwindling numbers of people, and particularly the younger generation of childbearing age, are religious.
But many couples who aren't religious, or just don't want their baby christened, still want to hold some sort of event to welcome their baby and introduce him or her to their family and friends.
Here are some of the main ceremony options, both religious and religion-free, to pick from.
1. Christening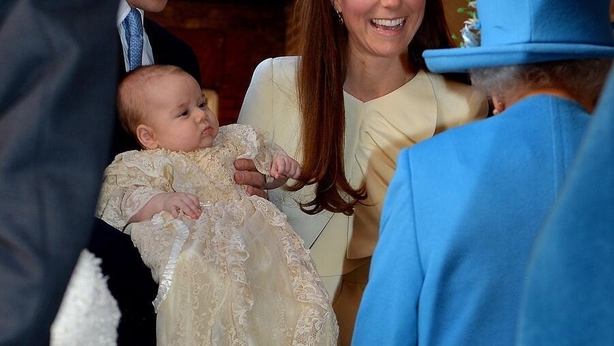 You don't have to have been christened or baptised yourself, or even be a regular churchgoer, to have your baby or child christened. During the service the child's parents and godparents make promises to the child, prayers are said and the vicar or priest pours holy water over the child's head as the sign of a new beginning and becoming part of God's family. There will usually be a celebration afterwards at a local pub or restaurant.
Father Thomas Aquinas Duffy of Cabinteely Church says that "baptism marks the beginning of a person's journey in faith. Through it, a person is welcomed into the family of the church as a brother or sister in Christ. We pray for God's strength for this baby during Baptism as he or she matures spiritually on the road of life."
2. Thanksgiving or blessing
Some people prefer to have a thanksgiving or blessing service as a first religious step for their child. The Church of Ireland says it's a chance to give thanks to God for the arrival of a child in a family, to pray for them and ask friends and family to offer support for the years ahead. A baptism can follow at a later date, as a child or even as an adult.
The ceremony may take place as part of the main church service, with the parents and child and godparents (if there are any) going to the front of the church and saying a few words, along with the vicar. As with a christening, there will usually be a celebration afterwards.
3. Humanist naming ceremony
A humanist naming ceremony might include readings, poems, music, parental promises, and the appointment of 'guide-parents'.

For more ideas, visit: https://t.co/OqPgcKZR7i

📷 Firefly Photographic pic.twitter.com/fkHxNxXNTR

— Humanist Ceremonies (@Ceremonies_UK) July 7, 2019
An increasingly popular way of welcoming a child without a religious ceremony is through a Humanist naming ceremony. These can be conducted by a celebrant from the Humanist Association Ireland (HAI) and can be held wherever the parents want: at home, in the park, the garden, or the local village hall, for example.
The ceremony focuses on the child, their personality and their friends and family, and might include readings or poems, parental promises to their child, the appointment of 'guide-parents' and perhaps a symbolic action such as planting a tree, signing a certificate or writing in a wish book.
The Humanist Association of Ireland says that, 'these simple ceremonies are full of joy as this wonderful occasion is celebrated while recognising the responsibility that comes with this new life'.
4. Naming Day
A Naming Ceremony is a lovely way to welcome a child into the family - either at birth or perhaps adoption or families joining together.
A special event to mark this precious occasion provides a lasting memory
👨‍👩‍👧‍👧👩‍👩‍👧‍👧👨‍👨‍👧
.#NamingDay #Ceremony #Family #Identity #Love pic.twitter.com/r3BRzBQ1eg

— Corri Wilson Celebrant (@CelebrantCorriW) November 22, 2018
A DIY version of a naming ceremony, these are often held at home and devised by the parents themselves, who usually invite close friends and family, provide food and drink, and make an informal speech about their child, and why they chose his/her name. Sometimes there may be 'supporting adults' instead of godparents, who may say a few words too.