When it comes to making an impression, leave it to the Irish to push boundaries and upend the rules.
This week, a number of familiar faces stunned at Royal Ascot, the annual week of races attended most notably by members of the British royal family, as well as a host of other high-profile names. Among them was singer Imelda May, who attended for the first time and promptly ran everyone else off the style track.
Attending the event as a VIP guest alongside Lady Kitty Spencer and BBC journalist Kate Silverton, May cut a striking figure in a bespoke satin tuxedo by British designer Joshua Kane with a chic cropped jacket and a wide brim black hat by Victoria Grant tilted over one eye.
Finished with an elegant pair of black and gold stilettos by Malone Souliers and a ruffled white shirt, May was the picture of smart, whimsical and stylish dressing.
Also turning heads was presenter Laura Whitmore, who chose a comparatively more traditional outfit but pulled no punches when it came to putting her spin on Ascot dressing.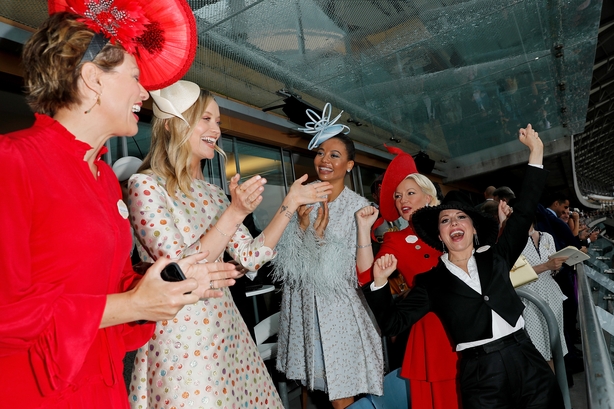 Whitmore chose a delicate oyster-toned dress by Tata Naka, covered with multicoloured tonal polka dots and scalloped detailing on the sleeves and at the waist. Featuring a pale pink-toned panel at the waist, the dress also cleverly resembled a two-piece. Paired with baby blue platform heels by Gina, a sophisticated hat by Irish milliner Philip Treacy and a pale pink bag by Aspinal of London, it was a refreshingly modern ensemble.
Author Cecelia Ahern made a noteworthy appearance, as much for her surprising addition of a cropped leather jacket to her Ascot look as for her baby bump, as she announced she is pregnant with her third child.
The P.S. I Love You author was joined by her husband of nine years, David Keoghan, and looked elegant in her all-black outfit. She added a pop of colour to her pleated black dress by adding a vivid fuschia feathered hat, and finished off her look with a pair of Prada triple wavy heels a Chanel foldover classic quilted bag.
Ahern posed up a storm with friend Yvonne Connolly, who looked just as radiant in an intricately patterned white lace dress by Whistles, paired with a sleek black belt, a wide black by Laura Hannon, black heels and a pair of pearl earrings.
Royal Ascot has been a fixture of social calendars for decades, and with such famous faces in attendance, fashion becomes even more influential than other events. As per the event's website, "Royal Ascot is synonymous with sartorial elegance", and attendees will strive to impress those around them.
The dress code is strict, and described as "traditional" on the website. For women, dresses and skirts must be of "modest length", falling below the knee at least; straps on dresses and tops must have a width "of one inch or greater", with "strapless, off the shoulder, halter neck and spaghetti straps" not permitted.
Midriffs must be covered - making Laura's outfit particularly tongue-in-cheek - while fascinators are not permitted. Jumpsuits and trouser suits - in a matching fabric and of ankle length - are allowed.
For men, when in the Royal Enclosure - the most exclusive area of the event that can only be entered by invitation - they must wear " black or grey morning dress", including a waistcoat and tie - no cravats or bow ties- a black or grey top hat, and black shoes worn with socks.
When in the Queen Anne Enclosure, the bustling centre of activity for visitors, they must wear "a full-length suit with a collared shirt and tie", with jacket and trousers matching and a tie.