Thanks to a combination of Instagram, the Internet, and some enlightening Twitter threads, many of us are more knowledgeable about skin - other people's, as well as our own - than any other generation. 
But when it comes to the texture of our largest organ, we're still lacking the level of expert knowledge we have about say, serums or acid toners. 
Celebrity esthetician and skincare expert Renée Rouleau has broken down the kinds of blemishes and skin details we can develop, from skin tags to "closed comedones", and the best ways to soothe them. 
We need your consent to load this Instagram contentWe use Instagram to manage extra content that can set cookies on your device and collect data about your activity. Please review their details and accept them to load the content.Manage Preferences
As skin guru to stars like Demi Lovato and Miranda Cosgrove, Rouleau is renowned for her expertise when it comes to "bumps", which are different from irritations such as acne or pimples. 
"When it comes to bumps on your skin, it can be difficult to know what they are because there are so many possibilities", she wrote on her blog. "But knowing what you're dealing with is an important first step and will help you determine the best course of treatment."
The most common skin "bumps" she lists are: 
Milia: Hard, tiny bumps that are usually an off-white color, which appear most often around the eyes, nose, and cheeks.
Closed comedones: Non-infected clogged pores that can turn into aggravated inflammatory acne.
Skin growths: Benign bumps that appear flat on the skin, which can thicken and get larger over time. 
Skin tags: Soft, fleshy pieces of skin that are usually connected to the skin by a small stem.
Faced with a closed comedone or a smattering of milia, it can be easy to revert to our pimple-busting ways and slather on spot treatments, acid peels or face masks, but Rouleau cautions that these "bumps" must be treated differently. 
"All four types of bumps share one common characteristic: they are considered non-inflammatory lesions, meaning there is generally no infection present", she writes. 
"This means they usually don't go away unless removed, which is why people often have them for long periods of time. They just sit there and do nothing. If a bump becomes red, inflamed or painful and comes and goes, it's likely a type of blemish." 
Milia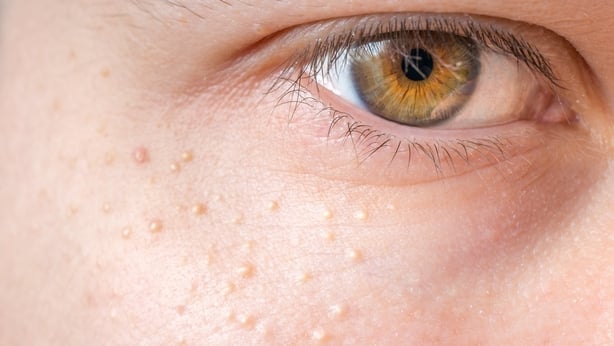 Milia, for example, are "hard, tiny bumps on the skin that appear when keratin and hardened oil get trapped below the skin's surface". They are small and slightly shiny, and are often called "pearls". They can be caused by burns or other skin issues, steroid use, sun exposure and using heavy creams around the eye area. 
As the oil in milia is hardened, they rarely come to a head, so removing them yourself is not an option. Have a professional do so, or you'll damage your skin, Rouleau advises.
Removing milia is done in two ways, either with electric cauterization - a process that involves the milia being pierced with a lancet and gently squeeze to physically extract the hardened oil - or by cryotherapy, which involves "freezing milia off using liquid nitrogen".
While removing them is more work than the usual clay mask, preventing milia is easy: Rouleau suggests exfoliating and avoiding heavy creams around the eye area. 
Closed comedones
Smaller and less hard as milia, closed comedones are uninfected, clogged pores that can turn into acne or remain on the skin. 
Like acne, they are caused by a blockage in the pores and can arise from using the wrong skincare for your skin or makeup products like long-wear foundations, cream blushes, and silicone primers. 
When it comes to treating them, closed comedones that "protrude" from the skin are best removed by manual extraction and exfoliating acids. 
Using a serum specifically with salicylic acid (BHA), since it is oil-soluble, can penetrate the pore lining better than other types of acids,' she writes.
For closed comedones that are covered by layers of dead skin, she recommends exfoliating acids and retinoids and avoiding over-drying acne products. 
Skin growths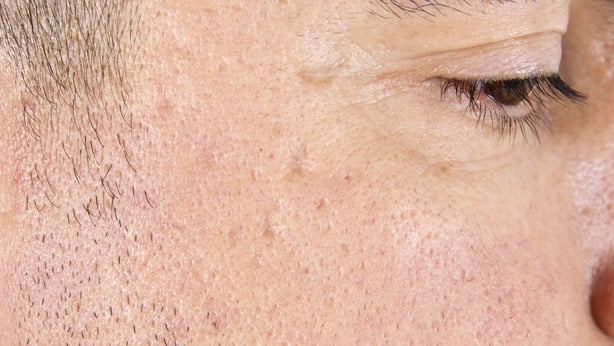 Many people have skin growths without knowing their definition, and these benign growths can develop from the age of 35 and often start off small and either flat or rough. 
Unlike clogged pores or milia, these bumps cannot be extracted as there is no oil in them. Coming in a variety of shapes and sizes, they develop from "excess skin or enlarged oil glands that appear as raised bumps on the skin and are impossible to hide with makeup", Rouleau says.
'Over time, skin growths thicken and get larger, eventually turning into skin tags or a number of other skin conditions: seborrheic keratoses, hyperkeratosis, actinic keratoses (pre-cancerous cells) and sebaceous hyperplasia, to name a few,' Rouleau writes. 
Causes include UV damage, ageing, hormones and genetics, and the most effective way to remove them is by a professional when they are still small. This can be done using cryotherapy, electric cauterization or manual removal with a scalpel.
As with other kinds of bumps, retinoids and exfoliating acids will help prevent skin growths, while sunscreen will protect the skin from UV damage. 
Skin tags
Skin tags - the "soft, fleshy pieces of skin that are usually connected to the skin by a small stem" - are one of the most common skin bumps, yet few people know what cause them - even the experts. 
The bumps, which are made up of regular fat and tissue, can be the same colour as your skin or darker, and can develop anywhere but mostly appear under the arms, on the neck, and around the eye area. 
While what causes skin tags is still unclear, some factors are known to increase your chances of developing them, such as hormones, genetics or the constant friction of something against the skin - such as a piece of jewellery. 
Rouleau writes that most skin tags will fall off the skin over time, although the larger ones may need to be manually removed with a scalpel or scissors. Other treatments include cryotherapy or electric cauterization.