Iconic fashion designer Karl Lagerfeld has died at the age of 85 following a period of ill health.
The German-born artist may best be known as the creative director of French fashion house Chanel but he spent many years as the creative director of Italian fashion house Fendi as well as his own, self-titled, label which offered 'Parisian chic wardrobe essentials'.
Additionally, he was known as an acclaimed photographer having shot for a number of high fashion magazines as well as his own campaigns.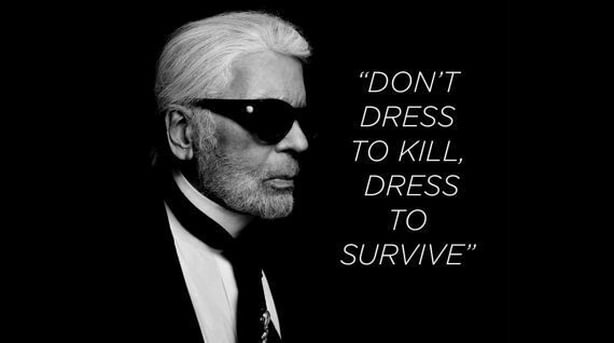 Described as 'fashion's commander-in-chief', Lagerfeld was the epitome of an icon with his trademark monochrome wardrobe that included black sunglasses, fingerless gloves, and a slicked back ponytail.
His casually biting comments, also known as 'Karlisms', feature heavily on his website and ensured that the prolific figure became a brand in his own right. 
We need your consent to load this Instagram contentWe use Instagram to manage extra content that can set cookies on your device and collect data about your activity. Please review their details and accept them to load the content.Manage Preferences
To celebrate the life of Karl Otto Lagerfeld, we are sharing some of his most iconic quotes, many of which sound like they could have been pulled from The Devil Wears Prada:
"I am like a caricature of myself, and I like that. It is like a mask. And for me, the Carnival of Venice lasts all year long."
"Sweatpants are a sign of defeat. You lost control of your life so you bought some sweatpants."
"People I'm really friendly with have faxes. Anna Wintour has one." 
"Black and white always looks modern, whatever that word means."
"I don't care if people I admire criticize me because their opinion is valuable to me." 
"Beauty with character ages better than perfection."
"People who do a job that claims to be creative have to be alone to recharge their batteries. You can't live 24 hours a day in the spotlight and remain creative. For people like me, solitude is a victory." 
"I like to reinvent myself. It's part of my job." 
"It's up to you to make every day as perfect as possible – it's a question of will and discipline."
"If you throw money out of the window throw it out with joy. Don't say: 'one shouldn't do that' - that is bourgeois."