We had a very fashionable morning at Brown Thomas this week when we attended the Spring/Summer 2019 fashion show to discover what trends would be coming down the pipeline in the months to come.
"It's a very, very, bright and colourful season," Shelly Corkery told RTÉ LifeStyle. The Fashion Director herself looked striking on the day of her #BTSS19 show wearing a Miu Miu blazer, Prada dress and headband, and Louis Vuitton shoes.
When we spoke, Shelly was surrounded by colour due to the theme of this season's catwalk. In previous years, the luxury shopping venue has been transformed into a clean, white, minimalist runway but this time, the room was wall to wall with colour - literally.
"After seeing the catwalks coming off the fashion weeks [New York, Milan, Paris, London] last September, obviously, colour was huge so we said, 'right, it has to be colourful this season'.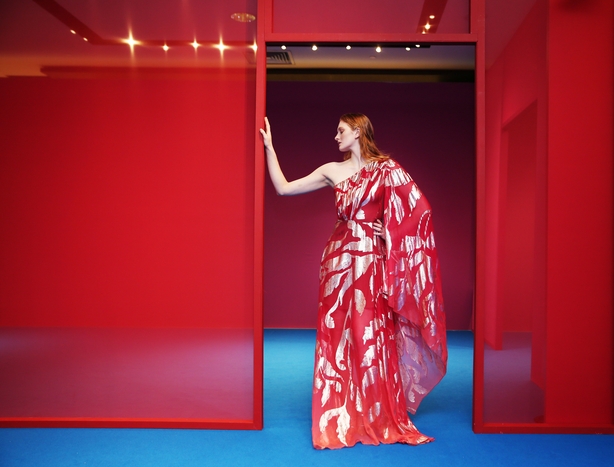 The Trends
The new season brings a broad spectrum of contradictory trends from the ultra-glam 'All Dolled Up' to the simplistic 'Down to Earth'.
The catwalks of the fashion world were a feast for the eyes in September; brimming with florals, feathers, and fringe due to the 'All the Trimmings' trend, while paisley prints made an appearance thanks to 'Nomadic Cool'.
"There are so many fabulous things happening this season in terms of trends," agrees Shelly.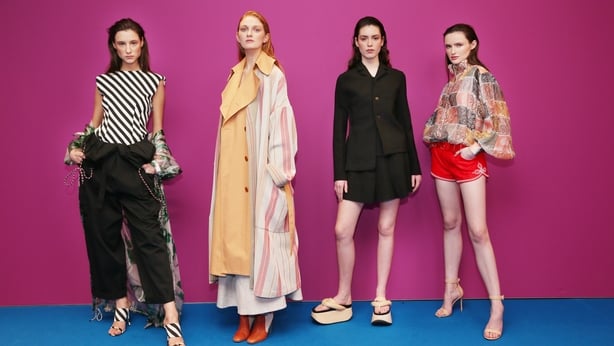 Tailoring
Tailoring was seen everywhere this season from Alexander McQueen, Balenciaga, and Dior to Victoria Beckham, Saint Laurent, and Stella McCartney.
"You'll see tailoring coming through from all of the brands whether it's an over-sized trouser suit or whether it's a tailored blazer worn with a skirt or over an evening dress," says Shelly.
Our takeaway: Invest in a well-tailored blazer for your work wardrobe.
All the Trimmings
Crystals, feathers, beading, chiffons, metallics, full sleeves, and studded details are extremely popular this season, seen predominately at Loewe, Dries Van Noten and Valentino.
Our takeaway: If you have a wedding on the cards this Summer, go all out with your accessories. This is the season to be seen.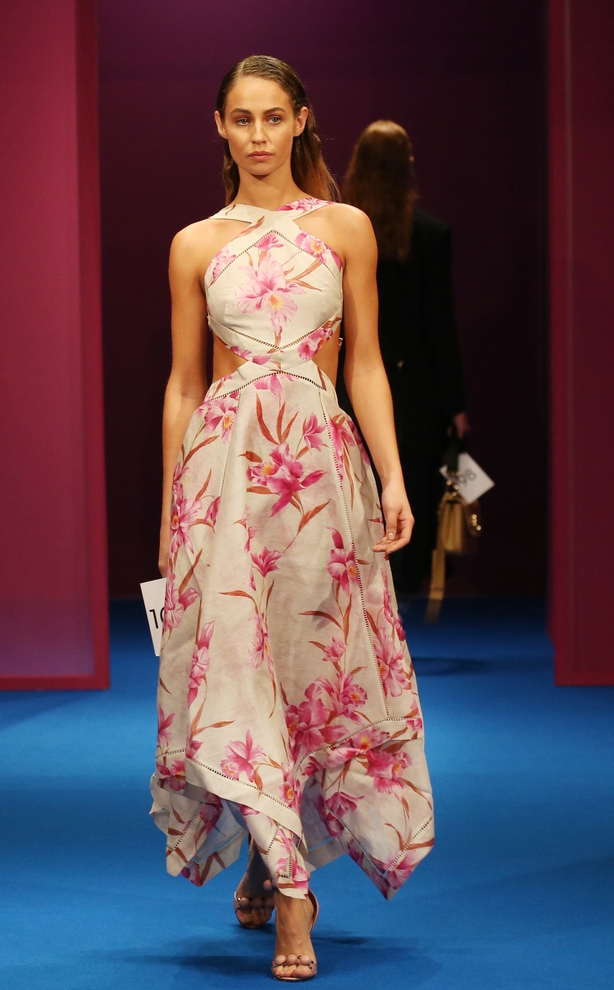 All Dolled Up
Similar to 'All the Trimmings', this trend celebrates a 'more is more' attitude seen on the catwalks at Richard Quinn, Alexander McQueen, Dolce & Gabbana, Erdem, and Versace.
Our takeaway: Remember all those leopard print dresses you saw at Christmas? They're going nowhere. However, the print will be reimagined with tiger stripes, polka dots and even florals.
Garden Party
Alexander McQueen, Dolce & Gabbana, Valentino, and Dries Van Noten are all about the ruffles and florals this Spring.
Now, before you start quoting The Devil Wears Prada, you should know that this season will move away from the feminine ditsy patterns and grow (get it?) into a more sophisticated variation of sprigged and stems of buds.
Our takeaway: It's totally acceptable to wear florals this Spring.
Whenever I read that florals are in for spring, I think of the Devil Wears Prada... pic.twitter.com/k8LHHT1XTo

— Kristina (@kpereezy) March 26, 2013
Timeless Minimalism
According to the Fashion Director, the return to minimalism by some designers (Victoria Beckham and Jil Sander come to mind) is in direct contrast to the ongoing maximalist and vibrant design currently trending.
This pared-back look is all about subtle colour tones and is ideal for anyone curating a capsule wardrobe as it won't be going out of fashion any time soon.
Our takeaway: Sustainable fashion is where it's at. Build up your wardrobe with long-term goals in mind.
Nomadic Cool
This trend is all about the print. Earthy tones will be paired with bright colours as well as black and white. This trend focuses on a relaxed and easy summer style of dressing inspired by eclectic references gathered from across the globe.
Our takeaway: Wardrobe looking a little plain? Don't be scared to mix things up with a print this Spring.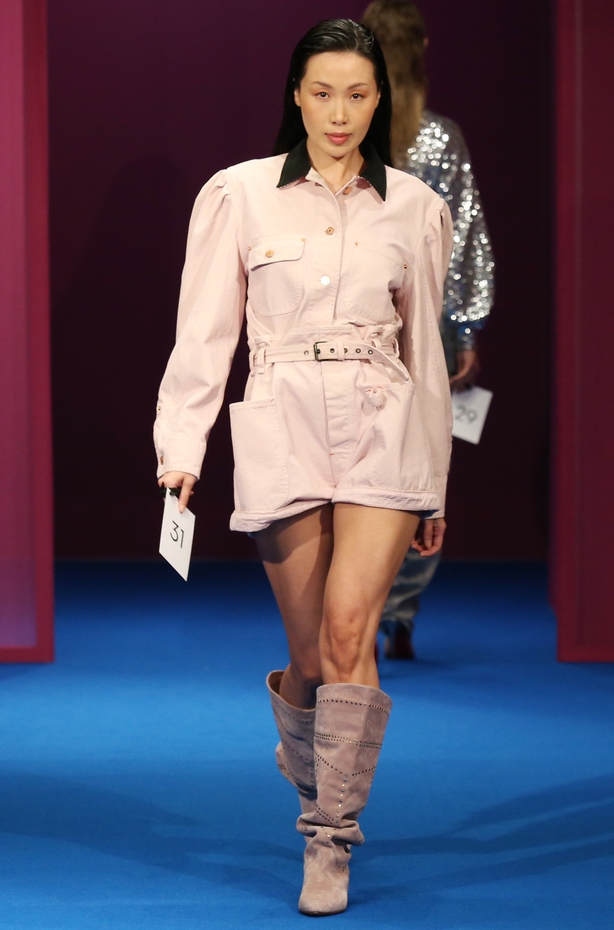 Utility
With origins in streetwear, the trouser is elevated when designed with smooth cottons and lightweight silks making it super comfortable and easy to wear.
Isabel Marant, Dries Van Noten and Stella McCartney were loving the Utility trend and kept the colours earthy, light and muted.
Our takeaway: If you want to invest in something trendy yet functional, Utility is for you.
Down to Earth
The earthy tones continue on the runways at Chloé, Dior, Jil Sander, Valentino, and Stella McCartney as loose Summer dresses come into play. Full-sleeve shirts, pared-back tees, and oversized coats celebrate the beauty of minimalism.
Our takeaway: You can keep it simple this Summer, folks.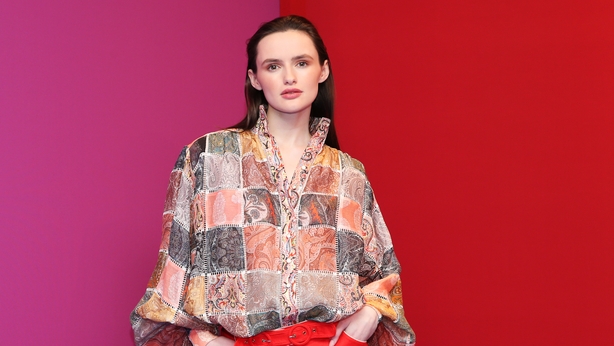 60's
As we can see, fashion likes to be contradictory which explains why - although we're all about colour in 2019 - the little black dress is back "with a bang".
"I don't think it ever went away but I don't think it was very dominant for the last few years, we moved into different things. I think when you see the 60's coming back - all that trapeze shape, I think it's the cutest shape."
If you want to pair your classic LBD with some SS19 trends, Shelly recommends wearing it with a tailored jacket, a feather boa, feather trim, or under a summer coat: "It's very easy to throw anything over a little black dress."
Our takeaway: Invest in that little black dress!
#BTSS19
With 112 looks in total, Corkery explained that when she curated the Spring/Summer show, some brands and trends featured more heavily than others.
"We opened the show with ten looks from Prada and closed the look with Dior. I think the Dior white, leather, laser cut skirt was beautiful at the end - superb.
"I thought the Richard Quinn oversize leopard print coat was stunning. The beautiful print kaftan dress from Richard Quinn was also beautiful."
"The bicycle shorts opening the show for Prada was kind of a cool way to open the show today in terms of streetwear, in terms of trends and in terms of something new happening.
"The bicycle short will be good for girls with [...] straight legs - they are hard to wear but I thought they looked cool and very edgy."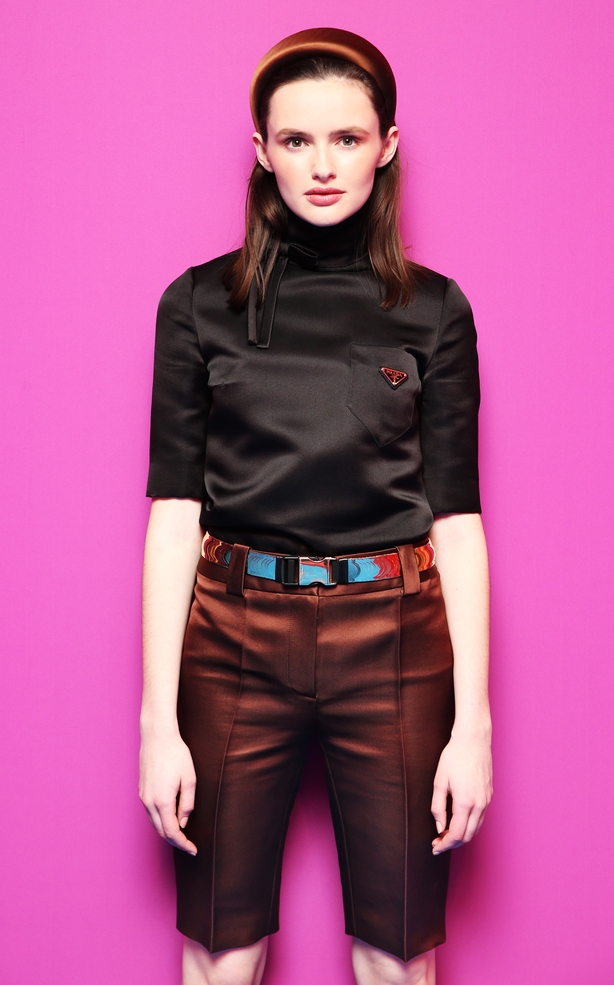 You can watch our interview with Shelly Corkery by clicking on the video at the top of the page.