Meghan Markle wore Givenchy for her first joint royal appearance with the Queen. The French fashion house also created Meghan's wedding gown, reports Katie Wright.
It was a day of firsts for the Duchess of Sussex: her first royal appearance without her husband Prince Harry, her first solo outing with the Queen and her first journey on the royal train.
So it makes sense that the newlywed would want to play it safe with her outfit, choosing Givenchy, the same designer responsible for her stunning wedding gown.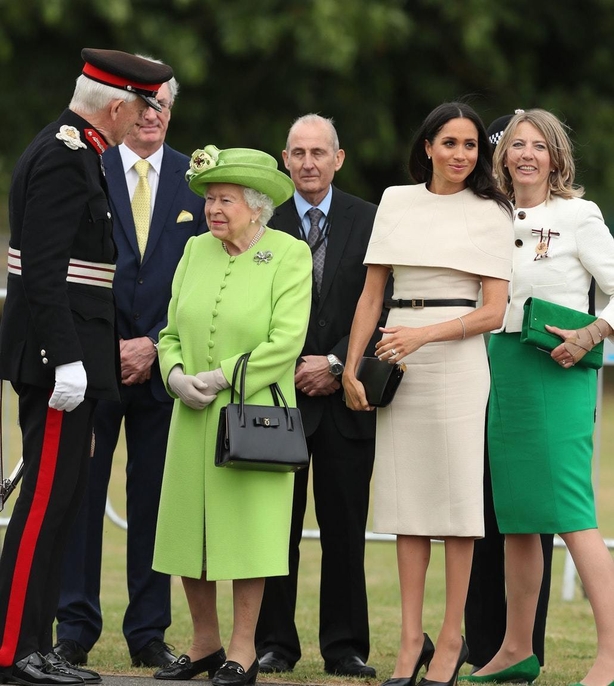 For this visit to Cheshire, the 36-year-old wore a cream fitted knee-length dress with short cape sleeves and a skinny black belt.
The dress was accessorised with black stiletto court heels by Sarah Flint and a mini clutch bag, the muted ensemble possible chosen so as not to outshine the Queen, who chose a lime green Stewart Parvin dress coat and matching hat.
The monarch and her new granddaughter-in-law are due to open the Storyhouse Cultural Centre and attend a lunch at Chester Town Hall.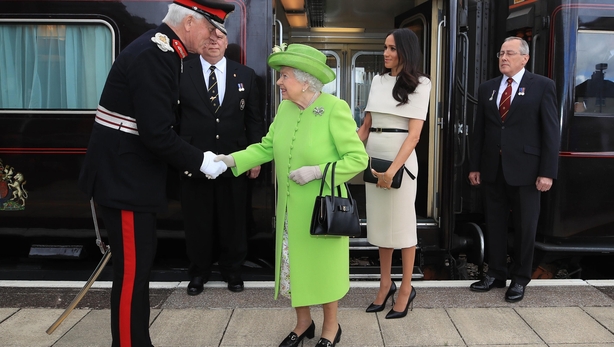 Meghan's outfit was met with approval with royal watchers on social media.
"Love Meghan's dress. So glad she is sticking with her style," wrote one Twitter user, with another calling the dress 'absolutely lovely'.
So in love with Duchess Meghan's dress She's so school so elegant so beautiful ??

— Rosine Exchine (@OnlyExchine) 14 June 2018
It's also notable that Meghan appears to be following royal fashion protocol by wearing flesh-coloured tights again, but these are a much better match for her skin tone than the pair she wore to a garden party a few weeks ago.
But some people were still quick to criticise her ensemble, pointing out the creases on the front of the frock.
"Did the Duchess of Sussex sleep in her dress? What's with all the creases?" asked one user.
.@givenchy is doing Meghan dirty. FIRST, a wedding dress that wasn't fitted properly. NOW, a dress that wrinkles easily. Get it together!

— Ritzygal (@Ritzygal2020) 14 June 2018
It seems no matter what the Duchess wears she can't please everyone, but we think this is another demure but stylish ensemble that's perfect for a high profile appearance. We'll be following her fashion closely for more Meghan inspo.