The Met Gala is a time for the biggest celebrities to show off their experimental style, but don't be fooled into thinking this just means fashion.
With a theme of 'Heavenly Bodies: Fashion and the Catholic Imagination', everyone's sartorial homages to the church were pretty OTT, and with outfits this extravagant, the make-up had to match.
The overwhelming theme of the red carpet was gothic beauty, and here are some of our favourite looks.
Dark eyes

Everything about Kim Kardashian's Met Gala look was sleek – from her hair to the liquid gold dress and precise make-up. Kardashian's eyes were the focus of her look, with long eyelashes and an intense cat eye.
According to her make-up artist Mario Dedivanovic, eyeshadow from her own KKW X Mario Palette was used to give her a smokey look above and below the eye. Kardashian kept things simple with a nude lip to let her eyes really take centre stage.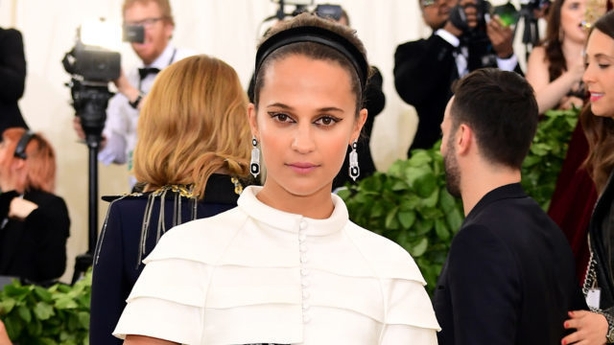 Alicia Vikander attending the Metropolitan Museum of Art Costume Institute Benefit Gala 2018 in New York, USA.
Alicia also went for a cat eye, but her make-up look couldn't have been more different to Kardashian's. Instead of dark eyeshadow, Vikander traced the outline.
Unusually, she opted for black to follow the inside of her eye, adding to the devilish look.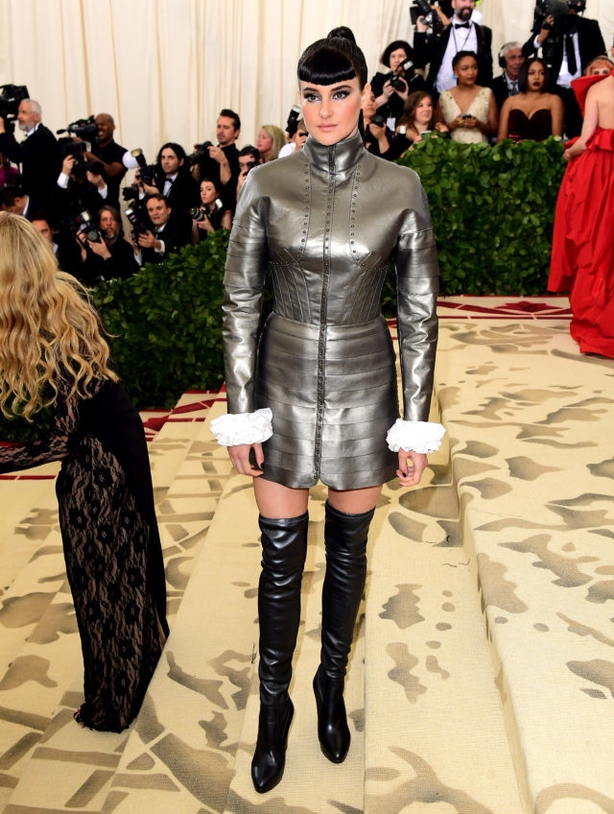 Shailene Woodley's entire look for the Met Gala has divided opinion – not everyone was sold on her robot-meets-Joan of Arc outfit by Ralph Lauren.
However, you can't deny that Woodley's dress and boot choices were matched by her make-up and hair. She opted for a smokey eye, with the gothic elements heightened by her dark eyeshadow going all the way up to the brows.
Bold lips

We need your consent to load this Instagram contentWe use Instagram to manage extra content that can set cookies on your device and collect data about your activity. Please review their details and accept them to load the content.Manage Preferences
As anyone who's ever put on make-up knows, finding the perfect shade of lipstick is an almost impossible feat. However, actor Priyanka Chopra managed to nail matching her lippy to her gown for the event.
In keeping with the theme, Chopra opted for a cardinal red gown, with a deep burgundy lipstick. The effect was dramatic – although perhaps not as knockout as the stunning beaded hood (which took over 250 hours to make).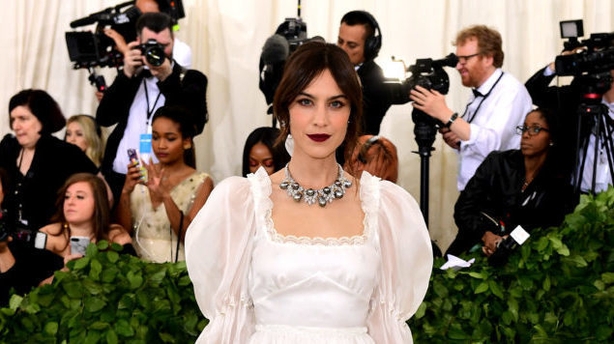 Whilst Chopra went for the matching effect, Alexa Chung played off her angelic, frothy white dress with a deep and dark gothic lip.
The dress alone might have been a bit safe and innocent, but Chung's intense make-up and ornate necklace gave the whole look an edge.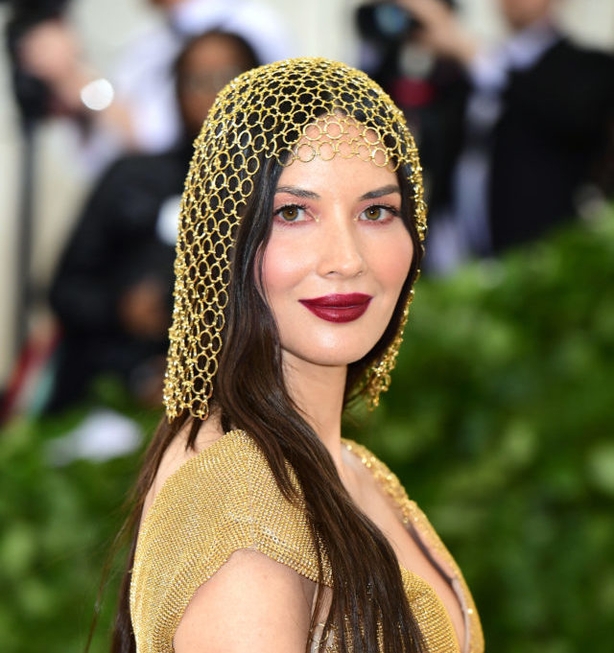 Hoods proved popular last night, with Olivia Munn's gold headdress matching her H&M gown. The actor said that the look was inspired by the Crusades (which admittedly is a controversial part of Catholic history to pull from), but her make-up was firmly modern.
A dark berry lip stood out against all the gold and was intensified by the soft pink shadow underneath Munn's eyes.
Heavy eyes and lips
One of the cardinal rules of make-up is to go for either a strong lip or eye, never both. However, rules are made to be broken, and the Met Gala is the perfect place for experimentation.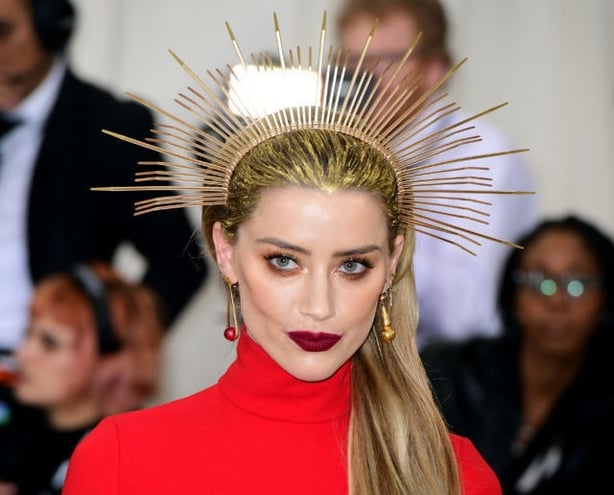 Take Amber Heard, whose dark berry lip (a look that proved quite popular on the night) matched her dark red eyeshadow with orange lids.
Considering she painted her hair gold, wore a spiky headdress, with a striking red gown and mismatched earrings, Heard definitely went for "more is more" – and to great success.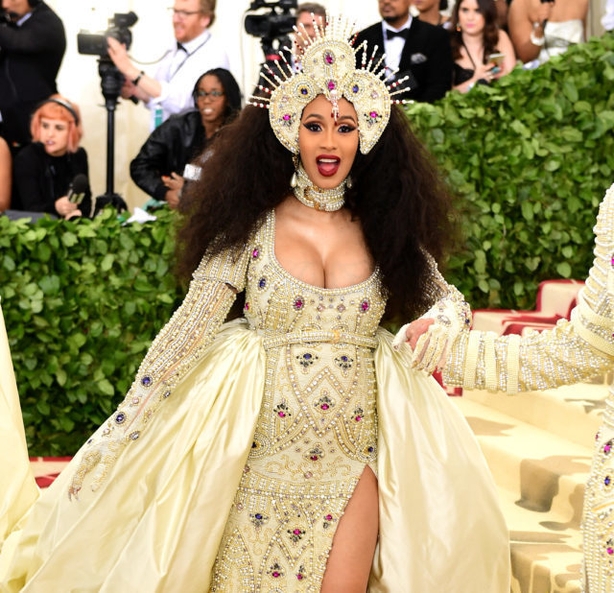 This was rapper Cardi B's first Met Ball, and she did so in style thanks to a beaded Moschino gown, headdress and choker combination.
Moschino is the gatekeeper of excess, so obviously Cardi B's make-up artist Erika La'Pearl had to match this. She used Marc Jacobs Beauty for Cardi's plum lips and gold and black cat eye.
To give the look even more volume, she used huge false lashes – very glam.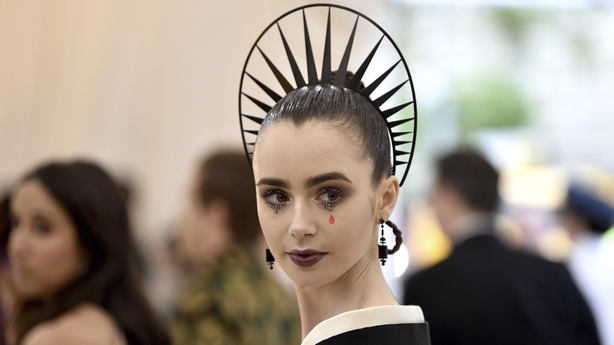 Many of the make-up looks were stunning if a bit safe and predictable. However, Lily Collins really pushed the boat out with her beauty choices.
Her make-up artist Fiona Stiles told Teen Vogue was inspired by "the occult and the dark arts" as well as a "heavy sprinkling of the gothic".
For Collins's lips, Stiles used Lancôme Le Metallique Lip Gloss in Purple Onyx. Her eyes were encrusted with jewels, including one red teardrop.