Originally from Friarstown, Co Limerick, Dolores O'Riordan was a tomboy who grew up to inspire a generation. Best known for their hit songs Zombie, Linger and Dreams, The Cranberries became a staple of the 1990's in both music and style.
We need your consent to load this rte-player contentWe use rte-player to manage extra content that can set cookies on your device and collect data about your activity. Please review their details and accept them to load the content.Manage Preferences
The musician has been described as edgy, kind, talented, raw, petite, fierce and fragile and all of these characteristics were mirrored in her unique style over the years.
Armed with Dr Marten boots and a cropped, pixie-cut - which she wore bleached blonde or inky black - Dolores had a distinctive style that matched her haunting voice.
A rock star through and through, the petite punk even managed to bring an air of grunge to her wedding day by wearing a jaw-dropping ensemble of lace trousers, knee-high boots, white underwear and bra, and a show-stopping sheer veil.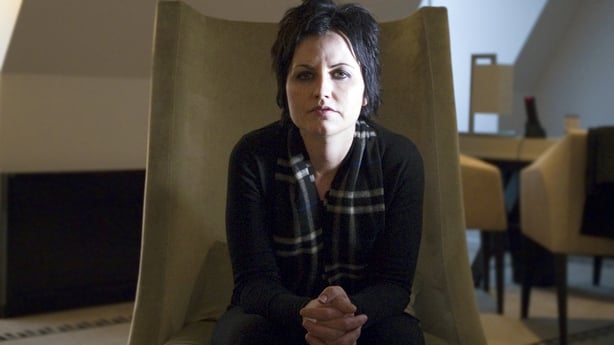 Photographer Brenda Fitzsimmons posted a tweet about the event, saying that outfit was so shocking she nearly forgot to take the photo.
Desperately saddened to hear the news of #DoloresORiordanRIP Remember covering her wedding for The Irish Press, her outfit and arrival, steering a horse drawn carriage with her veil blowing in the wind was so ballsy I nearly forgot to take pictures.

— Brenda Fitzsimons (@b_fitzsimons) January 15, 2018
Earlier this morning, we attended the Brown Thomas Spring/Summer fashion show where we spoke to Limerick model and stylist Celia Holman Lee, and stylists Courtney Smith, and Catherine O'Connor who spoke about the late singer's style.
"Dolores O'Riordan was all about individuality and that individuality came out in the style of her singing, the tone of her voice, how she expressed herself and no more than in her clothes," said Catherine O'Connor.
"There was never a 'glammed-up' feel to anything. Everything was played down and grungy and a little bit different and the hairstyle always stayed - always the hairstyle was her - you could see the profile and it was Dolores," added Celia Holman Lee.
"I just think she did her own thing - even the chokers - it was such a look of its time and I think it's something that we see young girls wearing now," agreed Courtney Smith.
Dolores is survived by her children, Taylor, Molly and Dakota. Our condolences go out to her family, friends, and fans.