Drag Queens, Fashion and Makeup, Oh My!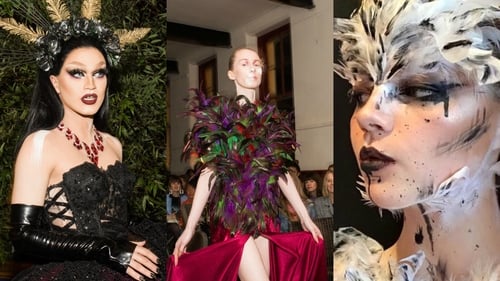 The NUA Fashion and Awards Show in Cork was an enthusiastic mix of vintage boutiques, fashion designers, milliners, makeup artists and drag queens.
The festival was created by Irish drag artist Candy Warhol as a platform for new and emerging talent. Candy took a specific interest in highlighting independent designers, artists, vintage shops, performers and musicians in Cork.
The fashion show was a spectacular infusion of homegrown talent, fashion and live performances ranging from the vocals of Sarah Beth to the burlesque moves of Miss Emerald Elle.
The NUA Art Exhibit which was curated by Amy Ring and consisted of eight artists from around Ireland while the Erika Marie Make-Up Award came down to four finalists all working around the theme of 'My Folklore'.
The fashion show's makeup was managed by Erika Marie, an Irish MUA who has an online following of over 100,000 across her social channels (85.8 on Instagram). The Erika Marie Award was created to encourage new creative talent. The winner was 17-year-old Dubliner, Tara Fetherston.
Winners
NUA Designer: Grainne Wilson
NUA Milliner: Michelle Kearns
NUA Boutique: Miss Daisy Blue
NUA Artist: John Flynn
NUA Model: Yesunia
NUA Music Video: Paradox
NUA Musician: Firefly
Erika Marie Winner: Tara Fetherston
Next year, the festival organisers hope to grow the festival to include workshops and talks with secondary schools and young talent to guide them on their journey in the art world. Photo credit: Helio Leon