Top 3 tips for dressing for the Dublin Horse Show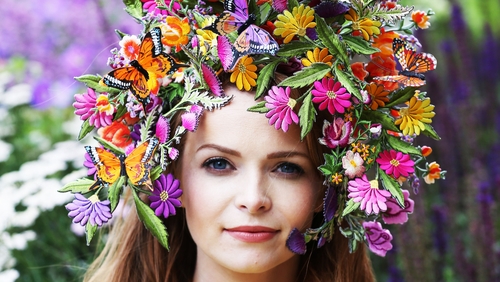 Carol Kennelly, one of Ireland's top milliners, spoke to us about finding inspiration and offered us her top fashion tips as well as advice for winning ladies day
The garden that Diarmuid Gavin created for Dundrum Town Centre was the inspiration for your head piece [as pictured] plus there's a filmic theme...?
I am in awe of Diarmuid Gavin's Garden of Pure Imagination, and was delighted when I was asked to design a headpiece inspired by his Garden. Diarmuid's garden takes inspiration from my all time favourite movie, Willy Wonka and the Chocolate Factory. I think he perfectly captures the playful whimsy and glorious colours of that iconic movie. Pure Imagination, to me it's Pure Happiness!!
What is your advice for dressing for any Ladies Day?
Of course, my first tip is to invest in quality millinery. The right hat will make you feel taller, slimmer, more confident version of yourself, totally invincible!!
Grooming is crucial. Unless you are skilled at hair, makeup and fake tan, leave it to the professionals.
Judges are always looking for something they haven't seen before. Don't be afraid to experiment, break a rule or two, mix it up, once your outfit is a true reflection of your personality. Wear a smile, it is the best accessory to finish any outfit.
What are your own top 3 fashion tips?
1) Know what colours work for your complexion and avoid shades that wash you out.
2) Know the strong parts of your body and understand how to accentuate these.
3) Good underwear can hide a multitude of sins, use it to your advantage.