From Rock Star DJ To Edge-y Fashionista, Huston made a brave decision to move from radio to jewellery, a move that wasn't initially planned when she left 2fm.
Where did your passion for design and jewelry come from?
My love of jewellery was always there, even as a child as my mother is a very talented goldsmith and gemologist. I grew up in the trade and worked in fine jewellery stores throughout university.
One fine jewellery store introduced me to rare coloured gemstones, which taught me to look beyond the mass-produced high street, towards more interesting stones and unique designs. 
 
What was the most difficult thing for you when making that jump from rock star DJ to jewelry designer?
Waking up early! It took me years to change the habit of really late nights to going to bed before midnight and waking up bright and early. In business, keeping the books, tax and all things financial are my least favourite tasks (they are not my strong suit), but I have great minds to lean on.
Do you miss radio?
Yes! I love radio as a medium and I loved being a DJ, so I knew when I took voluntary redundancy that I would miss it. I go to gigs and festivals and try and fill the gap by listening to new music while I work, but neither replace the sharing of a new find with like-minded people, the "This is great! Listen to this!" geek moments.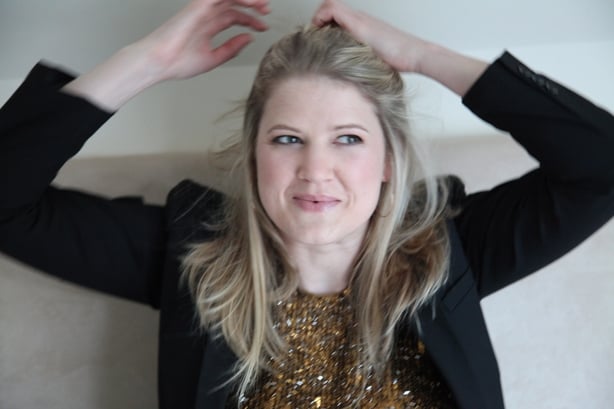 The name Edge Only; where did it come from? And who are your target audience?
I was struggling to find a name that I could get both a .com, co.uk, .ie and all of the social media handles for - something very important for a brand. High-end jewellery with an edge was what I was designing, so I tried a few name generators with edge and edgy and Edge Only came up as available. It just felt right.
My graphic designer thought it was very "full stop" as a name, so he was delighted when he got his full stop in the logo (the dot in the Y). Most of our customers are creative professionals -  individuals looking to stand out, or show a little bit about who they are in their jewellery. Our designs range from minimalist statement pieces to bold, playful designs.
You said how that at the beginning, it felt as if you were doing a degree every week while upskilling. How did you manage it all?
I think most entrepreneurs will agree that everything ends up being more complicated or time-consuming than you initially thought it would be (like opening a business bank account). I think I just tackled everything one thing at a time - and still do.
There is a voice in my head constantly telling me to focus - the 'to do list' is long, so you have to try and prioritise. Some days you fail, but you try again the next day and chip away little by little! The energy is there because you are building something of your own.
What does your working day look like now?
Typically, the morning is social media followed by packaging sales. Most afternoons are stock and production, others are marketing and press. A day for finance and VAT returns. Photo editing and the website are a constant - they need updating and tweaking regularly.
Then there are blogs and newsletters and events. I try and allow space and time to dream up new designs and to think ahead. You have to keep dreaming!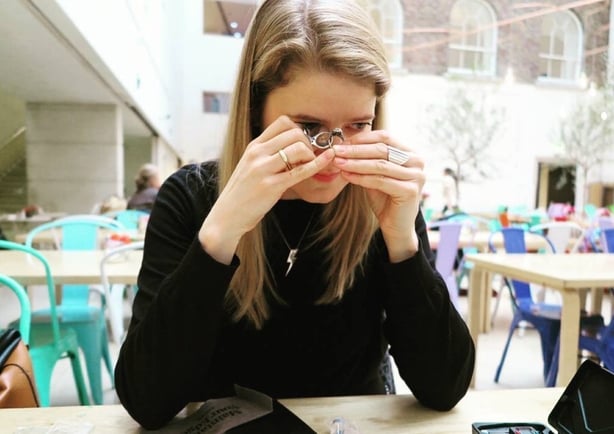 New York is on the horizon for Edge Only. Tell us more; how did it happen and when can we expect to see you taking over the States?
The official store opening for Wolf & Badger New York was on March 22nd. I'm stocked with Wolf & Badger in London (they were the very first shop to sell Edge Only), first in Mayfair and for the last year at their Notting Hill store.
Edge Only sells exceptionally well there, both our men's and women's designs, so when they announced they were opening in New York I expressed and interest and thankfully they said they would be delighted to have me. The location is outstanding - 95 Grand Street in SoHo.
It is a 2,500-square-foot, multilevel space located near Alexander Wang, Acne, Dior and Saint Laurent. I'm dying to go over and see it this summer, but in the meantime, I will have to settle for photographs and emails. 
You talk about how being a self-starter can be stressful. How did you find balance between personal life and work pressures?
I'm still working on it to be totally honest. Growing a business like Edge Only is both cash and labour-intensive so I mind myself and pick and choose my nights out.
I'm very lucky to have friends that are great cooks and entertainers, so rather that planning dinners out, it's dinners in and a bottle of wine. Live music is the best medicine for stress - it melts away at a great gig.
Your proudest achievement to date?
Each new stockist feels fantastic. I was over the moon when I was accepted into Wolf & Badger Mayfair our first year, delighted to be stocked in the Marvel Room in Brown Thomas at Christmas and now very excited about NYC.
Personally, I was thrilled to see Angela Scanlon on the red carpet at the BAFTA's looking stunning in a long black off-the-shoulder dress wearing a gold Edge Only BAM! Necklace. She did a fabulous shimmy for social media that I must have watched twenty times! It's fantastic when Irish celebs fly the flag for Irish designers - it means a great deal to have their support. I beam when I see people wear my designs.
Last night @BAFTAScotland shimmying in @GalvanLondon 👯 pic.twitter.com/wvX8dFG4es

— Angela Scanlon (@angelascanlon) November 7, 2016
And lastly, what advice can you share to an aspiring designer who might be reading?
Don't be afraid to be different. Niche is great! You just need to 'find your tribe' and cater to them in every way that you can. 
Listen to Taragh Loughrey-Grant to speak to Jenny Huston in The LifeStyle Show podcast above.