It is well known that Katy Perry loves to mix up her styles. From Kardashian braids to a Bieber crop, Katy is the ultimate chameleon.
Katy Kardashian
This week the Chained to the Rhythm-singer channeled her inner Kardashian as she uploaded a shot to Instagram, which is clearly an homage to Kim Kardashian and the rest of the family.
She linked all members of the Kardashian clan on the pic and captioned it 'Katy Kardashian'. Kim commented with fire and kiss emojis.
In the pic Katy is rocking a dusky pink bodysuit and bleach blonde hair styled in a way that people describe as 'boxer braid'.
This hairstyle became very trendy in the last year when kinda randomly UFC fighters and the Kardashians, particularly Kim and Khloé and their wee sis, Kylie Jenner were spotted with them.
Braiding is nothing new but Kardashians do have a way of adapting a style and turning it into a hot 'new' trend worn by fans from all different countries, cultural backgrounds and throughout all stages of age.
Why did Katy upload the picture?
Her makeup artist, Hung Vanngo also uploaded a pic of Katy showing off her Kim K style and included the hashtag #secretproject. Is there a new Katy music video full of celeb lookalikes in the making?
That would explain why Katy's hairstyle has gone from Miley to Bieber to Guy Fieri to Kim in the last few weeks.
Guy Fieri
On April 20th Katy Perry gave her followers a giggle by popping on sunglasses and recreating the spiky hair and highly enthusiastic attitude of the American restaurateur and TV personality Guy Fieri.
Don't get too attached to the look. Next she went for a moody cropped looked a lá Justin Bieber.
Justin Bieber
She killed the Bieb's look! Short bleach blonde hair, cool hoody and a confident look...
Nailed it.
2013 Miley Cyrus
Do you remember what she looked like when she came in like a wrecking ball? Katy does. Last month Ms. Perry wore chopped blonde hair, dark eyebrows, and bright red lipstick.
You can barely tell the difference. The comment section was filled with questions and exclamations like "Is that really Katy Perry?", "OMG!! it is @mileycyrus", "You look like Miley now" "Katy Cyrus"!
Sistas.
Kris Jenner
Dressing up like other celebs isn't new for the singer. About two years ago Katy posted this picture to Instagram saying:
"I asked for the Kris Jenner"
And sometimes her fashion adaptions are just completely random. She captioned this pic "Twins":
90's Britney and Justin
However, the best impression of all time will always be when Katy and Rapper Riff Raff attended the 2014 MTV Video Music Awards dressed in a full on matching Versace denim, thirteen years after Britney Spears and Justin Timberlake did it as a couple.
@britneyspears I'll show u my best impression on the red carpet at the VMA's tomorrow... Wait for it bb.

— Katy Perry (@katyperry) 24. August 2014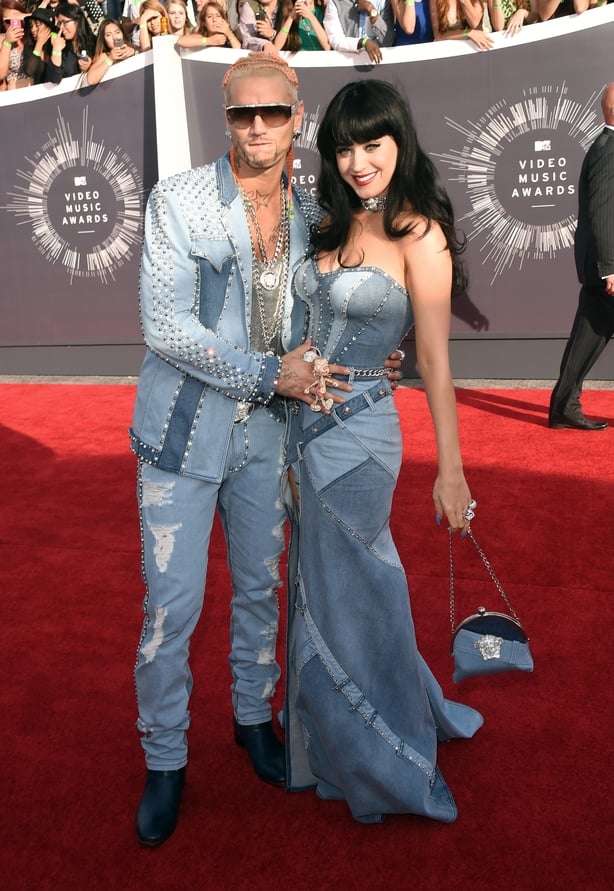 That moment was simply iconic.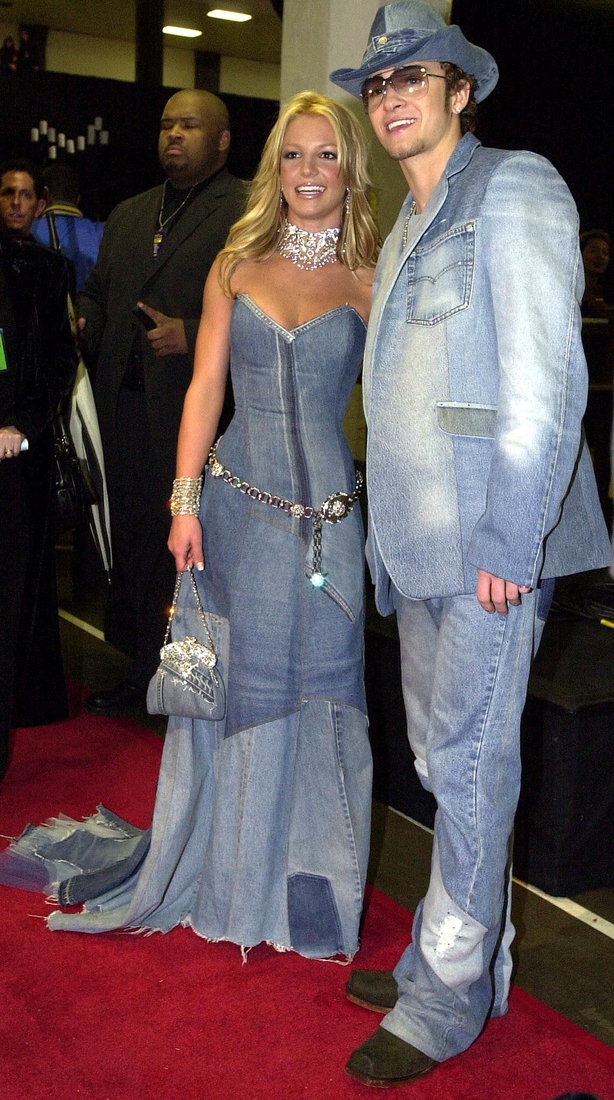 Want to see what outfit Katy Perry and other celebs rocked at Coachella? Click here.
What's your fav celebrity look homage by Katy? Tell us know on Twitter, Facebook, and Instagram!