Beyoncé & Jay-Z: 9 years of love and fashion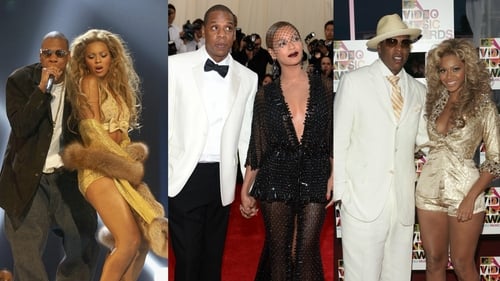 Today, Bey and Jay are celebrating nine years of marriage. While Queen B marked the occasion with an emotional tribute on her Instagram, we're looking back at some the couple's most fashionable moments.
The Romance
When did Beyoncé and Jay-Z first get together? We'll probably never know. The media-savvy couple are very particular about what information gets released to the public.
However, the clever people at Vulture conducted an intensive investigation into Bey and Jay's love life and put their meeting sometime between 1997 and 2000.
"In a 2007 interview with Charlie Rose, Jay said he met Bey "ten years ago" (so, 1997)."
"But in a 2008 interview with Seventeen, Bey said, "I was 18 when we first met, 19 when we first started dating." (She was born September 4, 1981, so this would put their first encounter in late 1999 or early 2000.)"
In 2002, Jay-Z released 03 Bonnie and Clyde featuring Beyoncé along with a music video that basically confirmed their status as a couple. From there, the two would feature in each other's work on multiple occasions including Beyoncé first solo single, Crazy in Love in 2003.
In 2013, Beyoncé celebrated the ten year anniversary of the song with the above Instagram post with the caption #10YearsofDangerouslyinLove.
The Wedding
On April 4th, 2008, Shawn Corey Carter (Jay-Z) and Beyoncé Knowles married in a private ceremony at Jay Z's Tribeca apartment.
Beyoncé wore a custom made dress designed by her mother and the couple opted for matching IV tattoos on their ring fingers instead of wedding rings.
The Babies
In 2011, Queen B announced her pregnancy in the best way possible. After delivering a powerhouse performance of Love on Top at the MTV Movie Awards, Bey dropped the mic and opened her blazer to reveal her baby bump. Chills.
Earlier this year, B nearly broke the internet by releasing her pregnancy photo shoot along with an Instagram post announcing that the couple are expecting twins.
"We would like to share our love and happiness. We have been blessed two times over. We are incredibly grateful that our family will be growing by two, and we thank you for your well wishes. - The Carters".
The Fashion
If the rumors are true, Bey and Jay have been in each other's lives for just about twenty years. The couple are notoriously private about the intimate details of their lives but there's no escaping a fashion flashback in the digital age.
We are checking out this power couple's fashion journey over the past number of years. Enjoy!