When I arrived at the Fitzwilliam, which is located on Stephen's Green, I was immediately struck by the friendliness of the staff and how welcoming they were.
The Fitzwilliam's Spirit Spa is run by renowned therapist Ursula Daly and after my consultation with her, she recommended we try out their new Aroma Touch massage which uses pure therapeutic oils to help rebalance the body, relax muscles, calm tension, soothe irritated tissue and increase circulation. It was a Friday evening and I had just battled my way into town during rush hour traffic, so this sounded like heaven.
Before we began, Ursula did a patch test with the oils she would be using to make sure they wouldn't irritate my skin and that I would be receptive to them. The smells were incredible and I instantly started to de-stress.
Ursula began by massaging my back and shoulders using the various oils one after another, before moving on to my head and then finishing with my feet.
The experience was so relaxing that I almost fell asleep, which I always think is a good sign after a massage. And even better sign? There was no pain whatsoever a few hours later or the following day. I've found a couple of times before when I've had massages in other places that while the pressure may feel good at the time, there will be some pain or discomfort the following day, which to my mind negates the purpose of having gotten one in the first place.
Leaving Ursula's room, I felt like I was floating on air and the effects lasted all weekend and into the following week. Aroma Touch sets out to rebalance and I really found it brought me back to a solid base with a clearer mind.
My Friday evening treat didn't end there, however. It's funny how a massage can really work up an appetite so I was delighted to have a reservation for late afternoon tea to follow it.
Our reservation was in the Inn on the Green, a stylishly modern bar located just off the hotel's reception.
After we were shown to our seats, the selection of flavoured teas were displayed to us and we were asked to smell each pot of tea leaves to find out which appealed to us the most.
We both fancied testing out the Irish Cream tea first – a black tea blend with chocolate, soya lecithin and Irish cream flavouring – and it was delicious.
Afternoon tea in the Fitzwilliam takes a modern twist on the meal usually associated with scones and dainty sandwiches, and the selection of tasty treats was diverse and packed full of flavour.
The food was presented on a tiered platter – as all afternoon tea should be – with the top two layers full of seven varieties of savoury snacks, and the bottom tier holding a selection of five kinds of sweet treats.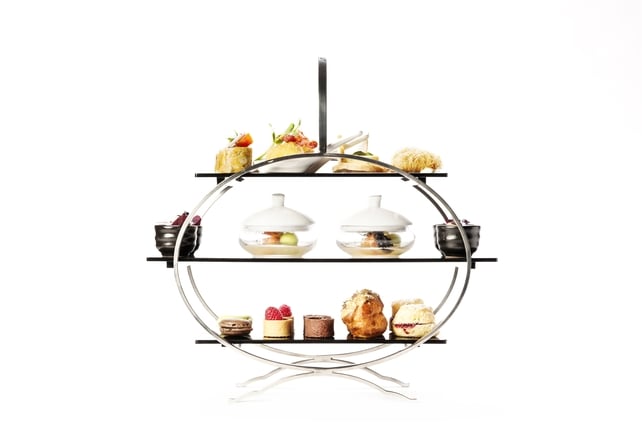 My personal favourites were the langoustine & truffle wanton with saffron aioli and the pea & ham croquette with egg mousse. I'm not really a cheese-eater so a number of the pieces didn't appeal to me and I found the smoked salmon & caviar combination to be a bit too fishy. If I was to go again, I would look into replacing some of the pieces as it is quite pricey so realistically you don't want to be leaving things behind.
The sweet section was amazing. Absolutely everything on that tier was devoured in record time. From mini tarts to macaroons and one of the most delicious miniature scones with clotted cream and jam that I've ever had, this was a major winner. Three tiers of this please!
Our afternoon tea was accompanied by some Prosecco and the meal was finished with a refreshing cocktail – non-alcoholic options are also available.
The combination of the massage and afternoon tea was the perfect start to the weekend, a brilliant way to unwind after a week in the office, and a great setting for a girly catch up with a good friend.
To find out more, visit www.fitzwilliamhoteldublin.com