Fashion writer and stylist Annmarie O'Connor recently released her debut novel The Happy Closet - a self-help guide to balance well-being with being well-dressed.
It's a fun, informative and down-to-earth book full of brilliant tidbits, and the 10 Kilo Challenge immediately jumped off the pages. In order to help you identify the pitfalls in your wardrobe and shopping habits, Annmarie sets out a challenge to create a capsule wardrobe for the next 14 days, in which you choose a selection of interchangeable pieces to wear for a fortnight, all of which should fit into an airplane carry-on bag.
If you're the kind of person who has a wardrobe bursting with clothes, and yet have nothing to wear, then this is just the challenge for you. My closet was overflowing with pieces I haven't worn in years, and which fill me with a sense of dread every time I clock eyes on them. I knew it was time to take charge and change my shopping habits.
I whittled down my wardrobe to a selection of easily mixed staples - and took stock of the change I felt when rolling back the sliding door. Not having to grapple with bags and other random bits and bobs falling out as soon as I opened my wardrobe was the first advantage. The ability to see each piece instantly also made getting dressed a cinch. Being able to see only clothes which fit me and are flattering is a good confidence boost, rather than that LBD I've held onto since college but I can't quite squeeze into anymore!
So far so good, but it's just Day 1 of the challenge, so I worry that relying on such a stark assortment of clothing may become tiresome. On the other hand, it may just encourage me to be more inventive in how I choose to wear my investment pieces, all of which have made it into my 14-Day Wardrobe, which isn't a coincidence. None of my, much too frequent, impulse buys have made the cut - which is surely a savage indictment of shopping for the sake of it, without proper planning or consideration.
I have slightly inflated the amount of items from Annmarie's recommended 17 including shoes, to 17 plus shoes. Yes, I know it's cheating, but it's baltic out there and I couldn't face the next fortnight with just one jumper in my arsenal, so I've included five. Priorities!
My 14-day wardrobe:
1 coat: Reiss grey wool coat
1 jacket: Sandro black leather biker jacket
1 dress: H&M black shift mini dress
5 jumpers: Cream vintage Aran jumper, vintage camel cashmere sweater, Whistles black turtleneck, Whistles navy cropped poloneck, Topshop stripey sweater
1 shirt: Pale blue denim J Brand shirt
1 dressy top: Zara houndstooth fringed top
2 jeans: Topshop Girlfriend jeans in mid-blue and washed black
3 dressy bottoms: Whistles black sparkly fluffy midi skirt, Vintage leopard print pencil skirt, Zara houndstooth mini skirt
1 day bag: Vintage Lancel black leather shoulder bag
1 evening bag: Elizabeth & James leopard print bag
Shoes
Dressy: Acne Star black leather ankle boots
Kurt Geiger pointed black leather ankle boots
Casual: Buffallo low-heeled ankle boots
New Balance black and gold trainers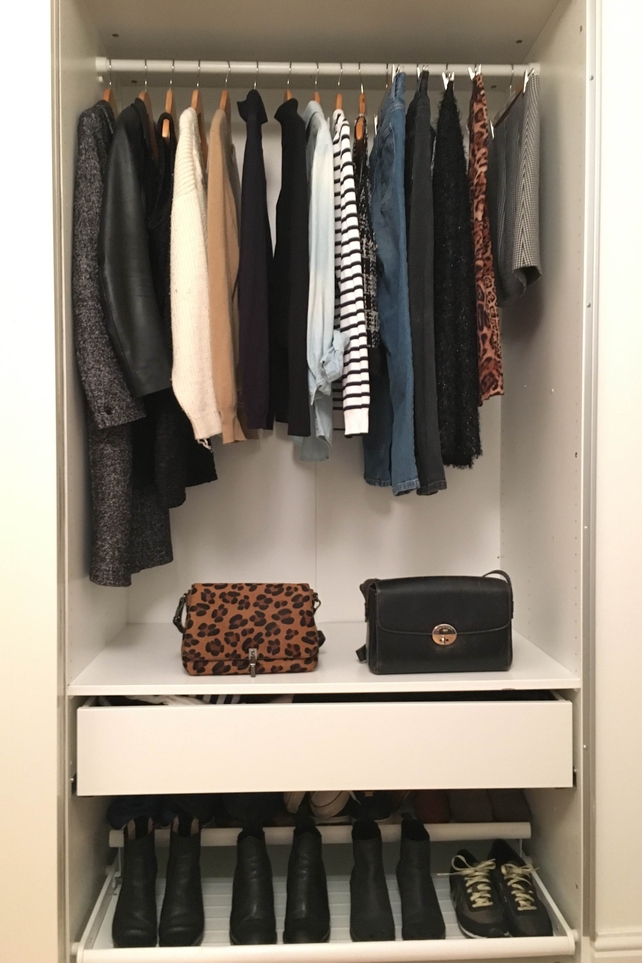 First thoughts?
I own way too much black
I barely have any colour in my wardrobe apart from leopard print and stripes
I have a definite problem with black ankle boots, I couldn't bear the thought of parting ways with any of them for 2 weeks so I had to include all of them in my 14 day wardrobe
Each and every piece here has been a carefully mulled-out decision, such as the camel cashmere sweater which I scoured Paris for when on holidays there.
All of the items would have a very impressive cost-per-wear ratio, so the advantage of investing in daily staples is becoming more and more obvious.
Over the course of the next 14 days I'll be checking back in with updates and outfit posts, and hopefully will become a more shrewd consumer - finally putting into action my deeply held belief that 'less is more'!