Whether you're a waxer or a shaver, we can all agree that hair removal is not fun. It's one of the most, if not the most annoying part of any beauty routine and while everyone's growth rate is different, I don't think you'll ever hear someone say 'Wow, I wish I needed to shave/wax more often'.
When I was invited into Therapie on Molesworth Street in Dublin City Centre, I was delighted and intrigued by the process of laser and its effects – never have to shave again? Sign me up!
I decided to try out the underarm treatment because for me, the hairs here grow faster and requires more regular shaving than anywhere else. Shaving your underarms is also the easiest and quickest shaving job but I couldn't imagine how much easier things would be if I never had to do it again and now that I have completed my course of 6 treatments, I know I chose wisely and the convenience of not having to shave there is spurring me on to get some more treatments on other areas.
Before I began my course of treatments I was booked in for a consultation to make sure that I was a suitable candidate for laser, and to discuss how the process would work. As my hair is very dark I was told that the laser would work very well for me as the light in the laser is attracted to dark pigments in the hair follicle. This is why laser isn't really an option for people with very fine, fair hair.
A regular course of treatments takes 6 appointments, usually one every 6-10 weeks depending on your re-growth. For the laser to work they have to catch the follicle in the growing stage, so over the course of the 6 treatments they catch each hair follicle in that stage so by the end, you are left smooth and hair free for good.
Each treatment lasted about 10 minutes so it was really handy to schedule in after work and you might hear reports that its sore, but really, speaking as a girl with a pretty low pain-threshold, it's more uncomfortable that painful and is totally bearable, especially because they do it so quickly. As the treatments progress they can intensify the heat being used but even in my last appointment, I was able to get through it without any trouble, so don't let the rumours put you off.
After my first appointment I noticed the effects immediately and I didn't have to shave my underarms for about 2 weeks which was amazing. The initial difference was the most dramatic but as the treatments progressed I was so happy with the results I was experiencing.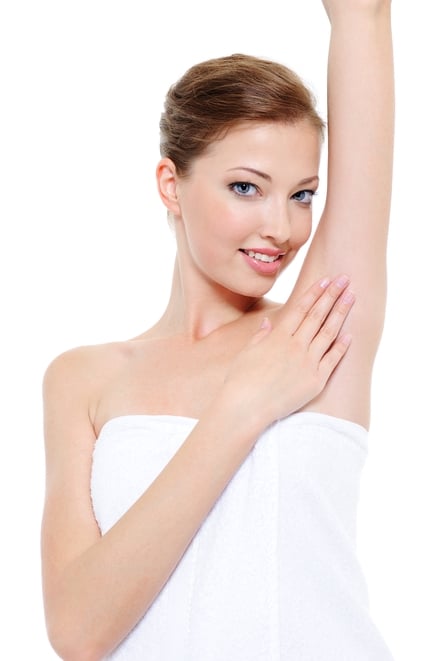 I began my treatments before the summer so I had pretty hairless underarms for all the festivals which felt fantastic – where normally I'd have had a bit of stubble forming by the Sunday of a weekend away, there was nothing there this year and it just made me feel so much cleaner and fresher and for this reason alone I would recommend looking into getting it done. It was also really handy when I was planning my festival wardrobe because I didn't have any stubble to hide.
I completed my course of treatments a couple of weeks ago and I've never liked my underarms as much (a sentence I never anticipated saying) and even though they were quick to shave in the shower, cutting that bit of my routine out makes life so much easier. I do still find myself reaching for the razor the odd morning when I'm still half asleep and it just feels great to put it away again. We all know every minute in bed counts in the mornings so even 1 minute less in the shower makes the world of difference.
While the prices of the treatments may be off-putting and seem pricey, which they are, I can safely say they're worth it and Therapie seem to always have some kind of special offer or deal on, so before you book in, suss this out because you could save yourself a lot of money this way.
For me, it was a win-win situation and my only regret is that I didn't start getting laser therapy on a few other body parts at the same time because I'd be finished them all by now but that's hindsight for you!
I want to give a special mention to all of the staff in Therapie as well, I had a few different people over the course of my treatments, which might be a little off putting if you were getting a more intimate area seen to, but for underarms it was no big deal. For my last three treatments however I was looked after by Joanne and she was just great. So friendly, so helpful and informative and the sessions were good craic. I would recommend asking for someone in particular if you do go in because it creates a much friendlier atmosphere. When I eventually go back for more I'll be asking for her for sure.
I should also point out that while laser hair removal is a permanent thing, sometimes, depending on your hormones and a few other factors you might need to go in for a top-up treatment every year or few years. I was told that some people can go seven years without needing to go back and some people will be back in every 12 months. I'm not sure which bracket I'll fall into yet, but I'm hoping it'll be nearer the seven year mark.
For more information visit the Therapie website.
Sinead Brennan