The salon has had a complete transformation with a new floor of gorgeous treatment rooms including a Nail Bar, Pedicure Room, Tanning Suite, and, my favourite, an utterly relaxing Treatment Room, complete with a cloud-covered sky ceiling.
Here my therapist Cliona took a close look at my skin, identifying any problem areas and coming up with a treatment plan to suit. She decided the Murad Anti-Age Anti-Blemish facial would be effective in targeting the congestion in my T-zone and generally brightening my complexion.
She began the treatment with inhalation and a hot compress, before removing my make-up thoroughly. She followed this with a double cleanse with a cream and exfoliating cleanser to fully prepare my skin for the facial. First up was the Enzyme Treatment Mask Exfoliator which tingled a little bit as it got to work. It contains fruit enzymes to treat clogged pores and improve skin clarity.
After removing the mask, Cliona followed with a step which is too often neglected in facials these days - extractions. It's a necessary step to really clear out clogged pores and leave skin looking much smoother.
After toning my skin, Cliona applied a firming eye mask and clarifying mask. A head and shoulder massage added another level of relaxation to the facial, and really helped me to fully unwind.
As a final step, she applied an age-diffusing serum, rejuvenating eye cream and an ant-ageing moisturiser with SPF before handing me a hand mirror to take a look at the finished result.
I was wonderfully taken aback by my skin - it was smoother, brighter and more glow-y than it had been in ages. The results were long-lasting too, the extractions meant that my usually blocked up areas are much improved, and overall my skin looks clearer.
It was a truly impressive result which will have me returning for future treatments!
Elysian Brows & Beauty also offers Dermalogica and Yon-Ka facials, as well as Essie manicures and pedicures, a range of tanning treatments, and of course their signature brow treatments.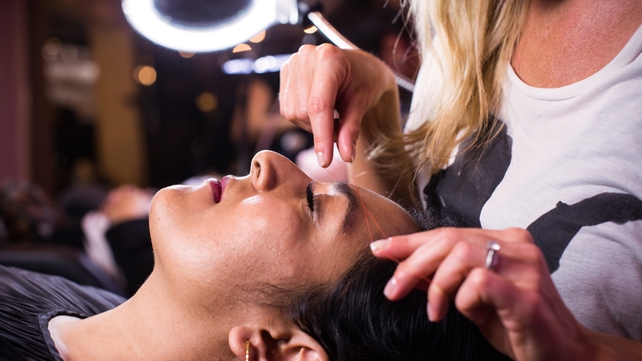 The Murad Anti-Age, Anti-Blemish 60 minute facial costs €80, while the 30 minute Pomegranate Facial is €40.
To book an appointment call 01 8883 666 or email info@elysianbrows.ie. For further information and to see a full list of treatments available visit www.elysianbrows.ie
Elysian Brows
36 - 37 South Williams Street
Dublin 2
By Sarah McIntyre