I have childhood memories of Donegal, of visiting the northwest for Irish college, and absorbing its wildness and rugged beauty, with its jagged coastline and its crooked headlands running like wicked teeth down the side of Ireland's head. From that age, at 14-years-old, the county's beauty was engrained in my psyche and it conjured up images of a real Ireland, and the picture postcard images of what the rural beauty of the country should be.
But for one reason or another I didn't make it back to visit after that summer – until this year, nigh on two decades later. 
Tucked up, as Donegal is, in the top corner of Ireland, it's a long drive from most parts of the country and that isolation has likely contributed to its seclusion and ability to be a less crowded version of Ireland's tourist-popular counties.
After a long drive on a Friday evening I reached my abode for my weekend in Donegal – Lough Eske Castle. 
And a better home from home you will not find.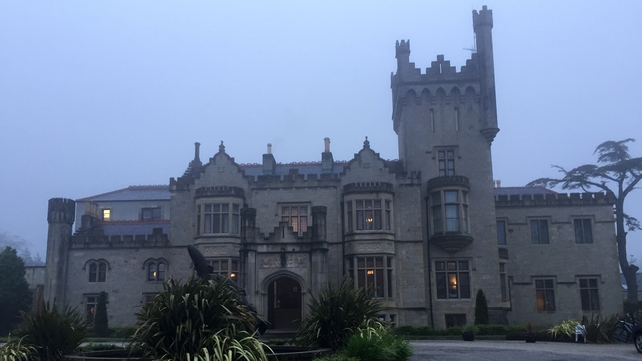 Lough Eske Castle in the evening mist
Located at the base of the Blue Stack Mountains, this hotel and spa has been lavished with praise in recent years, having been voted the World's Best Luxury Hotel by LuxuryHotelAwards.com and also named in Condé Nast readers' top-three luxury hotels in Ireland poll. It was also a TripAdvisor's Travellers' Choice winner. All of those accolades are deserved and by the banks of the lough you really can immerse yourself in luxury.
Ninety-five rooms are located in the hotel, which has a superb restaurant in Cedars Grill, serving some of the best seafood I've tasted in Ireland this year. It's all locally caught and the freshness jumps right off the plate. This is combined with a refined wine list that befits a hotel of this level of class.
Add in an excellent – and newly built – spa, and you have a wonderful base for exploring the region.
The hotel organises golf, fishing, walking and horse riding in the nearby area to keep its guests busy, but to get right to the heart of Donegal's attractions you need to get behind the wheel of your motor and head out into the surrounding expanses to get a more general flavour of the region.
An hour's drive west brings you to Glencolmcille, where you can arrange to meet Scotsman Iain Miller of Unique Ascent. This former shipping engineer had travelled the world before settling in Donegal with an Irish lass and building a life here. His passions are walking and climbing and he's combined them to set up a business guiding visitors in both. From Glencolmcille Iain will take you on a short drive to an unmarked gate, which is the nearest road to Glenlough Bay, which he describes as the most remote headland in Ireland. And once you set off on foot across the bogland it's not hard to see why.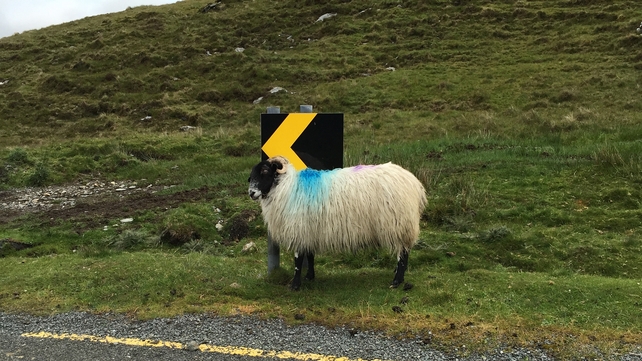 A sheep guides the way towards Glenlough Bay 
A 15km-odd round-trip hike brings you to Glenlough, through streams and bogland and past abandoned ruins, which were previously the home of two brothers who lived there without water or electricity well into their 80s.
Having made the trek across that land, the bay finally opens up in front of your eyes, with cliffs cascading down to the sea and sharp sea stacks protruding from the cool, blue waters below. When I arrived the clouds were rolling in off the Atlantic and created a mist and cover that added a mystic quality to the scene. From there, Iain takes guests on a guided rock-climbing ascent up Tent Stack, the biggest stack in the bay.
Glenlough Bay is just one of many trips Iain does throughout the county, exploring off-road walking routes, bays, stacks and storm beaches. He's the go-to sea stack climber in Donegal and is working his way through climbing every single one off the county's coast.
Having hiked back across the bog and clambered back into my car, I swung south towards Mullaghmore for a second outdoor adventure of the day – standup paddle boarding (SUP). Now, technically, Mullagmore is in Sligo, but for SUP, it's a better destination than Donegal's Bundoran, which is too exposed and windy, particularly for novices.
Mullaghmore is perfect for it, however, with its enclosed harbour ripe for learning the basics. This can be followed by a more open-water experience in the bay itself, then a trip along the coast up past the walls of the harbour and the town proper. 
SUP Dude, run by Irish SUP champion, architect and lecturer Emmet O'Doherty, is the place to rent wetsuits and gear, and the affable designer takes one through all the basics of the Hawaii-invented sport, before bringing you out on the water. The sport is renowned for its ability to give an all-over body workout and it's perfect for working off any over-indulgence at Lough Eske.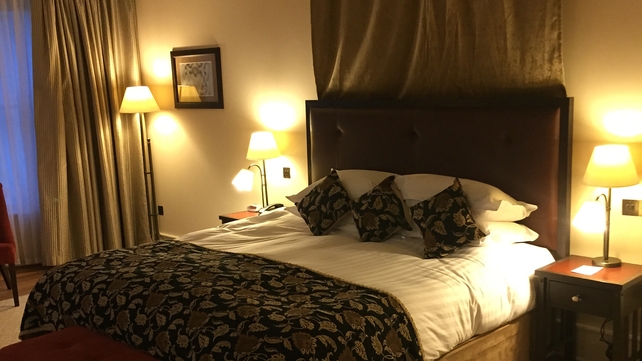 A suite in Lough Eske Castle
But after all that exercise it will be time for some more over-indulgence and having got the sea water off one's skin, Donegal town is a great little spot to relax in for the evening. It's a short taxi journey from the hotel and has a small but decent selection of bars and restaurants. Old Castle Bar and Fish Dock Restaurant is one of the best, with a tavern downstairs and dining room upstairs. As the name overtly suggests, fish and seafood is the order of the day here, with the mussels, crab, oyster and catch of the day the star performers.
On Sunday, before rounding out a weekend in Donegal, and after another sampling of Lough Eske's excellent breakfast, another roadtrip west is worthwhile.
An hour's drive in that direction will bring you to the Slieve League cliffs, one of Ireland's most undiscovered gems.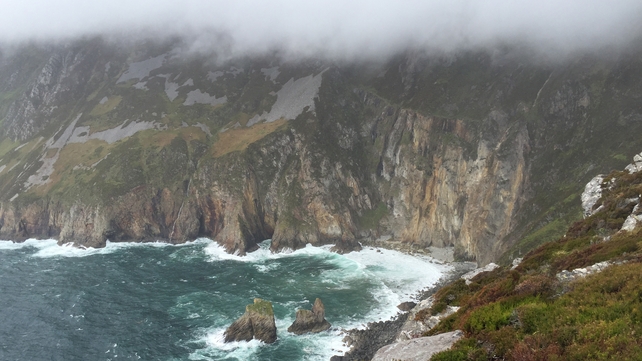 The stunning Slieve League cliffs, the highest sea cliffs on mainland Ireland
While the Cliffs of Moher take much of the limelight as Ireland's most beautiful cliffs, Slieve League can rightly lay claim to that title too. The highest sea cliffs on mainland Ireland, they are stunningly raw and sheer. As the mist rolls in and the waves crash against their rocky base you can't help but be impressed by their awesomeness.
Their main unique selling point, however, is that they are still relatively untouched by tourism and feel natural and unspoilt by coachloads of visitors.
In fact, that is Donegal's crucial draw: it's one of Ireland's main beauties, but still maintains a sense of isolation amidst its growing reputation.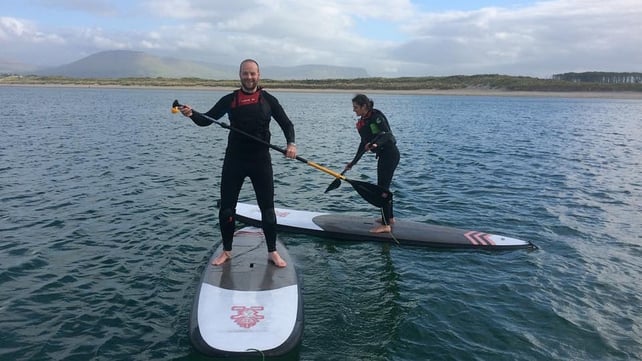 Tadhg Peavoy
Twitter: @rtetravel @TPeavoy
 
For more:
Lough Eske Castle: http://www.solishotels.com/lougheskecastle
Unique Ascent: http://www.uniqueascent.ie
SUP Dude: http://www.supdude.ie
Slieve League Cliffs: http://bit.ly/1FOc5La
For ideas on events, hotels and activities in Donegal, visit: www.discoverireland.ie
RTÉ is not responsible for the content of external websites.