The singer confirmed rumours that she would be joining Kelly Osbourne as a celebrity ambassador for the brand via her Instagram page.
She posted a photograph of herself with Madonna, along with the message: "Joining forces with Madonna & Lola! It's Official Ritabots – I'm the new face of @MaterialGirl. #thisisamoment for me #icon #mymuse #argghhhhh #yeeeeaaahhhhhhh #excited :) :) :)".
Madonna runs her fashion line Material Girl with her daughter Lourdes.
Previous models for the label also include Georgia Jagger and Taylor Momsen. The autumn/winter 2013-14 campaign starring the 22-year-old will be released in July.
A statement from Madonna and Lourdes read: "Rita is a talented beauty but what really drew us to her is the confidence she oozes through her music and her unique sense of style.
"On stage or off, in photos or on the street - she's a magnet! This is what the Material Girl brand is all about!"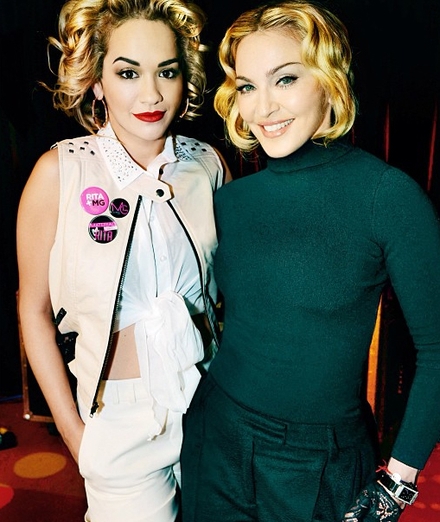 Image copyright Rita Ora/Instagram