Recently crowned Accessory Designer of the Year 2013, Lisa creates beautiful silk scarves and vegan leather digitally printed handbags. With a strong focus on print, she is inspired by urban and rural landscapes and strong geometric patterns.
Georgina Heffernan caught up with the talented young designer to find out a little more....
Georgina Heffernan: I know it's a difficult question to answer but why, do you believe, you won the Fashion Innovation Accessory Designer of the Year award?
Lisa Ryder: This is a difficult question, as the competition was so stiff, but I believe my prints are the key to my success combined with my simple shapes. They are fun and vibrant and unique to the Irish accessories market.
Tell is a little bit about your winning collection?
I launched my bag collection 'Arm Candy' in January of this year. It continues with my Willy Wonka view of the world. During this new collection I focused on iconic urban landscapes such as Paris and London to draw my inspiration. I love developing prints with strong architectural elements intertwined with elaborate floralies and bold stripes. My colour palette is very girly to counteract the masculine lines. Each bag is printed on vegan leather. This is a high-end leather substitute and the same fabric Stella McCartney uses in all of her accessories collection. I chose this fabric as it allowed me to develop very vibrant prints.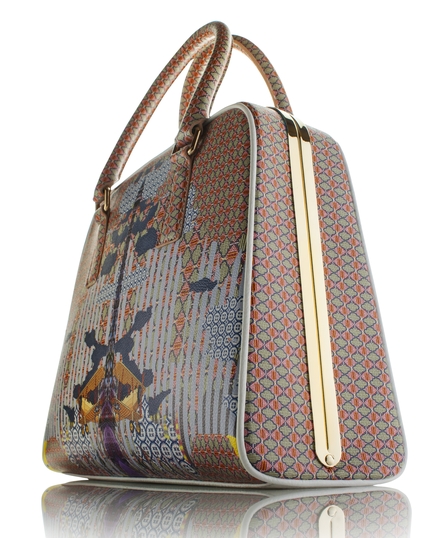 Tell us a little bit about your design process. When you start working on your collection, what's your starting point? Do you start sketching ideas or do you work from trend reports and mood boards?
I am always designing and I always start with developing my fabric ideas first; my prized procession is my laptop. This is how I collect my ideas. I could sit for hours just drawing and combining my print ideas on my laptop. You could say it is an extension of my arm. Once I am happy with a collection of prints I then look at designing bag form for them to fit around. But the print will always dictate in what direction I go. As for trend reports I do always keep an eye on what is going on in the fashion world but I don't want to be influenced too much.
How did you get started in fashion?
From a very early age I was always drawing. It may have not been fashion garments but it was this early exposure to art that help me develop an interest in the creative industries. I studied textiles at the Galway Mayo Institute of Technology Galway and then I obtained my masters at The Glasgow School of Art. I then worked in London for 2 years, doing internships for independent fashion labels, such as Peter Jensen and This is Neurotica.
I chose to work with smaller labels as it allowed me to see how a brand is run, from developing a collection, sampling and then the final catwalk shows. It was exciting. I loved the buzz; however it allowed me to see the work that is involved in getting your ideas to an international stage. It was hard work and you have to juggle a lot of people, ideas and finances but it did not put me off.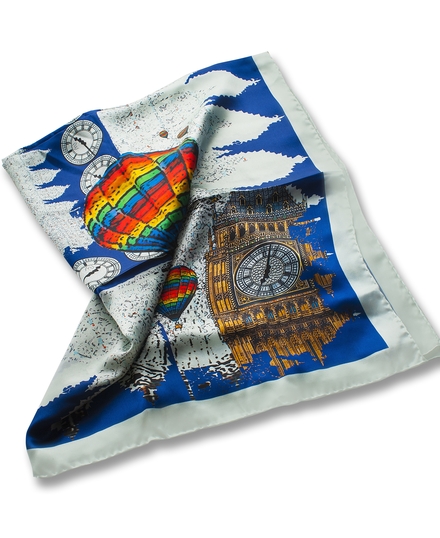 What accessory designers are inspiring you at the moment? And what looks are your favourite from the recent catwalk shows?
Designers that inspire me are designers such as Anya Hitchmarch and Alexander McQueen; I love Marni at the moment, especially their new tote bags. I always admire Jonathan Saunders, Mary Katrantzou, Calla Haynes and Eley Kishimoto. However, my favourite collection this season was Louise Gray. I admire her sense of colour and texture. She has a very distinctive style.
What's your personal style like?
My personal style is very casual. I live in peg leg trousers and denim, with comfortable pumps. Being comfortable is very important to me. Also I tend not to wear much colour; I suppose I work with colour so much everyday that is a way of me cleansing my palette. I also love big jewellery and I have to say my weakness is handbags and shoes. I believe the right bag and shoes can make an outfit look wonderful.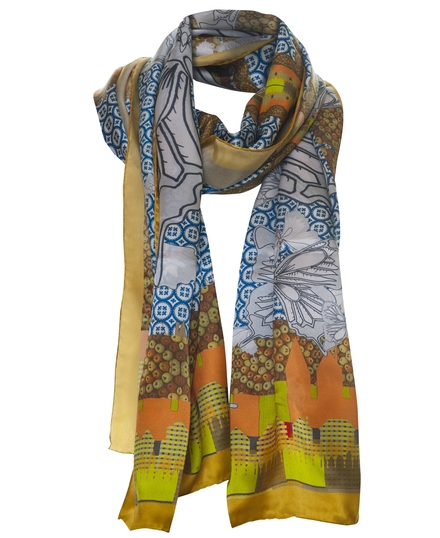 As a young designer, just starting out, it must be difficult to get established. What obstacles and challenges have you had to overcome?
Cash flow is the major obstacle of any young designer. You can have the best ideas in the world but if you cannot finance them then they will never come off the ground and nobody will ever get to see them. However Ireland is a great country to start a business, you have the craft council and the fashion council. They both have experience individuals on hand who are willing to share their knowledge and help you answer any of your questions.
What are your design ambitions and where do you see the label going in the future?
For the next year I am going to develop my bag range and my scarf collection. I also plan to introduce new shapes and prints. It is very exciting time, I love the public's reaction to my first bag collection and I can't wait for my new designs to hit the market.