By collecting vintage buttons from old clothes and accessories and carefully matching the colours Jane creates stunning necklaces, bracelets and earrings and each one is completely unique. Georgina Heffernan caught up with the talented craftsperson to find out a little more.
Georgina Heffernan: Did you always want to be a jewellery designer?
Jane Walsh: I strutted into the National College of Art and Design Dublin with great aspirations of becoming a fashion designer! I strolled out 4 years later with muddy overalls and a degree in ceramics under my belt. It was funny how it happened I just fell in love with clay, the freedom, possibilities, and textures. Looking back, I think now I have found the happy medium I am half in the fashion world with photo shoots and seasonal trends but I am anchored to my studio working with my hands which is where I belong.
You use buttons in all of your pieces- what inspires you about them?
Where to start! Well I have my grandmother to thank for all this, she was a lover of all crafts and was great with her hands and when I got hold of her huge rusty button tin there was no going back. Buttons, I feel, hold memories they are little time capsules that trigger memories. Your first baby grow buttons, communion dress, wedding dress buttons, covered buttons from your favourite dress all very important to treasure. The sentimental attachment is important but also they are just so colourful and bright you can't but smile when you look at a jar of buttons.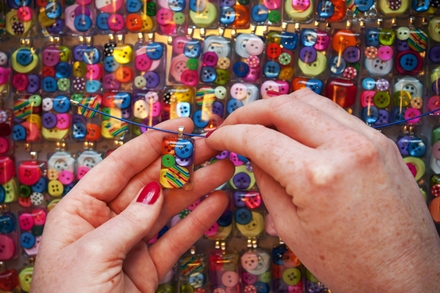 Was it tough getting started in business?
"When one door closes another window opens" - Button Studio was born from the ashes of my first attempt in business. I had my own craft shop but towards the end I couldn't afford to buy stock so I started making it! So with my love of jewellery and my newly acquired knowledge from the other side of the shop counter I was able to create a jewellery collection, adapt it to the feedback I was getting directly in the shop and squeeze myself into the gap in the market.

One door closed but my shop had a large window to launch from, so Button Studio was born and I have never looked back. My jewellery is affordable, unique well branded and packaged and can move with the trends all essential for success in this current climate and all lessons I learnt from my brief flirt with retail.
What other jewellery designers inspire you?
I have a huge respect for allot of wonderfully talented Irish jewellers. The skills, the designs, the variety of it all is truly inspiring. I have a soft spot for Elaine Sarah Comerford jewellery of Button & Co for obvious reasons! I am also a big fan of the jewellery collections by Kate Hamilton of Hunter studios - she does with reclaimed biscuit, sweet and toffee tins what I do with buttons - gives them a new function and lease of life.
What trends are big in jewellery for spring/summer 2013?
Subconsciously my work is influenced by everyday things the mood I'm in the darker I am the darker the buttons! My work gives an approving nod to the current and future fashion trends but I am not shackled to them! My advantage of being a small company is that I can adapt fast to colours that are trending.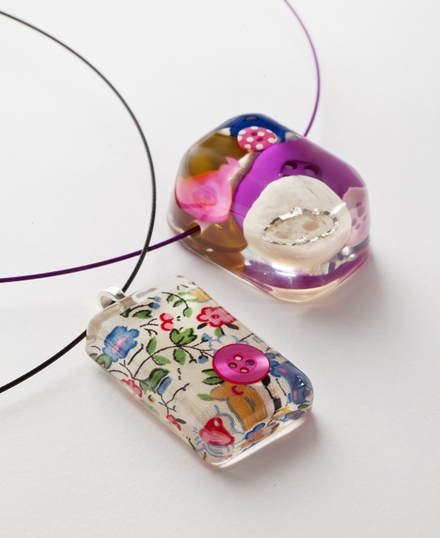 What has been your greatest achievement in your career to date?
I really can't just pick one thing the last four years with Button Studio has been one hell of a ride. I am most proud really of the fact that I am stocked in over 400 shops in Ireland, England, France, Germany, Finland. It is very important to me that each shop gets a great standard of care so to be able to service all my customer's to the standard that I demand is a huge achievement.
Describe your own personal style?
Plain Jane with a modern twist. My personal style in clothes is very plan and classic but I choose to show my character with my jewellery and accessories. I have a scarf and shoe collection to be shocked by! I love getting dressed up like any girl but I am most comfortable in a good pair of jeans, t-shirt a blazer, statement jewellery and some COMFY shoes !
What do you enjoy the most about your job?
Freedom. I have been lucky to escape the 9 to 5 lifestyle but it has been replaced by the 11 to 11 working day but the difference is I love doing what I do so I have to sometimes remind myself that its work not play! No two days are the same. Being a sole trader you have to do your accounts, being a designer you have to design being a maker you have to make and owning a company you have to advertise, market, sell and plan. All this together creates a very challenging but hugely enjoyable and satisfying career. Who wouldn't like to play with buttons all day every day!
Where do you see the brand going in the future?
If my future is as bright as my buttons, I will be happy. I hope to keep learning keep developing new lines and playing with new products. One of my big aims is to keep my work fresh and appealing, keep my business head learning and my brand growing. I see Button Studio expanding into new lines but most importantly keeping its values of reliability in customer care that it started with.