The results are a fusion of heritage, nature and cutting-edge fashion – as Georgina Heffernan discovers.
Georgina: Tell us about an average day in your life.
Heli Miikkulainen-Gilbert: I'm at my desk in my home studio at 8.30 every morning. I check my emails, after which, if I'm having a big piece such as a coat or a jacket under work at the moment, I start tufting straight away which I continue until the lunch time. Tufting - the technique used to give the wool its fur-like appearance - is quite physical work so I take a proper break at lunchtime and spend a while with my 2 kittens, which breaks up my day and theirs!

After lunch I continue tufting for another 4-5 hours and spend the rest of the day by writing emails, doing my accounts or marketing activities, ordering supplies, preparing for promotional or sales events and updating my design blog. On the days I'm not tufting I have the same routine with other essential projects such as designing and refreshing my website. Usually I walk out of my workroom and close the door behind me at 9-10 pm.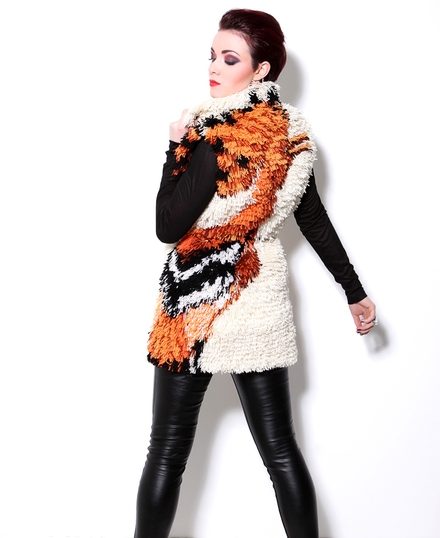 Growing up, did you always know you wanted to be a designer, if so who were you influenced by?
Yes, fashion designer has always been my dream career. As a teenager I sewed most of my own clothes and was dreaming of creating beautiful gowns for the Hollywood stars someday. Apart from Chanel whose style and quality are invincible I can't really pin on the wall any particular names who would have had the biggest influence on me back then nor even in the college, as I only really cared about how the garments looked, not that much of the names behind them, until I started creating my very own pieces with the Rya Rug sewing technique. During the past decade I've been most impressed by the production of Alexander McQueen and some industry colleagues of mine have mentioned that some of my work has some similar features, yet not quite as bold.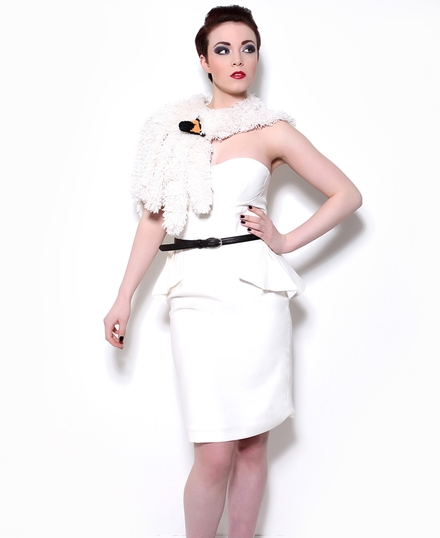 Tell me a bit about your training in fashion.
I studied fashion design and production techniques in The Kuopio Academy of Design, which is a campus of The Savonia University of Applied Sciences in Finland, for 5 years. I got my BA degree in fashion design in spring of 1999. Before Fashion College I did 2 one-year-courses in crafts techniques, among others, embroidery, woven textiles, sewing techniques and hand and machine knitting. My Grandmother taught me to sew dolls' clothes on her ancient foot pedal Singer machine when I was in the primary school. I learned the tufting technique I'm using in my current work a long time ago and have perfected it through practice and hard work.
What separates you from other designers?
I believe it's the technique I use - and also some sort of madness- in so far as I craft all my own pieces.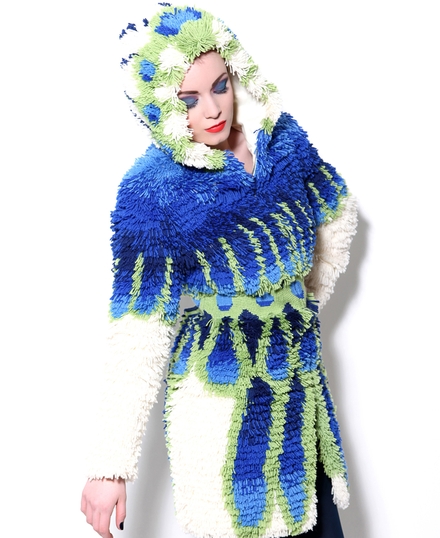 Many of your pieces feel and even look like fur - but they are made from natural yarns. Why did you focus, in particular, on creating an alternative to real fur?
I love the looks of the furs but being a big friend of animals I can't and don't want to wear or work on real furs. I don't like the regular fake furs - some are quite realistic but they're synthetic and I prefer natural materials where possible. Also I wanted to add the functional feature to the pieces you mention, which is quite difficult to do when using faux-fur fabrics.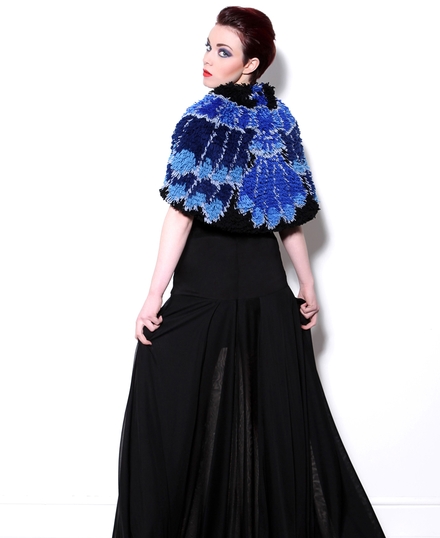 If you could make anything where budgets, resources or time in not an obstacle, what would it be?
My dream piece is a floor length super functional coat constructed of several detachable hem panels for all events of life. I'm afraid I can't reveal the shape, details and colours yet as I tend to make my dreams come true and it might not be as great novelty then.
When you aren't designing what else do you like to do?
I've lived in Ireland for 6 years now but I still play a tourist here; I love to hike the hills in Dublin and Wicklow and explore the shores of the Irish Sea with a bunch of friends and enjoy a pint in an old Irish pub afterwards.
Everybody has their unique way of expressing themselves through fashion; tell us what your designs means to you.
I'm hugely interested in old traditions of different nations and I have a great respect for people who are practising the old crafts techniques and sharing their skills and knowledge among younger generations. I love functional and convertible products that are also kind to the environment. In my coats I'm working hard to combine both. The technique can be traced back to the time of the Vikings, which ties my technique to the history of Ireland in a sense.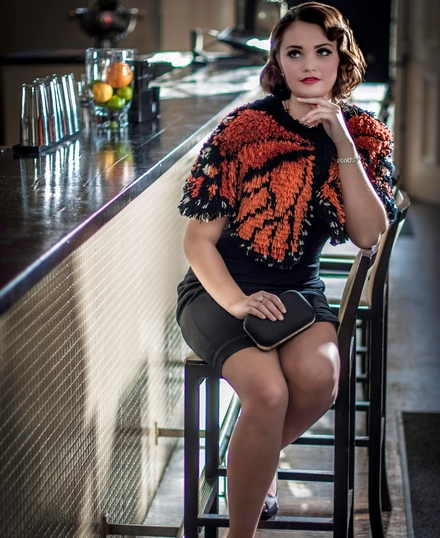 Who are your muses?
My late Dad who was a carpenter in his profession. He was a real inventor, spent the dark winter evenings with his feet up and his 'thinking cap' on in his favourite couch in front of the fire, sketching. There was nothing he couldn't fix or alter and especially over the long bright summer days, after retiring from his day job, he recycled all old timber and metal he got in his hands by turning them into most amazing functional tools and machines for his own use. His genuine creative enthusiasm inspired many of the people around him. Dad also taught me to love and respect the forests and their animals already in my childhood, something that has inspired me in work and play.
Any advice for aspiring designers or anyone looking to get into this market?
Try something clearly different from the other brands are doing. Find your own style and stick to it and most importantly prepare to work long hours.