She spoke to Georgina Heffernan about her love of shiny things, her advice on getting into the industry, and her dream commission...
Georgina Heffernan: Please tell us about your background in jewellery?
Eily O'Connell: It started with collecting any sparkly sweet wrappers I could get my hands on as a kid. The magpie instinct is very inherent in most Irish people but I took it a few steps further. It was never a question that I was going to become some form of an artist so after my foundation year in NCAD, I discovered that jewellery was the most intriguing and exciting thing for me. So then I progressed from sweet wrapper collecting to gemstone and precious metal collecting and became a full time jeweller.
What is your design process?
It starts with collecting lots and lots of interesting things from everywhere around the world that I visit but most is collected from here in Ireland. Coming from a country so wealthy in natural beauty it is hard not to be inspired by this incredible landscape. The next part includes a chaotic but organized mess, each piece being made in a riot of spontaneity. Then there are some secret and lengthy processes and voila - you have a unique piece of wearable art - a recorded treasure from nature, created just for you.
What have been some of your favourite jewellery pieces you've created and why?
There are a few because each piece is formed from organic materials that I find in my surroundings so when I use a certain thing in a piece, it records that moment in time also as well as the species of plant or matter that I am using. I made two recent pieces from a dung beetle which I found in sand dunes in Spain. I get my kicks from seeing the disgust on people's faces when they hear what the ring has been cast from. I love the emotional engagement that pieces like this bring.

Another ring that ignites a similar response is a ring I made in 2008 where I used my wisdom tooth instead of a stone in the ring. It was because that tooth was just as precious to me as any diamond or sapphire.
Would you ever consider collaborating with a fashion designer?

Yes and if I had to choose between some it would be Vivienne Westwood, Hussein Chalayan or Gareth Pugh.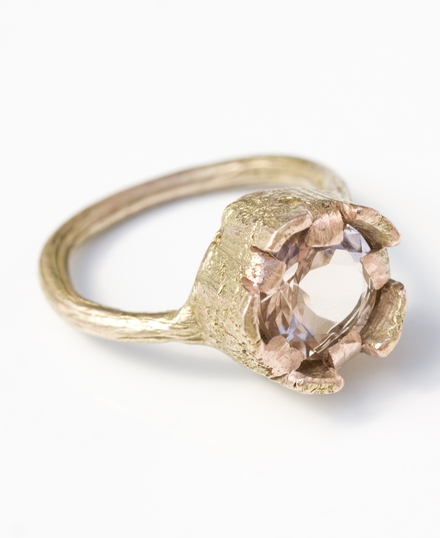 What's been the highlight of your career to-date?
There have been many highlights but I would say I was most shocked at winning First Prize for Precious Jewellery for the second time in the RDS.

Also being nominated for the European Prize for Applied Arts by the World Crafts Council based in Belgium was amazing as only 100 people are chosen around Europe every two years. I attended the ceremony in their headquarters and it was truly incredible to think I was even considered on a par as the others who were exhibiting.
What trends are set to be big in jewellery design this autumn/winter?
I think the biggest trend is unique and organic jewellery cast from crab claws and all intriguing types of natural materials. Statement silver rings, oxidized with various gemstones and enamels created with a slightly eerie undertone and sophisticated twist is a must!!!
What is your ultimate ambition? Where do you see yourself in the future?
My ultimate ambition is to have my own Eily O'Connell flagship store with a fantastic and energized team of highly talented craft workers and staff. I am not sure where that will be yet as I have many cities left to discover but that's where I see myself in the future.