Q: I've been finding it difficult to find bras that fit as a larger chested lady. Do you know any good places that cater for bigger cup sizes?
A: If you're looking for a wide range of bra sizes, look no futher than Boobycups.com, an Irish online lingerie and swimwear site which was set up to cater for DD - K cup sizes.
Nina Farrell, who set up the online store, was encouraged to take the entrepreneurial plunge when she couldn't find pretty style to fit her ample bust.
"The concept for my business Booby Cups came out of necessity," she admits, "It came about as a result of the difficulty I had finding bras and bikinis in my size for over 10 years. I am a size 28G and the department stores in Dublin city just didn't stock this size and weren't interested in stocking it. I felt that if I had this problem finding my size - there had to be more women in Ireland in a similar situation."
Welcome to the shape of things to come. Breasts are getting bigger and we're not just talking male fantasy. It's a fact. Ten years ago, the average bra size was a skimpy 34B. Today it is at least 36C and 40 per cent of women now take a D cup or above.
The lack of choice here in Ireland prompted Nina to set up her own lingerie website, aimed specifically at women with larger cup sizes – going right up to a DD K in lingerie and swimwear. Booby Cups stocks all the big brands from Panache to Cleo and Curvy Kate in all different sizes, colours and styles, but Nina's personal touch means that people who can sometimes feel intimidated by browsing in a high street store can have the privacy they need.
From personal experience - she knows what works best for girls with curves – here's a few of her tips for finding the perfect bra.
BUY QUALITY
The difficulty in buying bras when you are a larger chested woman is that you should be buying a good quality bra that will provide adequate support and last a reasonable length of time. In my personal experience a bra should last between 6 and 12 months, depending on how often it is worn.
BEST STYLES
Generally full cup and balconnette bras suit women with a larger bust. The full cup bra offers excellent support as they usually have a three section cup for increased capacity, stronger side wings for better fit and a side bone for improved control. The wires on a balconnette bra come up mid-way between your breasts and the cups tend to give a rounded shape without coming up too high over your cleavage. Balconnettes have wide set straps so are great for wearing under wider lower necklines.
THE PERFECT FIT
Larger chested women encounter problems in relation to fit. The first thing you should look for is that the band around your back is horizontal and does not ride up the back. Remember that 80% of the support should come from the back band and only 20% from the straps! The second thing you want to avoid is the 4 boob effect!
The wires at the front (the centre front) should lie flushed against your body and your breasts should be completely enclosed in the cups. If your cleavage is bulging over the top of the cups, or the wires are not sitting flat between your breasts, you should try a larger cup size. It is very common for women to have one breast bigger than the other. If this is the case you should always fit the bigger breast.
FINISHING TOUCHES
One tip for dressing a bigger chest is to avoid high necklines as these emphasize the bust area. I tend to go for V shaped necklines and scooped or cowl necklines. I also find wrap around dresses particularly flattering on a larger bust and definitely more comfortable in the bust area than very structured dresses. Stringy tops under shirts and cardigans are very flattering for a bigger bust - provided you're wearing a well-fitting bra.

www.boobycups.com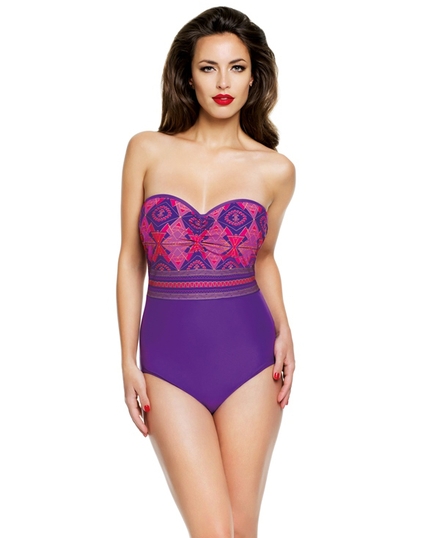 Savannah swimsuit by Panache €48 at Boobycups.com