We caught up with the talented designer to find out a little more...
Georgina Heffernan: You were crowned Kerry Fashion Designer of the Year in March, what does winning this prestigious title mean to you?
Tina Griffin: I am very honoured to have won the award. It has given me a great sense of achievement and pride that the judges considered the style and quality of my designs to be up there with so many excellent designers in Kerry.
Was the competition very stiff?
Yes, very Stiff! There are hugely talented fashion designers in Kerry across the various disciplines including millinery and womenswear. The other finalists are all extremely creative designers and their collections at KFW were stunning. It was very humbling to have been chosen to compete as a finalist in their company.
What, do you believe, makes your work stand apart from other designers?
Like all designers, quality is very important to me, but I put a special emphasis on the fabrics. I love textures combined with a simple silhouette and subtle details. Some of these details may only be obvious to the wearer, but that makes it a very individual piece. At the moment, I only do bespoke garments so the appeal of a one off design gives my clients a reason to return.
Where do you find the inspiration for your designs?
Personally I am attracted to simple and elegant design so I always find myself drawn to all things from the late 40's and early 50's for inspiration.
However, I genuinely find that my clients themselves are a major part of the inspiration for the design. I spend a lot of time consulting with the ladies on all aspects of the piece before I start manufacturing and that gives me a real insight into their personality and sense of style. The clients that come to me are very discerning women with wonderful ideas of what they want to wear. There are so many stylish women in Kerry and beyond who love fashion; it's a very exciting business to be in.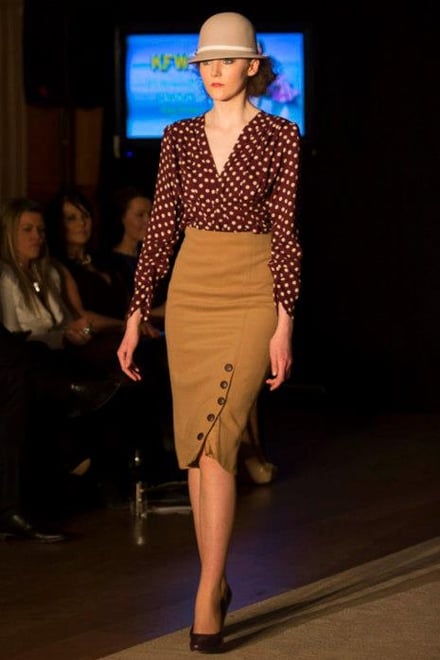 How did you start out in fashion?
I started by doing a night class in the Mallow College of Design and Tailoring and I immediately fell in love with the process of turning fabric into a garment. Initially it was just a hobby but I started to get requests from clients and found myself designing part time. In 2006 due to positive responses and a passion for the work, I was inspired to take the leap and started creating full time as "Tina Griffin Designs".
Was it difficult to get started in business, especially in the current climate?
Initially, it was very difficult to make the decision to move from part time design to full time from a financial point of view. I was very lucky to have had so many clients who supported me and put their trust in me which gave me the opportunity to make a business out of something that I was very passionate about.
It's actually a good time for a business like mine because in the current economic climate people are very selective about what they spend their money on, so if I can give women a stylish bespoke outfit that they love which is finished to a high quality, they will see it as an investment piece. My business thrives on and has very much grown through word of mouth and clients referring me to their friends.
What are your ambitions for the future?
I love creating bespoke pieces, that's my passion, I will always do that and I want to continue to grow my label. The Kerry Fashion Weekend experience has given me the confidence and to a certain extent the tools and contacts to look into designing a limited ready to wear collection and I'm very excited to take that step and see what the future holds.