She debuted her spring summer collection for 2013 at London Fashion Week last September to sensational reviews and the fashion press just can't get enough of her edgy but beautiful garments. Georgina Heffernan caught up with the talented young designer to find out more...
Georgina:Tell us about an average day in your life.
Danielle Romeril: I'm usually up at about 7.30; I jump in the shower, have some tea, and hop on my bike. My studio, just off Wexford Street is about a 10/15 minute bike ride from my home. I love Dublin for its compactness, having lived in London for years; it feels like such a privilege to be a 10 minute trip from home to studio.
When I arrive at the studio I check my emails, talk through the plan for the day with my assistants and then get to work, researching, designing, choosing fabric, doing fittings with a model and pattern cutter or the more mundane! Monday is a pretty crazy day as I work a full day and then get on a late flight to London in order to lecture the second year Masters womenswear students at the Royal College of Art.
I fly back to Dublin late Tuesday night; I'm back in the studio early on Wednesday morning before I lecture students in the Grafton Academy in Dublin. Then it's back to the studio where I'll work until 9pm.
Growing up, did you always know you wanted to be a designer, if so who were you influenced by?
I guess the answer is both yes and no, I remember having fashion design competitions with another girl in primary school... how bizarre is that? We would sketch and colour in clothes and then our friends would judge, mine tended to be t-shirt shapes and shorts in crazy colour combinations, lots of neon and prints that looked a bit like camo, sometimes she won, more often it was me.
After school, I decided to study Psychology, Politics and History of Art. After a year of near death by dullness in UCD I decided to go to Art College and since crossing the threshold of Limerick School of Art and Design I haven't looked back!

Tell me a bit about your training in fashion.
During summer breaks in my college education I worked in Paris with Sharon Wauchob and in London at Sinha-Stanic. After graduating from Limerick School of Art and Design I moved to London to work as a designer with Amanda Wakeley. From my degree show I was headhunted by Alberta Ferretti to work with her in Italy.
On returning to Ireland I worked as fashion editor for Argon a London based online magazine until I decided to start my own design label. Our first collection was Spring Summer 2013; we were invited to exhibit it at London Fashion Week which was a bit of a coup for our first season!
What separates you from other designers?
I have a unique magpie eye, gathering print ideas, laser cutting and surface detail inspiration and unusual silhouettes, these go through my personal design blender and when mixed with the finest Italian fabrics, out comes an unexpected and beautiful collection. My collections are multifaceted and designed to be worn, they're special pieces that make you feel a little bit other worldly when you slip them on.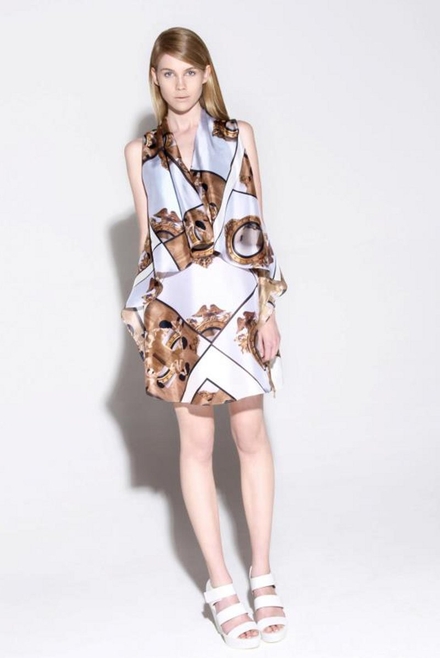 If you could make anything where budgets, resources or time in not an obstacle, what would it be?
Wow! Where to start, I would take over the beautiful Kodak building in Rathmines, one of only two Art Deco buildings in Dublin, I would transform it into a creative hub and have a textiles lab to develop the most exciting new fabrics, a photography and film studio and a beautiful atelier and showroom.
It would be a huge beautiful building bubbling with creative ideas and a home for the development of cutting edge craft. My team and I would create films photoshoots, interactive look-books and new fabrics, collaborating with others in adjoining spaces. Hopefully it would keep more of our phenomenally talented young creatives on this island.
When you aren't designing what else do you like to do?
I love going to gigs, dancing with my friends, mooching around galleries and exhibitions, eating with my family and when it's hot going swimming off rocks in Killiney.

Everybody has their unique way of expressing themselves through fashion; tell us what your designs means to you.
Fashion is like the crossroads between cool, beautiful and the unexpected and that's where I like my designs to sit. Fashion should be exciting; I want women to love what they wear and to show themselves off but in a different way. Show yourself off but not with your bust to bum ration but with your taste and thoughts and likes and dislikes! Oh and have fun!
Who are your muses?
Tilda Swinton, P J Harvery, Grimes (aka musician Clare Boucher) and model Hanne Gaby Odiele.
Any advice for aspiring designers or anyone looking to get into this market?
Work hard and be nice to people works for most careers I think.
Danielle Romeril
Montague Studios,
7-11 Montague Street,
Dublin 2,
Ireland,
00353-14781410